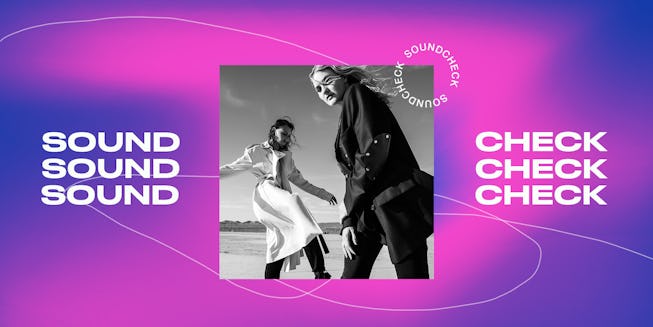 Photo by Molly Cranna
Soundcheck: The 11 Best Music Releases Of The Week
Aly & AJ, Moses Sumney, and so much more
Every weekend, we bring you #SOUNDCHECK—your destination for the best new music that hit the web over the course of the week. Because you should always be prepared when someone passes you that AUX cord. This week's roundup features 11 of our favorite emerging and established artists including Aly & AJ, Moses Sumney, and so many more. Turn up, tune in, and tune out.
It's been way too long since we've heard more than an EP from Aly & AJ, and they've finally setting out to work on their first album in 13 years. In the mean time, they've given fans new single "Attack of Panic"; a dark and danceable bop for the ages, and a surefire sign that fans are in for a treat when the forthcoming album finally drops.
Elsewhere, shitpost-YouTuber turned R&B heartthrob Joji proved to fans and critics that he's not shown us all that he's capable of. His new single "Run" pushed past his established sound by miles, landing squarely in the rock and R&B wave with a contemporary twist.
Check out all the best releases of the week, including Half Waif, Moses Sumney, and more. You'll thank us next time someone asks to pass you the aux cable.
"Attack Of Panic" - Aly & AJ
It's the start of a new era for Aly & AJ and it sounds so, so good.
"Cut Me" - Moses Sumney
Moses Sumney's upcoming Graæ is shaping up to be 2020's most ruminating and compelling project.
"Good Bad Times" - Hinds
Hinds as superheroes? It's more likely than you'd think.
"Promises" - Beach Bunny
Lili Trifilio nails the post-breakup 'it's complicated' feeling with this angsty single.
"Calling On Me" - Sean Paul ft. Tove Lo
This song better be playing at the club ASAP.
"Devil I Know" - Allie X
This new creepy-cool single showcases Allie X's vocals at their finest.
"Headshot" - Madge
A hard-hitting track with absolutely trippy visuals to match.
"Run" - Joji
With rock-R&B ballad "Run," Joji far exceeds anything else we've heard thus far.
"Rope" - Michael Love Michael
Michael Love Michael's fierce declaration of self rumbles to the surface over electric guitar riffs on this expansive debut track.
"Bubbly" - DeJ Loaf
DeJ Loaf is all swaggering confidence on this weekend-ready track.
"Ordinary Talk" - Half Waif
It's the most simplest of tasks that can carry the most soul-crushing weight, Nandi Rose's "Ordinary Talk" suggests — "Walking to the lake/ Getting in my car" — all the while it builds toward a cathartic moment of release.