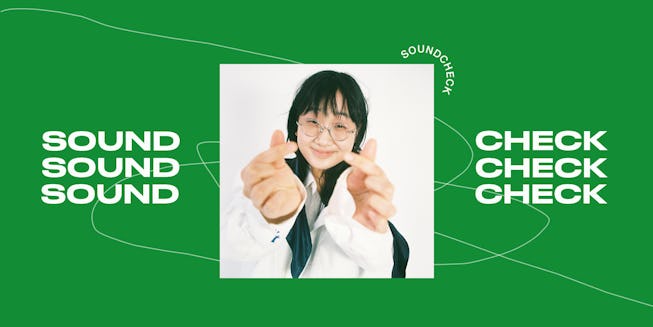 Dasom Hahn
Soundcheck: The 10 Best Music Releases Of The Week
From Lil Yachty, to Sasami, to Yves Tumor and more
Every weekend, we bring you #SOUNDCHECK—your destination for the best new music that hit the web over the course of the week. Because you should always be prepared when someone passes you that AUX cord. This week's roundup features 10 selections from of our favorite emerging and established artists. Turn up, tune in, and tune out.
It's been a long week with a lot of changes, but perhaps the world's most comforting constant is the weekly stream of new music. For one, Yaeji's back. The NYC raver's inviting blend of house and hip-hop has manifested in the new "WAKING UP DOWN," a soothing meditation on how it's the small goals that really matter: waking up, cooking, and hydrating. Lil Yachty also made a return, with a personable new track called "Ophrah's Bank Account" that features Drake and DaBaby. On the other end of the spectrum, Sasami marked the end of an era with "Mess," a song that she's calling "one last sentence" before she closes her first album campaign.
The newer voices that popped up this week? Fenne Lily, who is the newest signee of the esteemed Dead Oceans; Shreya, a Houston-based singer who makes glistening R&B; and HARLOE, whose debut EP is a dazzling display of her vocal ability. Hear all of the above and more, below.
"Waking Up Down" - Yaeji
The hypnotic beat fuses with artfully monotone tones that seem to congratulate its listeners for completing the simple but necessary everyday tasks: "waking up," "hydrating," and "listening."
"Oprah's Bank Account" - Lil Yachty, Drake, DaBaby
The compliment you didn't know you needed: "You look as good as Oprah's bank account."
"Kerosene!" - Yves Tumor ft. Diana Gordon
Once the guitar kicks in, the song lights up.
"Stone Cold" - Deb Never & Kenny Beats
Rap's favorite producer Kenny Beats steps out of the genre to provide the effortless groove on Deb Never's cool "Stone Cold"
"Mess" - Sasami
Sasami proves yet again how formidable a guitar is in her hands.
"Stay All Night" - Alma
Can't get the squiggly "ooh" in the hook out of my head.
"What's It Take" - Snarls
The gradual build-up on Snarls' "What's It Take" is well worth that wait to experience its dazzling finale.
"Lust" - Shreya
The up-and-coming artist's album tracks are all named after each of the seven deadly sins, and her dreamy vocals make this vice one to not be ashamed of.
"Hypochondriac" - Fenne Lily
An ode to all the hypochondriacs out there, Fenne Lily reminds herself to take control before falling into a dark space.
"We're All Gonna Lose" - HARLOE
Luscious is the best word to describe it.