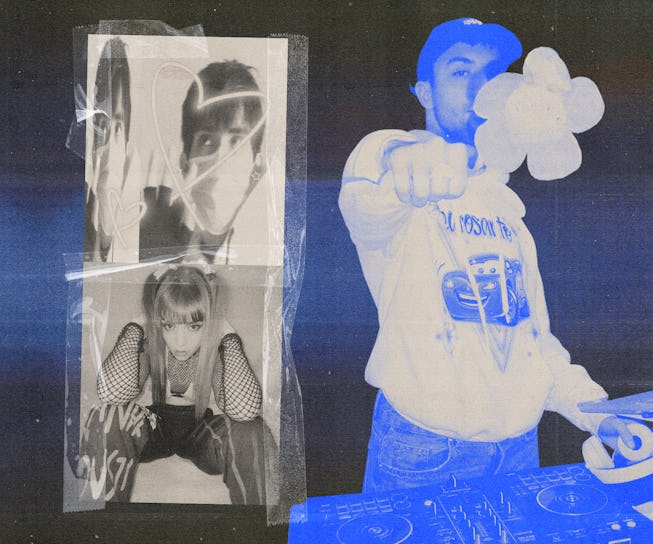 Meet The Spanish Hyperpop Artists Bringing The '00s Back
Rakky Ripper, eurosanto, PUTOCHINOMARICÓN, and more are putting Spain on the global hyperpop map.
As hyperpop takes over the West, a growing, unofficial collective of stan-worthy Spanish singers and producers is adding their own spin on the microgenre, fusing together a shiny early-2000s bubblegum pop aesthetic with the pitch-shifted sonics of PC Music. Rakky Ripper, eurosanto, PUTOCHINOMARICÓN and Autotune Angel are some of the biggest names in the scene creating their own sugar rush blend of fizzed-up hyperpop that's striking the perfect balance between escapism and nostalgia.
Hyperpop, the maximalist microgenre that has attracted the attention of The New York Times and VICE over the last year, first emerged as a playlist on Spotify before finding a huge audience on TikTok and through virtual parties like Subculture and Club Quarantine. But while the glitchy post-100 gecs sounds coming out of the U.S. from scene-leading teens like glaive, midwxst, ericdoa, and dltzk continue to clock up millions of streams, many music-makers abroad are viewing the genre as a new space to champion inclusivity, diversity, and bring in a new way to conceive pop music.
Below, get to know some of the leading figures in the scene and check out NYLON's playlist, which includes Spanish-speaking artists from Argentina, Chile, and Mexico.
Listening to Britney Spears, the Spice Girls, Destiny's Child, and Christina Aguilera as a child growing up in Granada shaped Rakky Ripper's idea of a pop star. "They raised me," she remembers, describing them as her superheroes. "I still want to be like them."
After an emo phase in her early teens, Ripper discovered Lady Gaga before getting into electronic music, dubstep, and drum 'n' bass at 16. But it wasn't until a few years later when she found PC Music that she experienced an "electric shock" to her system. "It was so refreshing and fun that I had to investigate all the artists in the label and that was all I listened to for some years," she remembers of that time having become bored with mainstream music. "I decided I wanted to make pop like that." This amalgamation of influences feeds into the sounds and styles Ripper pulls together now as a musician.
Putting a PC Music-inspired spin on the aughts pop star aesthetic, from the way she sings and her lyrics to her iconic videos, Ripper is still in love with the "fierceness and empowerment" of that era. "But I see mine more as futuristic music with a touch of the 2000s," she says.
Ripper says it's been easier to break out internationally than at home in Spain. "I think my country is not ready yet for this sound and they are still a bit reluctant to accept a hyperpop wave," she suggests. She also suspects the language barrier is what's preventing her from entering certain playlists or getting gig bookings. "Some platforms like Apple Music support me and put me in their 'Glitch' playlist every time I release something," she points out. "But getting into the 'hyperpop' playlist on Spotify has been impossible. And I feel it is maybe because of the language."
She's keen to not give up on singing in Spanish and Spanglish, though, because "it defines me and they're my roots," she says. Plus, she believes Spanish hyperpop is one of the most exciting scenes the country has seen since the rise of trap music in 2014.
Collaborating with international artists has helped Ripper reach a wider audience. Her new Xtra Cost EP features two rising U.K. and U.S. names, Roma Radz ("I really like her voice and vision") and Snowblood ("Dani is one of my biggest inspirations as I used to listen to her old band The Millionaires when I was a emo-scene kid").
Looking ahead, Ripper's not afraid to dream big; making it to the VMAs, having world tours, and a viral song are among the items on her bucket list. "Basically living from this!"
Influenced as much by producers RedOne, Max Martin, and Danny L Harle as global pop megastars, 23-year-old eurosanto fuses the different colors and sounds of Y2K pop, industrial, and eurodance to create his own style of emotional and exciting hyperpop. "Hannah Montana was a fictional version of teen idols like Britney, who I didn't really know as a kid," he remembers of his childhood growing up in the Valencian city of Elche. "Then Lady Gaga appeared and that's when I started listening to a lot of other international pop artists like Kesha, Britney, Katy Perry, Black Eyed Peas, and Nicki Minaj."
The first time he was intrigued by a song's production was after hearing "Poker Face." "It sounded like outer space for 11-year-old me, and I loved it. Everything in that time was so cool: the wigs, the outfits, the music videos, the performances," he recalls, citing his love for "dark shit" like the "Alejandro" music video and Gaga's "Paparazzi" VMA's performance, but also "bubbly happy songs" like "California Gurls."
But by the mid-2010s, his music taste changed. "I'd started listening to more experimental stuff like Grimes' first albums, Arca, and Björk," he reflects. Discovering PC Music made him fall in love with pop again and "discover a way of creating it that sounded like the music I used to like but also completely new."
These cultural touchstones have gone on to shape the music he makes as eurosanto. "I like to throw some easter eggs in there sometimes, like the RedOne sample in 'Dame y Vete' by Rakky Ripper," he says, describing his Ripper collabs as his first fully-pop productions.
His melodious debut solo single, "Tabú (Dreamin' of You)," meanwhile is a trance-pop anthem straight out of a '90s rave. "I wanted to make a song that sounded like Schnuffel Bunny's 'Snuggle Song,' very high-pitch and corny, but emotional at the same time." Although an early version of it was short and with dembow drums and a lot of chopped vocals, eurosanto remade it with a completely different chord progression and eurodance vibe. "That's the kind of music I want to make," he says. "Not a particular genre, but emotional and exciting."
For non-binary Taiwanese-Spanish artist Chenta Tsai, their work is centered on identity with music and art being a tool of political resistance. When they immigrated to Spain at 10 months old, there were "hardly any Asian people on Spanish television" for Chenta to look up to, they say. Instead, they were inspired by the Taiwanese artists and late '90s to early aughts J-Pop on MTV Taiwan: Jay Chou, S.H.E, Machi DiDi, and Cindy.
There was, however, one Spanish-Taiwanese artist whose story ignited a spark in Tsai growing up. Watching Luis Tseng of the band Los Piston being interviewed in the news on Antena 3 made Chenta think how cool it was to see someone also of Taiwanese descent not being represented in a disrespectful way. "It was just him, talking about his music."
Now, Tsai wants to make people feel the same way by taking control of their own narrative. "[I] imagine my younger self gobsmacked seeing an enby Asian artist not giving a f*ck and being their own self," they say.
They describe their music as pop written from the guts, "like an exorcism of absurd afterthoughts." The bleepy eight-bit twinkles of Tsai's early singles "Gente De Mierda" and "El Test De La Bravo Y La Superpop" put their sound squarely into the hyperpop arena, and they cite that community as what's allowed them to work with artists they admire and perform at places they never would have otherwise been able to.
Although they don't fully understand what the label means and represents, "as it englobes many different sounds," they believe the Spanish hyperpop scene is growing quickly, citing experimenters like Rrúcculla, Rizha, Stephen Please, Gomet, Laborde, La Conelli, Samantha Hudson, and Daniel Daniel as other musicians to watch. "They are all pushing pop in exciting and interesting directions."
Growing up listening to everything from salsa to hip-hop, Peru-born and Spain-based artist Autotune Angel had always been interested in music, but it was discovering Skrillex and SOPHIE that made him want to make songs himself. After stumbling upon an A. G. Cook Boiler Room set, he instantly fell in love with the sounds of PC Music. "I started to search more about them and discovered a new world of music that I was not used to," he says. "From their aesthetic to sound, it just connected with me and I wanted to make that sound since there's not a lot of people making this in Spain."
Cuddly bops like "Pulpito Reversible," a collaboration with producer Lopoint, would fit perfectly on the PC label. Sung almost entirely in Spanish, it's incredibly catchy regardless of whether you know the language or not. "Nowadays, people who listen to this type of music just care more about the sounds than the actual lyrics or meaning," he says. Fittingly, the pitch-shifted voice that bounces atop a video game-style beat is the sonic embodiment of how he describes his sound: "cute music for people to have fun with."
AndrAla is one of Spain's only hyperpop DJs, which the Barcelona-based and PC Music-hooked Razzmatazz club resident says is great and difficult at the same time. "It's awesome to play music you really enjoy," she says, "but it's also complicated to find a big audience for it if we are referring to the offline world."
The pandemic has made the internet the most powerful place to be a hyperpop DJ, she says. Online festivals, concerts, and Twitch, then, have become "its soul." For her whatthepopradio show, she mixed 50 of the top hyperpop songs into one of the bounciest and most energetic mash-ups you're likely to hear.
Throughout lockdown, AndrAla's also been posting eye-popping snippets of her fusions (who would have imagined t.A.T.u.'s "All The Things She Said" and Arca's "Time" would work so well together?) on Instagram. Her most recent attracted the attention of 100 gecs' Laura Les.
The appeal of hyperpop, AndrAla believes, is that using extreme autotune, breaking structure patterns, and glitching sounds are helping to subvert the sounds of commercial pop. What she finds most powerful, though, is its content. Lyrics that "can be childish or stupid sometimes, but really deep, dark, and powerful on the other," she suggests, "mirror a new society with different points of view: more inclusivity, diversity, and bringing a new way to conceive pop music."