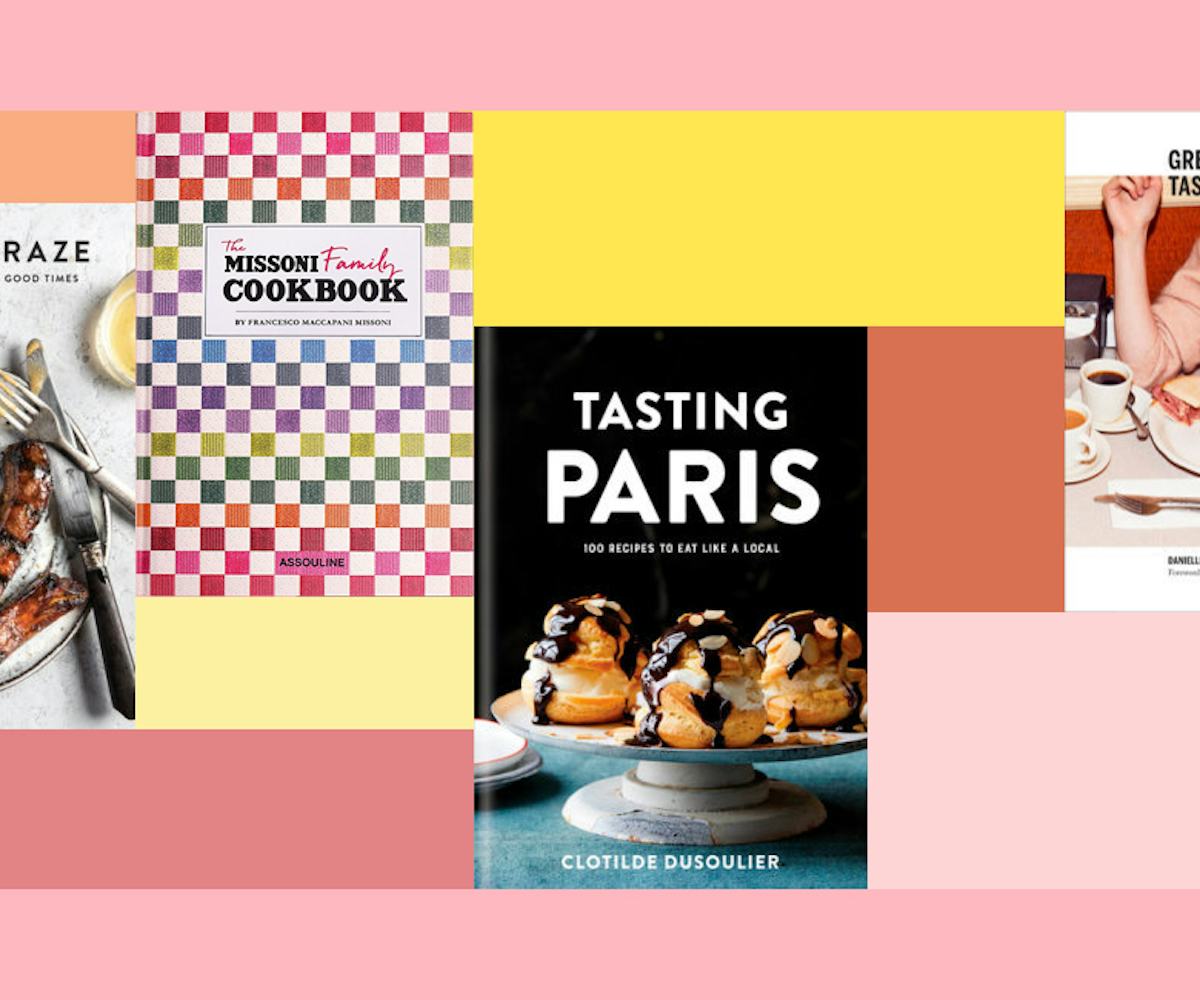 12 Cookbooks You'll Want To Use Every Night This Spring
"One cannot think well, love well, sleep well, if one has not dined well," said Virginia Woolf. At NYLON, we agree. And spring makes us want to get to the farmer's market, scoop up all the local fruits and vegetables, and get to cooking—preferably outdoors, with lots of friends around.
If you too love cooking food as much as you love eating it, this list of cookbooks makes it easy to create dishes drawing inspiration from all over the world.
Below, the 12 culinary books we are currently obsessing over. Complete with mouthwatering imagery, quirky anecdotes, and helpful tips from each author, these books will encourage you to try all the flavors of spring and summer.
What's Gaby Cooking: Everyday California Cooking by Gaby Dalkin
Gaby Dalkin, better known by her blog name What's Gaby Cooking, gives us a taste of what it means to be a California girl in 125 easy recipes. A millennial herself, she highlights the laid-back California state of mind through her versatile, easy, and delicious dishes that don't require you to spend all day in the kitchen. A few savory favorites of ours are the Chimichurri Cauliflower Rice Bowl with Grilled Fish, California Girl Cheese Board, and the Goddess Dip. What we love especially is Dalkin's mantra for ingredients: Keep it simple.
Chloe Flavor by Chloe Coscarelli
Spring is all about trying new things, and with recipes from former by.CHLOE chef Chloe Coscarelli, those new things are really delicious—and healthy. This year, Coscarelli released a cookbook that proves vegan food doesn't have to be bland and unappetizing. In fact, some of her tastiest meals will have the most adamant carnivores converted to plant lovers. Determined to stray away from frozen and over-processed foods that have dominated the food industry, Coscarelli provides us with bold and fun recipes such as Smoky Grits & Greens, Mango-Guacamole Crunch Burgers, and Sea Salted Chocolate Chunk Cookies.
A Table in Venice by Skye McAlpine
Skye McAlpine has spent her entire life in Venice, Italy, so she knows better than most that "the recipes passed down through generations," are the ones that "Venetians guard ferociously and exclusively for their own gratification." Living la dolce vita can be done anywhere using her tips for dishes such as Ricotta and Mint-Stuffed Zucchini Flowers, Spiced Meatballs, and Caramelized Fennel Risotto. Her desserts also exert the energy of Venice with recipes like Panettone, Mascarpone, and Almond Cake. The exceptional imagery and vivid storytelling make this book a necessity, even for those who don't travel by gondola.
Eating from the Ground Up by Alana Chernila
Bringing out the unique textures and flavors of vegetables, Alana Chernila makes eating our veggies actually enjoyable. While we should be stocking up on our greens all year long, the summertime not only brings out our curiosity but the freshest dishes with the lightest tastes too. Alana's book includes tricks for picking out the best summer produce and advice for maximizing the benefits of vegetables right down to their roots with recipes like Posole, Grilled Summer Squash with Basil Ricotta, and Leek Carbonara.
For the Love of the South by Amber Wilson
Southern food in two words: comfortable and flavorful. Growing up in Louisiana, Amber Wilson's recipes capture the essence of the South. Emphasizing the importance of family, friends, and food along with anecdotes of her childhood, Wilson gives us a closer look at, and taste of, Louisiana with 100 mouthwatering recipes that she photographed herself. "Everything I hold dear about Southern culture rests in its narrative," writes Amber. "The photographs throughout this book are personal, as personal as the stories I share." Pain Perdu, Pimento Hush Puppies, Cajun Jambalaya, and Nashville Hot Chicken are among the many recipes we're absolutely dying to try this spring.
Tasting Paris by Clotilde Dusoulier
If you won't be exploring the world's most romantic city this season, Clotilde Dusoulier's Tasting Paris has got you covered. Part of understanding French culture is speaking the language of their cuisine. Dusoulier's book is a love letter to her native city, including everything from French dishes oozing with cheeses to decadent, fluffy pastries. With photographs of delicious dishes and iconic places in Paris, it's hard to resist booking flights, right from our kitchens. However, for those unable to spring for a last-minute flight, the book's 125 recipes, like Spiralized Zucchini Salad and Profiteroles, bring the enchanting aura of Paris right into our homes.
Playing With Fire by Michael Symon
For the meat lovers in your life, Michael Symon's book is an essential read. After traveling around the country to film Food Network's Burgers, Brew & 'Que, his love of live-fire cooking made him into an expert on all things meat. This culinary book compiles Symon's journeys to the best BBQ spots, tips on sourcing the right meats, and his famous savory recipes, like brisket, pastrami, and ribs, that can be found at his famed Cleveland restaurant, Mabel's BBQ. Symon also shares informative stories about each region's specific barbecuing style that is dependant on history, cultural preference, and experience. This one is for the grilling fanatics in our lives. 
Great Tastes by Danielle and Laura Kosann
Danielle and Laura share everything, especially their love of food. To these sisters, a dining experience is not simply about the food but about their outfits, the atmosphere, and the people. Just like us, they love cooking and eating out. In fact, they love it so much, they wrote Great Tastes, which compiles anecdotes on food and lifestyle from their blog The New Potato. The 85-recipe book is warm and down-to-earth, which is exactly what we are looking for this season. Rather than a traditional cookbook, Great Tastes feels more like your friends sharing stories about brushing elbows with celebrities, all while giving you amazing recipes for Lime-Blueberry Pancakes and Bourbon Chai.
Gather & Graze by Stephanie Izard with Rachel Holzman
If there's anything we love, it's badass female chefs and delicious dishes. With Stephanie Izard, we get both. Top Chef's first female winner, who's currently on Iron Chef, has created a culinary book with recipes that show us how to make salty, sweet, tangy, and savory dishes in all the right ways. She also includes tips on pairing the right sauces and drinks, making this a great guide to planning your warm-weather festivities. A few notable recipes are Grilled Confit Duck Legs with Nectarine Kimchi, Kohlrabi Salad with Fermented Tofu Vinaigrette, and Peanut Butter Overload Cake with Concord Grape Sauce.
Eat a Little Better by Sam Kass  
Chef to the Obamas when they were in the White House, Sam Kass is just as passionate about food as he is about the environment. Serving as the senior advisor for nutrition policy, he made significant steps to change the food industry for all Americans. In his cookbook, he shows us how we can help the environment, starting with our lifestyle choices. He shares tips on shopping locally and organizing your kitchen so that cooking healthy becomes easy and delicious. In 90 recipes, Sam proves to us that we don't have to deprive ourselves of our favorite foods in order to stay healthy and help the planet. Having fun and being proactive is definitely on the menu this season.
River Cafe London by Ruth Rogers
From the founders and chefs of one of London's most beloved Italian restaurants comes this cookbook chronicling the last 30 years of creating delectable antipasti, primi, secondi, contorni, and dolce. With more than 120 recipes including Spaghetti with Lemon, Chickpea and Fennel Farinata, Risotto with Porcini and Chanterelles, Veal Shank with Barolo and Sage, and, of course, the famous Chocolate Nemesis cake, River Cafe London also features Josef Albers-inspired typeface with hot pink edges, photos by Jean Pigozzi, and bespoke menu designs from the restaurant's many artist friends such as Damien Hirst and Ed Ruscha. 
The Missoni Family Cookbook by Francesco Maccapani Missoni
The Missoni family is, of course, known for putting out bold fashion prints, but they're also known among a lucky social circle for being great entertainers. And, Francesco Maccapani Missoni, the son of designer Angela Missoni, is known as the keeper of the family dishes. Lucky for us, with this cookbook, he is lifting the veil off their closely guarded family recipes including gnocchi verdi, Milanese-style asparagus with egg, curried chicken, zucchini alla parmigiana, and chocolate pudding. And, yes, the cover will make for a nice addition to your coffee table.
NYLON uses affiliate links and may earn a commission if you purchase something through those links, but every product chosen is selected independently.