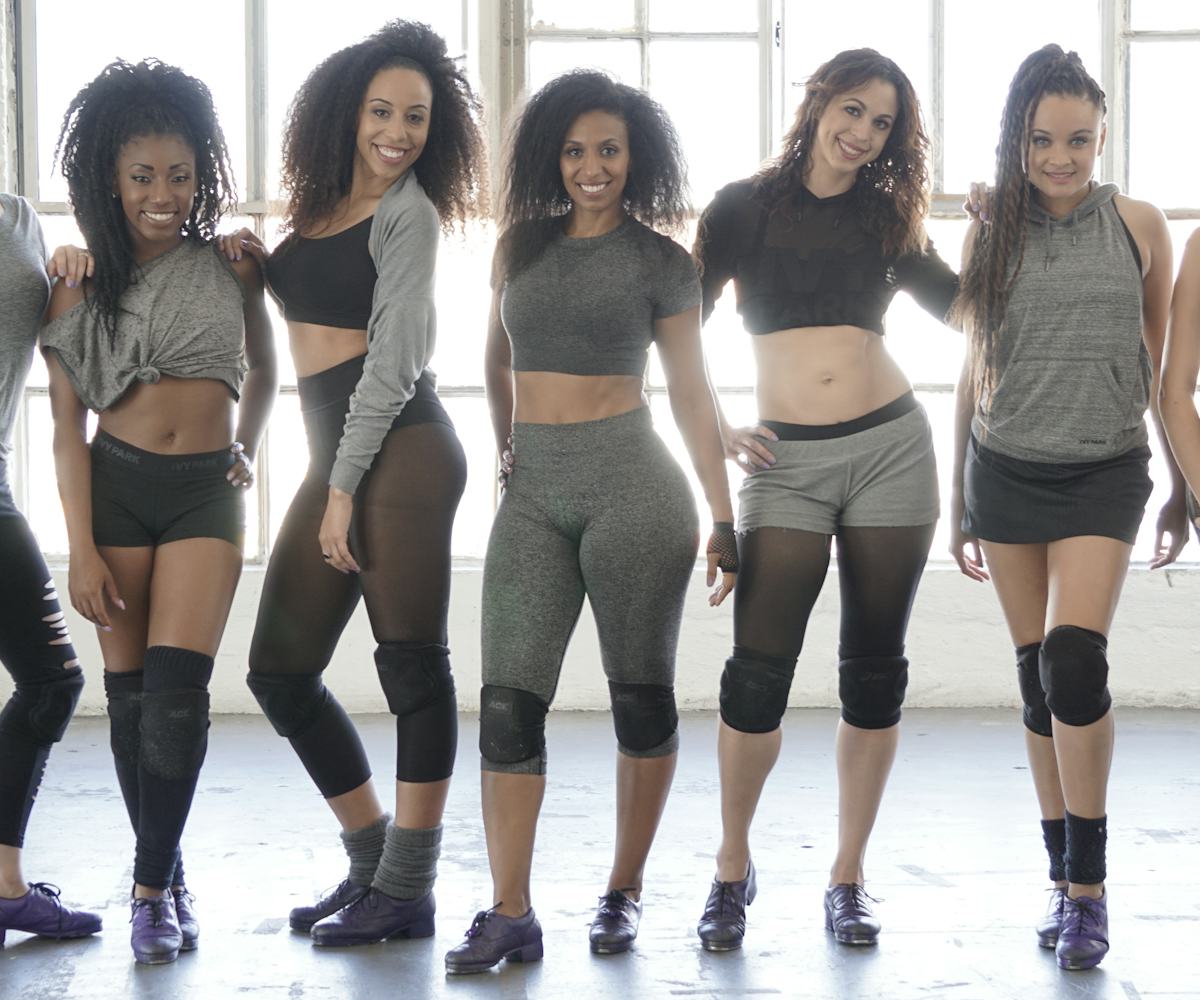 photo by Becca Nelson
The Syncopated Ladies Are Bringing Tap Dance To The World Of Pop
When the Queen taps you, you know you're good
The evening I meet with sisters Chloe and Maud Arnold, they are busy making history. I've shown up to a Los Angeles studio to interview them and find myself in the center of a flurry of tap shoes, wardrobe changes, and flickering camera lights. This is their first shoot in conjunction with their new shoe for Bloch Dancewear. As the most prominent in their field, they are the first women tap dancers to get their own shoe from the major dancewear brand.
Although "dancers as brands" is not new a thing, it is still a rarity in an industry where many professional dancers have to work multiple jobs to make ends meet and only a fortunate few are able to break through to receive national recognition. 
Chloe and Maud are doing the same thing for women in tap dance. Along with group members Anissa Lee, Assata Madison, Melinda Sullivan, Melissa Tannus, and Orialis Ashley, the Syncopated Ladies are best known for their viral dance videos, which feature them performing to songs like Katy Perry's "Roar," Prince's "When Dove's Cry," and Beyoncé's "Formation." Through pairing their stylish artistry with skilled musicality and a fashion-forward aesthetic, they have made tap dance sexy, cool, and even a viable career to which women can aspire.
That achievement is not without criticism. Questioning the validity of any artistic expression once it "goes commercial," is something artists have always had to face. But Chloe says, "I think it's enlightening to live in both the concert dance world and the commercial world, and I think that the key to art flourishing is to avoid being judgmental. Embrace the idea that our dance can live on every platform and it should if we want to expand our industry. We should be excited about it. Everywhere music can be consumed, is where dance can be consumed."
Like their inspirations, Gregory Hines and Beyoncé, and their mentor, Debbie Allen, the women are multihyphenate artists and use their love of culture, fashion, and philanthropy to inform their commitment to giving tap dance a national platform. "That's one thing I love about Beyoncé, she brings her whole self to her art," says Chloe. "On a personal level, her ability to embrace her sensuality and beauty, and not feel like by doing so she's compromising her integrity, is so wonderful. Our bodies are a part of our art. Our fashion is a reflection of what we think feels good, looks good, complements us. I aim to make sure each woman looks her best."  
And making sure each of the Syncopated Ladies looks her best, whether it is through fashion—they are styled by Lee who is not only a  group member but a fashion designer, too—or footwork is what has helped them get to where they are and what makes brands eager to partner with them. In addition to Bloch, they are also spokeswomen for Cantu Beauty. They were guest performers at an event for Nike a few months ago, and after seeing their "Formation" video, Beyoncé hired them to perform at an event in London. Their profession has taken them to nearly every continent as performers and instructors, and on the day we spoke, the Arnold sisters had been to Brazil, the U.K., Mexico, New York, Phoenix, and Dallas just within the previous month. 
Even more inspiring is the fact that none of it has come easy. Born and raised in Washington, D.C., Chloe and Maud started taking dance lessons out of a single-room storefront dance studio at the ages of six and four. After meeting Allen at the Kennedy Center, while she was in D.C. auditioning dancers, they began spending summers in L.A. training at her studio. Upon graduating from high school, they attended Columbia University and continued to pursue careers as tap dancers, but quickly discovered that there weren't many opportunities for women. "In New York, all the jobs were for male soloists. The only jobs for women were chorus girls, and those chorus girls were not required to have the same technique and advanced skill that the male soloists did," Chloe recalls. It wasn't until she officially moved to L.A. that she was inspired to start Syncopated Ladies. 
The group started out as an all-female jam session. They took all of the fundamentals from their lifelong tap training, combined jazz, modern, and Latin influences, and realized they were on to something. Then came the idea to choreograph to popular music and add rockstar-inspired costuming to create an all-female tap supergroup. In 2012, they officially formed Syncopated Ladies. Videos, performances, appearances, and photo shoots quickly ensued.  
In the middle of all of the work and the recognition that has followed, which also includes a docuseries in development, a documentary Tap World on Netflix, and appearances on So You Think You Can Dance and Good Morning America, they also run a foundation through which they host the D.C. Tap Festival in their hometown every spring. It has grown to be one of the biggest tap festivals in the country and attracts underserved youth from all over the world. They also host a free after-school program and give free concert tickets to all of their shows to audience members who cannot afford them. "Giving back is a huge part of what we do. That's how we got our start, so it's a responsibility. We have to reach back as we continue to move forward."  
Syncopated Ladies' next performance will be on July 28 at in Los Angeles. And you can learn more about the group here.