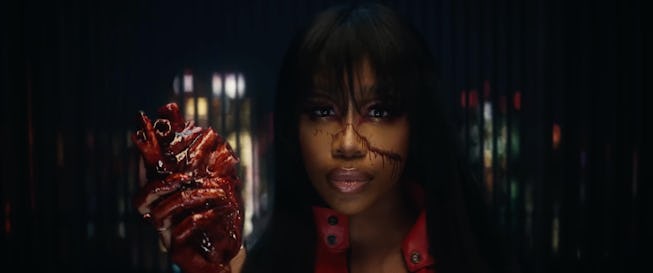 YouTube
SZA Learned The "Kill Bill" Sword Fight In Four Hours
The director and producer of "Kill Bill" explain how the ambitious video came together.
Ever since SZA released her sophomore album S.O.S., fans haven't been able to get enough of "Kill Bill." The record's gloomy, revenge-centered second track has become a fan favorite, the song spotlighting SZA's sharp and too-real way of writing about relationship politics — pushed to a murderous extreme — that's all wrapped up in a reference to one of pop culture most beloved touchstones. The track immediately topped streaming and genre charts upon its arrival, and on Jan. 9, Billboard revealed that the song had finally gained enough momentum to surge to No. 1 on the Global 200.
On Tuesday night, SZA dropped off the song's much-anticipated music video, delivering a four-minute visual worthy of the high dramatics the track requires. A partially bumbled rollout — which saw the video go live for ten minutes before getting taken down and re-uploaded again — only further raised the hysteria around its release. Then, fans finally got to watch the singer execute a perfect Tarantino-worthy Kill Bill revenge sequence complete with a bloody finale — and Vivica A. Fox cameo to boot.
Like all of her visuals, the "Kill Bill" music video, directed by filmaker Christian Breslauer and executive produced by London Alley Founder Luga Podesta, is ambitious and daring, mixing visual genres and mediums, like its inclusion of a brief anime interlude. SZA's discipline as an artist is also on full display as she executes a tightly choreographed sword fighting scene that took her less than four hours to nail, Breslauer says.
Below, NYLON caught up with director Breslauer and producer Podesta over email to get all the deets about the making of "Kill Bill" from its grueling production schedule, the alternative cameos on the table, and more.
How did you get involved with SZA and the "Kill Bill" project?
Christian Breslauer: SZA told me she was looking to finally give her fans a complete narrative visual and since we have been fans of each other for quite some time. She felt my style had a beautiful way of telling stories but that they also perfectly complemented the record. So we got together and did just that!
Podesta: We have been working with Camille Yorrick, RCA and TDE for nearly a decade now. When they reached out to us for the video we jumped at the chance to be involved. Originally they wanted Christian to direct a different single off the album, but after reading aspects of his treatment, SZA thought it would work to mold into a concept for "Kill Bill." Everyone from production, label, management, and more moved mountains to find a shoot day right before Christmas and we made it happen!
Did SZA have a vision for the video? How did you help translate that creatively?
Breslauer: SZA definitely had a vision for the video: The Shubari bondage scene at the end was 100% her vision. We had both agreed that we wanted to craft an action packed visual that had nods and Easter eggs to the original films while still having fun and making it our own. Tarantino is the ultimate chop and screw hybrid filmmaker in how he grabs from so many films and genres, so wanted to do a little of that here as well.
Vivica A. Fox is involved. What other cameos were on the table, and what was it like having Fox in the studio?
Breslauer: We shot this a couple days before Christmas actually, so availability was an issue. We had a lot of names on the table including people like Lenny Kravitz to play her boyfriend that leaves her for dead. Vivica was perfect, an unexpected cameo pulling up in a dingy truck that just so happened to be driving through SZA's off grid location. Vivica was a joy to work with and was a trooper on a cold late night.
What was the biggest challenge you faced in the shoot?
Breslauer: Time. We only had one day to shoot this whole visual and as you can see it was quite a lot. We had to leave a few shots behind but ultimately ended up with an awesome visual.
Podesta: We only had about six days from award to shoot day because of the holiday. Then, we only had one (very long) shoot day available, so we had to cram 2 days of shooting into one. Christian is one of the most efficient directors I have worked with, and this one even pushed his limits. For example, that entire intro scene with the shootout that was originally scheduled for about 5 hours of shooting, we had to shoot it in 45 minutes, at around 4 a.m. If it wasn't for SZA and her team for being such professionals, we may still be shooting. They were on set for nearly 19 hours and were keeping the pace and excitement we needed until the very end.
What's your favorite or significant moment from the video?
Breslauer: I personally love the sword fighting scene and have to give SZA a bunch of credit because she insisted on doing as much of her own stunts as possible and learned that pretty extensive sword fight choreo in less than 4 hours. She certainly put her all into the performance and I met her in the middle of the filmmaking, We ended up making something beautiful. Just as it should be.
Podesta: For me, it's the way we were able to seamlessly mesh the animation section with the full live action video. We always strive to push our director's creative vision — especially on a project like this. When Chris came to us after he got the first rough cut and pitched this idea, we immediately called our animation favorites, Nathan Love (on Christmas Eve) and got them on the phone with Christian. The magic they created in such a short time really does take this video to a special place.