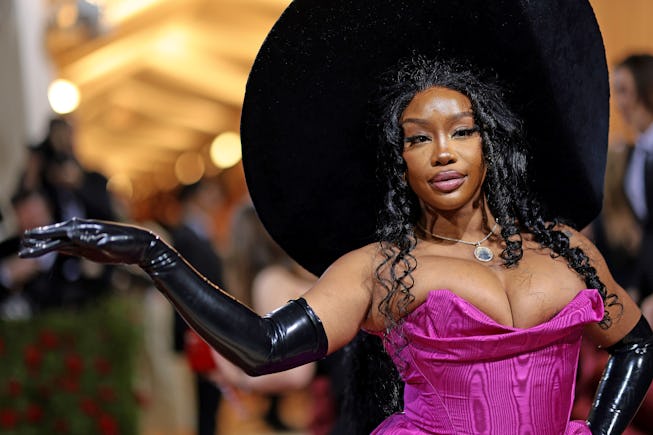 Dimitrios Kambouris/Getty Images Entertainment/Getty Images
Everything We Know About SZA's New Album
S.O.S. will arrive before the end of 2022.
It's been a long time coming for SZA's sophomore album, but after years of promises, teasing, and delays, the singer is finally gearing up to release her new album, S.O.S.
Having been five long years since her debut record CTRL, it's a wild understatement to say that the project is highly-anticipated. Still, despite how sky-high fans' expectations for the album are, the music — the little the singer has shared so far — is already squarely meeting them, if not exceeding them. Recent single "Shirt" and the newly teased "PSA" are already indicating another fruitful release is in the cards for the "Good Days" singer.
As she's wont to do, SZA has been notoriously cagey about the specifics around the upcoming album, though some info has been released as we move closer to the end of 2023 and the presumed arrival of the album. Below, see everything we know so far about S.O.S., including its release date, features, and tracklist, ahead.
What is SZA's new album called?
SZA's new album is called S.O.S. The singer confirmed its name in an interview with Billboard, officially cementing what fans had already suspected to be the album's title.
The singer previously hinted at the phrase in her music video for "Shirt," in which SZA tattoos the letters on her wrist. Additionally, in the teaser for an unreleased track titled "PSA," the video ended with a morse code message that spelled out "SOS." She later also included the same morse code in her Instagram bio.
When will SZA's new album be released?
SZA's S.O.S. is set to arrive "in December" 2023 via TDE Records. Though the exact day hasn't been announced, the singer confirmed its arrival month in Billboard.
The timing coincides with what fans already suspected to be the release month based off of scattered clues hidden throughout the singer's music video for "Shirt." One of the clues involved a shot of a car license plate that included the date "Dec 2022."
Who is featured on SZA's new album?
SZA has largely kept mum on who will be featured on her new album. Ty Dolla $ign, who guested on "Hit Different," is the only possible feature that's been officially confirmed.
SZA also hinted at a possible collaboration with Doja Cat on the record at a festival performance in Spain earlier this year, though at the time teased it as part of her single "Shirt." As we know now that the song has officially been released, Doja Cat isn't featured on the song after all.
As for other behind-the-scenes collaborators, SZA will once again be teaming up with Carter Lang and Cody Jordan Fayne, who helped craft 2017's CTRL.
What songs will be included on SZA's new album?
The official tracklist for SZA's album hasn't been released, but the singer has revealed a few songs from the record. Recent single "Shirt" will be included, as will the unreleased song previewed at the end of the "Shirt" music video which has been revealed to be titled "Blind."
On Nov. 9, SZA teased yet another song from the record called "PSA" with a brief music video trailer. There's no word on its release date, though it could very likely drop as soon as Friday, Nov. 11.
There's also a good chance previously released singles "Hit Different," "Good Days," and "I Hate U" could also be included on the record's final tracklist.
In a Billboard cover story, the songs on the album are described as "daring" and include a "grunge record," an "acoustic guitar-driven ballad," and a lo-fi-sounding track with "surf rock" elements throughout.
This article was originally published on