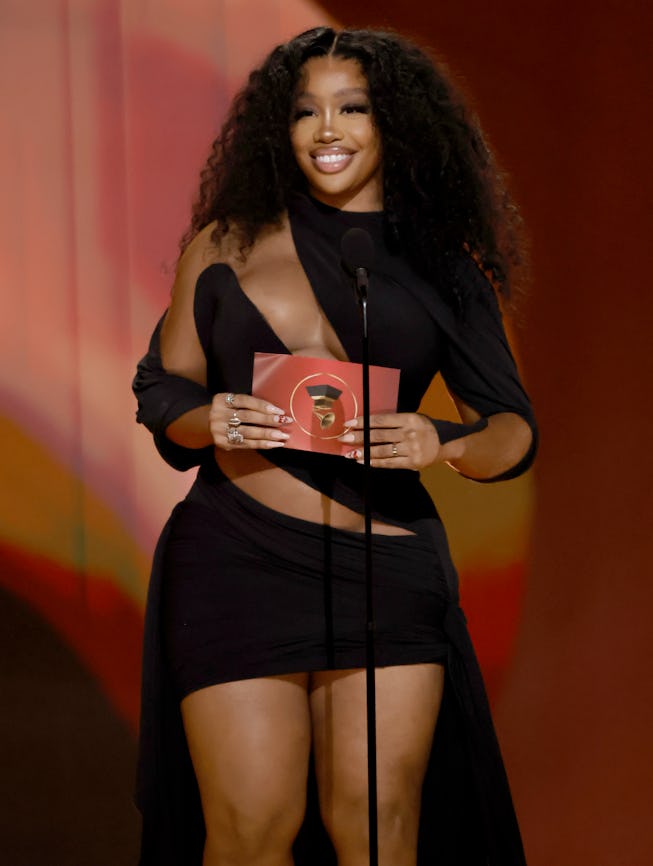 Kevin Winter/Getty Images Entertainment/Getty Images
SZA's 'S.O.S.' Deluxe Album Will Include 10 New Songs
Fingers crossed for a "Kill Bill" remix.
It's only February, but 2023 is already shaping up to be SZA's year. The singer technically released her acclaimed and long-awaited sophomore album, S.O.S., at the tail-end of 2022, but its impact has only gotten bigger in the time since. To date, the record has spent nine nonconsecutive weeks at No. 1 on the Billboard 200 chart — the most weeks atop the list for an album by a woman in nearly seven years, per Billboard — while a whopping 20 of the album's 23 tracks charted on the Hot 100 (breakout hit "Kill Bill" peaked at No. 2). It's clear the world just can't get enough of SZA — which is great news, because the singer is about to drop off 10 new songs.
That's right: the deluxe version of S.O.S. is coming soon and it'll arrive with 10 previously unreleased tracks, the singer confirmed in an interview with Billboard as the publication's 2023 Woman of The Year. Unfortunately, SZA doesn't offer any clues about what those exact tracks will be — if they'll be remixes, completely new songs, or both — but considering the album was in the works for literal years, we're not surprised that she has a trove of B-sides sitting in the vault. (Fingers crossed a "Kill Bill" remix is somehow involved.) The exact release date for the deluxe version hasn't yet been announced.
Elsewhere in the interview, SZA spoke on feeling disoriented by the massive success of the album. "You know when something is really popular, the positive is loud and the negative is loud? I've never been quite this popular before, so the negative is also really loud, and it threw me off," she told Billboard. "I was like, 'OK, cool. Noted.' And I tried to figure out what actually resonates with me as a true assessment of my work and what is not true and something I can't allow myself to internalize."
She also said she wasn't surprised that fans flocked toward "Kill Bill" — a song that she "don't give a f–k about that's just super easy," versus a song that she "put so much heart and energy into." "I knew it would be something that pissed me off," she said. "'Kill Bill' was super easy — one take, one night."
The singer just kicked off her S.O.S. stadium tour on Tuesday night in Columbus, Ohio, the first of 17 dates that will take her across the U.S., as well as to Toronto and Vancouver. This is her first solo headlining tour since 2018, and her first-ever playing stadiums, so she's prepared a spectacular live show, one she described as "a play on Broadway, but more like Suspiria and Cirque du Soleil in the weirdest way." We're listening!
"I am deeply excited to pop ass and cry and give theater," she told Billboard. "I want it to be smart and exhilarating and exhausting and exciting like a party, but also like a therapy session."