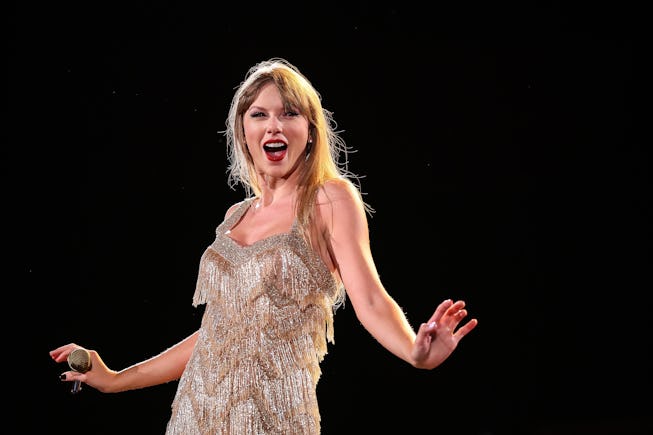 Taylor Swift's Eras Tour Is Coming To A Movie Theater Near You
In typical Swift fashion, there are already easter eggs hidden in the ticket prices.
Taylor Swift's Eras Tour has become an unprecedented global phenomenon with its own set of traditions, customs, and highly anticipated events. There are the outfit changes, the surprise songs, the friendship bracelets and elaborate concert attire, and the unique quirks that every loyal Swiftie have at this point memorized. Now, you'll soon be able to relive it all (or live it for the first time) again in high definition in its entirety at a movie theater near you.
On August 31, the pop star announced the arrival of The Eras Tour official concert film, Taylor Swift The Eras Tour, which is set to screen at AMC, Regal, and Cinemark theaters across the U.S., Mexico, and Canada starting Oct. 13, 2023. The film was shot during her six-night run at Los Angeles' SoFi Stadium this past August. And in typical Taylor fashion, there are already Easter Eggs hidden in the ticket prices: adult tickets will cost $19.89 and a child's ticket will cost $13.13. You can order tickets now, here.
"The Eras Tour has been the most meaningful, electric experience of my life so far and I'm overjoyed to tell you that it'll be coming to the big screen soon," announced Swift in an Instagram post. "Starting Oct 13th you'll be able to experience the concert film in theaters in North America! Tickets are on sale now. Eras attire, friendship bracelets, singing and dancing encouraged[.] 1, 2, 3 LGB!!!! (iykyk)"
This is great news for all the Swifties (or non-Swifties who just want to be in the know) who've been unable to get tickets to what's likely become one of the most in-demand (and most lucrative) live shows in history. Now, with the arrival of the film, Swift's probably on track to at least double the amount of earnings she's making with the Eras Tour, which is already set to gross over $1 billion in ticket sales.
The Eras Tour concert film will also coincide with another major Swift release in October: the arrival of her 1989 (Taylor's Version) rerecording, set to drop on Oct. 27.
And her Eras Tour is far from over; she's currently in the midst of her international second leg of the tour having just wrapped up her first four shows in Mexico City, the first time she's ever played in the city.
Later this year she'll be bringing the tour to Argentina, and Brazil. And in 2024, she'll be taking the show to Europe, Australia, Japan, and Singapore, before coming back to the U.S. to close out the show in Canada and a few other U.S. cities she didn't hit the first time. When does she rest?!
Watch the official trailer for Taylor Swift The Eras Tour below: