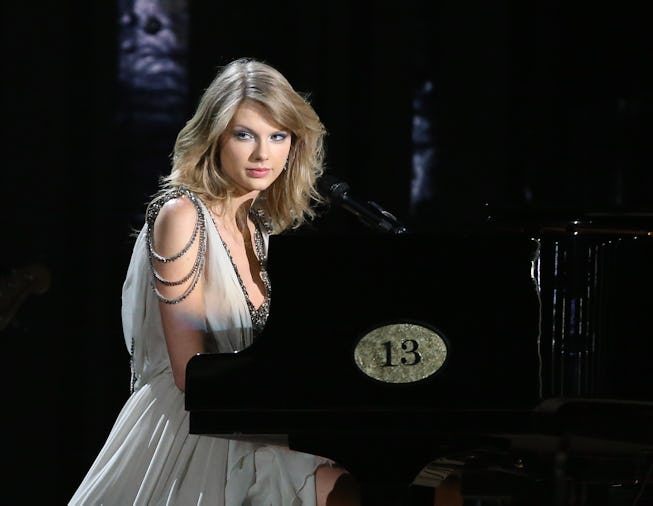 Michael Tran/FilmMagic/Getty Images
All Of Taylor Swift's Track 5 Songs, Ranked
Breaking down the emotional tracks — from "All Too Well" to "You're on Your Own, Kid" — that hold the coveted track 5 slot.
Taylor Swift has always been a big fan of musical traditions: there's her ongoing fascination with the hour of 2 A.M., a long-standing habit of including talking interludes in her lead singles, the golden years of hidden messages in liner notes. But perhaps the most unwavering and constant institution in the Swift musical catalogue — which officially hit ten studio albums, following the release of this year's Midnights — is the legendary track five, which over the years has come to be known as each album's most emotionally raw track.
For the casual listener, track five can usually be counted on to be a solid addition to any album; for the die-hard Swiftie, it's the holy grail, a look into the darkest page in Swift's notebook — and, almost always, cause for fervent obsession (Swift once even put out a whole merch collection based on the track number). "I didn't realize I was doing this, but as I was making albums, I guess I was just kind of putting a very vulnerable, personal, honest, emotional song as track five," Swift said during an Instagram Live in summer 2019 while promoting her seventh album, Lover. "So because you noticed this, I kind of started to put the songs that were really honest, emotional, vulnerable, and personal as track five."
It's safe to say that Swift, one of this generation's best songwriters, has succeeded in this regard on all nine of her track fives — but since this is the internet, it's time to argue over which one did it the best. Ahead, a ranking of all of Taylor Swift's track five songs.
This article was originally published on