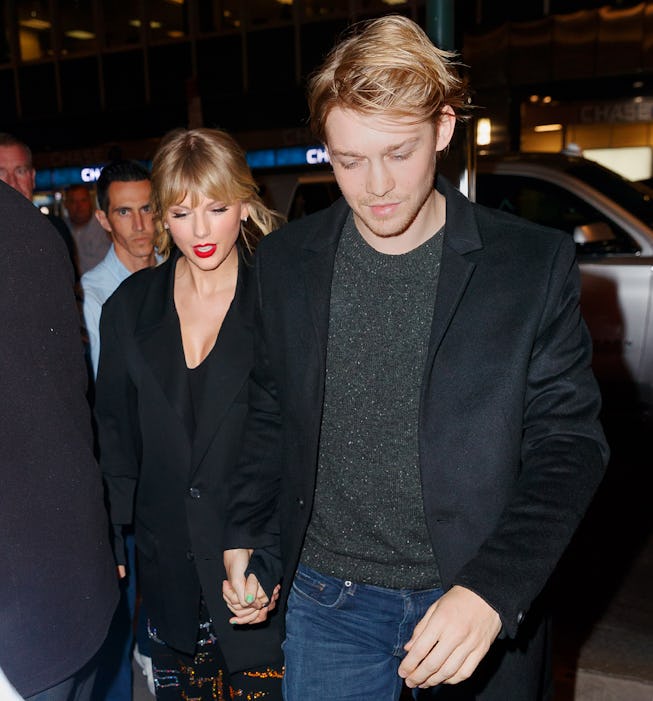 Jackson Lee/GC Images/Getty Images
Taylor Swift's "You're Losing Me" Lyrics Might Explain Her Split With Joe Alwyn
The song's big question: "Do I throw out everything we built or keep it?"
Taylor Swift's lyrical candidness is what has always made her standout as a songwriter. Whether she was writing about young love, relationships, or breakups, her songs never flinched from trying to paint a full picture, even if it was one that was hard to look at.
It's been a while since the super star has released a breakup song, but it was only a matter of time; since the singer split with Joe Alwyn, fans have already began anticipating the inevitable breakup album. But it turns out they didn't have to wait long. On Friday (May 26), Swift released a second deluxe edition of her 2022 album Midnights, which included four new songs, among them the CD-only release "You're Losing Me," a song fans have deciphered as ostensibly about her split with Alwyn.
The nearly 5-minute track is a devastating relationship ender if we've ever heard one, as it details the hopeless and tragic dissolution of a relationship. Though Swift doesn't include any names or details, it's not hard to see why fans are interpreting it as being about her and Alywn. When Entertainment Weekly first broke the news of their split in April, sources for both parties diplomatically described the breakup as amicable, and that "it was not dramatic." "The relationship had just run its course," one source told ET. With the release of "You're Losing Me," Swift seems to offer a window into her perspective of how things ended while also releasing one of the most devastating songs she's ever written.
Its lyrics don't waste any time getting into the tragic heart of the matter. "You say, 'I don't understand,' and I say, 'I know you don't'/ We thought a cure would come through in time, now, I fear it won't/ Remember looking at this room, we loved it 'cause of the light/ Now I just sit in the dark and wonder if it's time," she sings in the first verse, painting a portrait of two people who are unaligned and have seemingly grown apart in their relationship.
The pre-chorus lays out the song's big question: "Do I throw out everything we built or keep it?" But waiting for resolution feels like something Swift doesn't want to do anymore: "I'm getting tired, even for a phoenix/ Always rising from the ashes/ Mending all her gashes/ You might just have dealt the final blow," she sings.
The most heart-wrenching part of the song comes in on the chorus, as she warns her other half, "Stop, you're losing me/ Stop, you're losing me/ Stop, you're losing me I can't find a pulse/ My heart won't start anymore/ For you/ 'Cause you're losing me." The lyrics mirror the song's production which sounds like a quietly pulsing heartbeat, driving the knife's blade of the song in even deeper.
Perhaps Swift's biggest skill on this song is being able to convey all the heartbreak and roiling emotion without actually providing any specifics into the breakup. "You're Losing Me" is rife with frank, confessional lyrics, but still keeps many of the exact contours of the split obscure. There are no accusations or fingers pointed at who's at fault. There are no mic drop moments or explosive gossip; The closest Swift gets to revealing any details is on the second verse, when she seems to suggest that the relationship hadn't been OK for a while now.
"Every morning, I glared at you with storms in my eyes/ How can you say that you love someone you can't tell is dying?/ I sent you signals and bit my nails down to the quick/ My face was gray, but you wouldn't admit that we were sick," she sings.
On the bridge, Swift reveals that she "wouldn't marry me either," perhaps offering the tiniest, sliver of hints into one of the reasons why they ultimately fell apart: "And I wouldn't marry me either/ A pathological people pleaser/ Who only wanted you to see her/ And I'm fading, thinking/ Do something, babe, say something (say something)/ Lose something, babe, risk something (risk something)/ Choose something, babe, I got nothing (I got nothing)/ To believe, unless you're choosing me."
It's the lack of details, the palpable restraint despite Swift's clear heartbreak behind its lyrics, that makes "You're Losing Me" perhaps the most devastating song in her catalog (yes, even more so than "All Too Well.") Amid the grief and sadness of the song, there's also a feeling of inevitability, of sorrow that nothing more could be done, of pointlessly waiting for action when you know nothing is coming. In some regards, it's one of Swift's most mature breakup songs in her catalog, regardless of whoever it's about. And if this is just a "from the vault" track, it makes one wonder what an albums-worth of these songs would sound like.