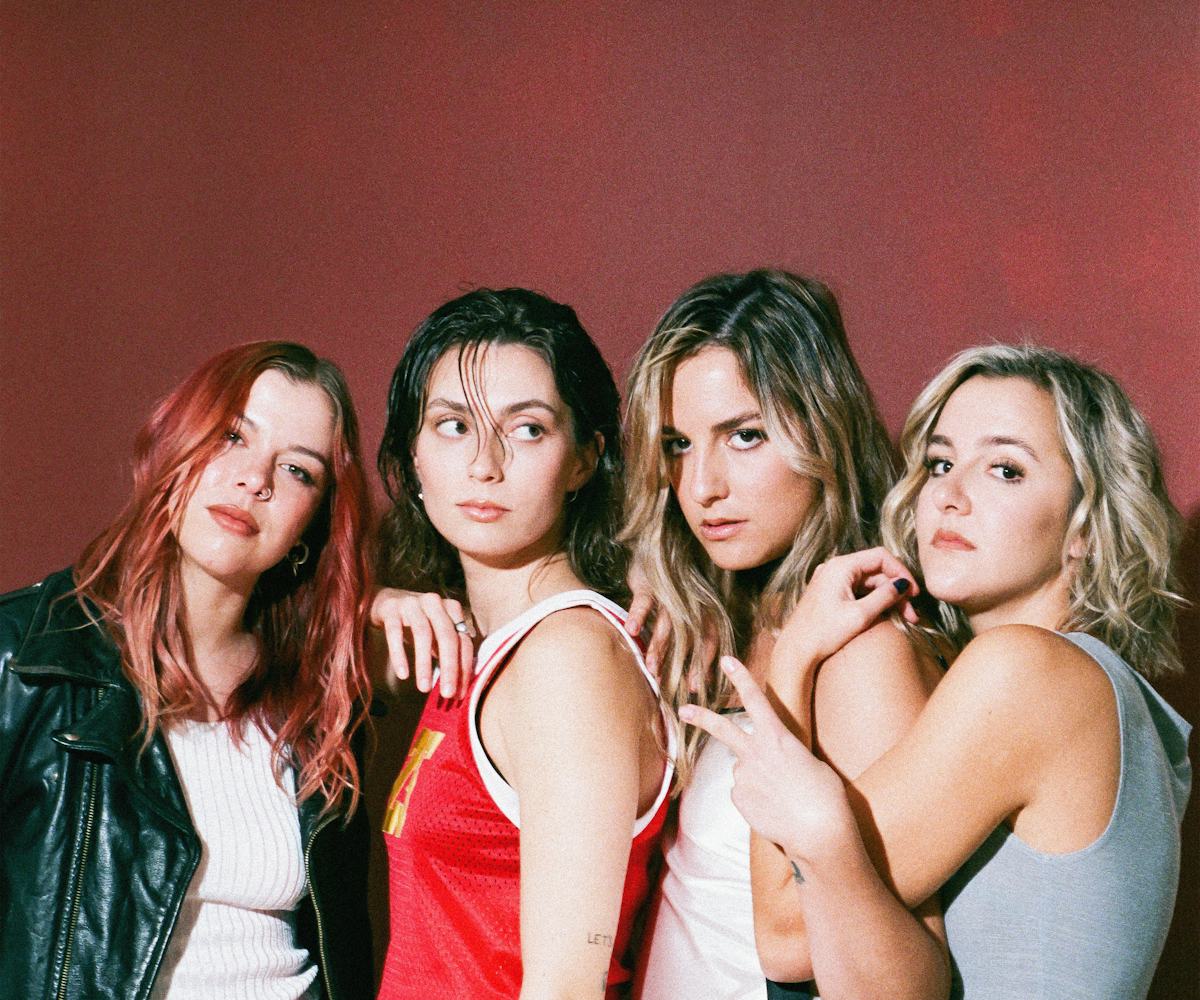 Becca Hamel
Get Into The Beaches' Youthful Rock 'N' Roll
You've heard "Blame Brett." Now hear the band's latest: a rollicking anthem for singles everywhere.
The Beaches has been releasing music since 2013 but they arguably didn't get their big break until earlier this year when their song "Blame Brett" took off on TikTok. The spunky, all-too-relatable rock anthem about the traumatic fingerprints a toxic ex can leave on you and its ultra shameless lyricism ("I wouldn't let me near your friends/ I wouldn't let me near your dad") endeared millions of new listeners to the Toronto-based rockers, who were already rising sensations in their home country. (They've opened gigs for The Rolling Stones, Foo Fighters, Avril Lavigne, and more, with just one full-length album under their belt.)
Now, the four-piece is hoping to keep the momentum going with the release of their latest single, "Me & Me," a curious two-minute tune that shows just why their presence in rock 'n' roll is so exciting. The song starts up mid-tempo but very quickly shifts gears and speeds up, like a TikTok "sped-up version" remix filter has been laid in real time. It's jarring and imperfect, off-kilter and gripping, and it feels like it's breaking the rules in all the right ways.
Like "Blame Brett," "Me & Me" is also about relationship problems, or rather, the lack of them. It's an ode to being single, relishing in "me and me" time. Over fuzzy and driving guitar riffs, they reject the idea that you have to be in a couple to be happy: "Finally free/ won't waste my life self-loathing, happy I'm going home with me and me," they sing, cheerleader chants echoing in the background, before punctuating, "save your pity, b*tch." The Beaches' take on rock is playfully fun, irreverant, and fully leaning into their youthfulness (whatever that means, but also, you know what that means), and that unpretention is really nice.
The song is off the group's forthcoming sophomore album, Blame My Ex, out Sept. 15. Hear it below and read on to learn more about The Beaches.
What are you up to right now — describe your surroundings.
My sister and I are taking a single girls' trip to Europe. It actually perfectly embodies the vibe of me & me and we've been singing it to each other the whole time we've been here.
What's the story behind "Me & Me?"
"Me & Me" is a song we are so so proud of. To us it's a single girl anthem — a song about falling back in love with yourself after a heartbreak. Self love is so important and after being lost in sadness it's so good to finally realize it's awesome to be on your own.
In the spirit behind the song, what's your ideal solo date night out?
Glass of wine (or bottle), a good book, a good meal, followed by a walk with a podcast.
You all have a new album coming called Blame My Ex. What can people expect to hear?
We are so excited about the release of Blame My Ex. It's a record that explores heartbreak, self discovery, healing, queer relationships and so much more. We love that musically it's a bit of a departure for us and that as a concept it explores the idea of healing as not being linear. There's so many sides to it, we're so pumped for the fans to hear it.
What's the best part of being a rock n roll band in 2023?
It's honestly so awesome being a rock band in 2023. Luckily we're able to play shows safely constantly, but it's also amazing to connect with new fans around the world via TikTok and Instagram. Having so many connections with all your fans around the world is such an asset.