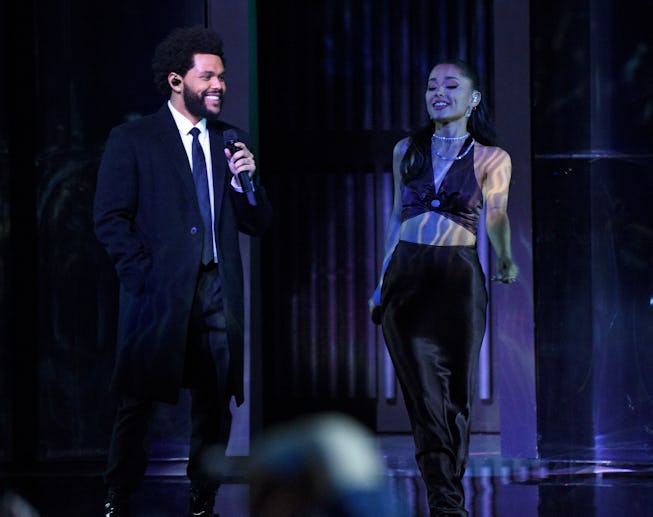 Kevin Mazur/Getty Images Entertainment/Getty Images
The Weeknd & Ariana Grande Are A Match Made In Vocal Heaven
The longtime friends and collaborators teamed up for a new remix, once again proving their synergy.
Ah, the iconic musical duo. I'm not talking about two-people bands, but rather the elusive, infinitely rewarding best-friends-turned-fervent-and-frequent-collaborators. Like A$AP Rocky and Tyler, The Creator; Kendrick Lamar and Baby Keem (though family ties also play a part here); Drake and 21 Savage; Drake and Rihanna... though maybe best friends is used loosely in that case. One overlooked and arguably underrated duo is The Weeknd and Ariana Grande — two powerhouse singers that when combined are an unmatched force.
The duo's friendship and collaborative history goes all the way back to 2014. They first teamed up for the sumptuous bop "Love Me Harder" (and ignited dating rumors along the way). After a six-year dry spell, they collaborated again in 2020 for Grande's Positions, duetting on the album's standout and most emotional song, "off the table." Then, it seems a switch flipped, and they haven't stopped working together since. Grande hopped on the insta-viral remix of "Save Your Tears" in 2021, and now, she's on another new remix — this time for The Weeknd's 2016 slow-burning smasher "Die For You," off of his hit album Starboy.
Maybe it was the one billion streams the "Save Your Tears" remix has racked up on Spotify that tipped them off, but Ariana and Abel have clearly tuned into the fact that some algorithm-shattering magic happens when they sing together. And why not: they have un-replicable, undeniable synergy. You can hear it all over their newest song. It's something to do with the way their voices blend and weave and occupy similar tonal spaces (but I'm not a scientist). Ari's voice has that whistle-y light lift to it, as does Abel's. When they sing together, it's like touching an incredibly soft blanket. On the new track, it's especially chill-inducing when Grande's whispy voice softly creeps into the background of Abel's first verse. Or maybe their winning formula is even simpler than that. They're the two singers at the top of the pop game right now; Ari has basically perfected the pillowy soft, cushiony pop purr, and Abel, well... I don't think it's a stretch to say that every new guy singer entering the "R&pop" genre right now is trying to do their own version of his loins-igniting falsetto howl. Two 10s will obviously make another 10.
And yet, they have a vocal chemistry that feels special to only them. Their duets come across like real, fluid conversations instead of two people just singing at one another. The new "Die For You" could stand as its own song rather than a remix. A solid friendship outside of the studio probably plays into this compatibility, even if both singers haven't spoken much publicly about the specifics of their relationship; they've only vaguely referred to each other as "friends" in scattered interviews.
But it's cute to imagine Abel giving Ariana the call to hop on the remix for a six-year-old song that's suddenly back on the charts, thanks to it inexplicably going viral on TikTok, and Ariana breaking her own musical hiatus to jump back in the booth to do this for him. "Wrote and recorded a verse for my friend after a 14-hour day on set," she captioned in a TikTok of her punching her own vocals in the studio. "This certain exception has to be made..." That's a true bond!
It probably won't be long before "Die For You" remix breaks a billion streams on Spotify, too. And when the next years-old Weeknd song goes viral, well, I hope he knows who to call.