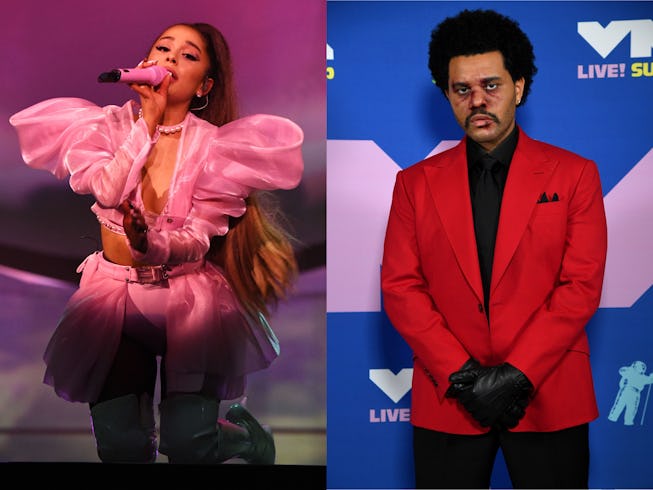 L: Photo by Kevin Mazur/Getty Images for Ariana Grande R: Photo by Kevin Mazur/MTV VMAs 2020/Getty Images for MTV
An Ariana Grande & The Weeknd Remix Of "Save Your Tears" Is Coming
Thankfully, we have no tears left to cry.
In 2018, Ariana Grande basically outlawed crying with her ebullient and healing-centered lead single from her Sweetener era, "no tears left to cry." So it would only make sense that The Weeknd, on his hunt for a remix partner for his equally great pop hit "Save Your Tears," would turn to Grande as his answer. Though neither parties of officially confirmed the collaboration, all signs point to an ethereal "Save Your Tears" rework featuring Ariana Grande on the way, thanks to an audio snippet The Weeknd posted on Twitter Monday.
On the eight second clip, one can hear Grande's gossamer vocals effortlessly harmonizing with what sounds like a dozen different versions of her self, as she's wont to do; one can just barely make out the lyric: "I don't know why I run away," but the sound alone has already cleared our skin and paid off our student loan debt.
The upcoming remix continues The Weeknd's After Hours album campaign which is still going strong, since it kicked off at the tail end of 2019 with the release of its lead single "Heartless."
Earlier in April the "Blinding Lights" singer became the latest star to jump on the NFT bandwagon with the auction of his 'Acephalous' collection, which contained several different visual artworks and an unreleased new song that only the owner would have the privilege to hear as he won't be releasing it on any streaming platforms. The collection sold for over $2 million.
"Blockchain is democratizing an industry that has historically been kept shut by the gatekeepers," The Weeknd said of NFTs in a statement to Variety. "I've always been looking for ways to innovate for fans and shift this archaic music biz and seeing NFT's allowing creators to be seen and heard more than ever before on their terms is profoundly exciting. I intend to contribute to this movement and can see that very soon it will be weaved into the music industry's mechanics."
After Hours was released in March 2020. Check out the teaser for the upcoming "Save Your Tears" remix above.