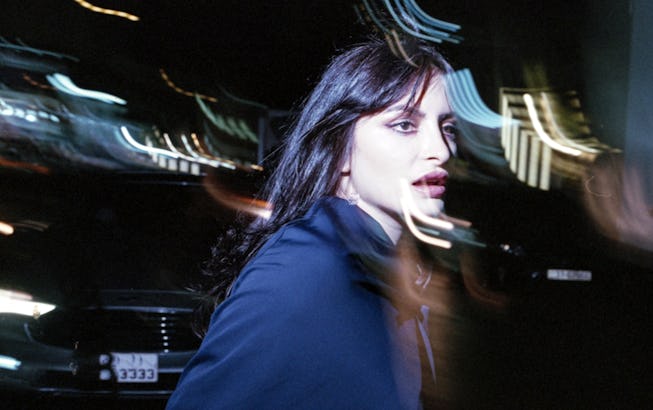 Baha Suleiman
Thoom's Frenzied "Make It Work For Me" Video Almost Got Her In Trouble
Watch the latest visual from the rising Dimes Square singer.
The burgeoning music and nightlife scene coming out of NYC's downtown (and Dimes Square, specifically) has been churning out a slew of impressive acts like The Dare, Frost Children, Club Eat, and more. Among them is Thoom, the Beirut-born artist creating entrancing, shadowy left-of-center concoctions.
If you're on the scene, you've more than likely seen the singer and producer perform on the same bills as many of her peers, often wearing lacy corsets or shimmering pop star get-ups, jumping to electronic-laced thumpers in neon rooms (and sometimes wielding some flashy props). Her latest music, however, is a departure. "Make It Work For Me," the singer's most recent release and whose music video NYLON exclusively premieres below, is the first song from what she calls her ballad EP — and it's sinuous and unearthly in beautifully haunting ways.
Over eerie, almost fairy tale-like production, Thoom breathily sings about her big, horny feelings, touching someone's brow, and sucking someone's "bulgy face." In a press release, it's described as a "psychosexual Lynchian drama," and there's certainly a dose of surreality in the song as she elaborately expresses her sexual desires. Underneath all that, one can also sense a creeping subversion of power dynamics, especially as she demands to her suitors on the hook, "Make it work for me."
All of these themes play out in the song's music video, shot in empty corridors and the streets of Jordan. Though she's mostly seen alone or running past bystanders in its frenzied, night-lit scenes, Thoom tells NYLON that she faced plenty of obstacles shooting the video as she found herself inadvertently having to work against the male gaze.
"The video was shot in Amman and [Director of Photography] Ramzi and I ran into a lot of trouble," Thoom tells NYLON. "The whole time we were shooting we knew there were a lot of eyes on us and that security or police could stop us at any moment. I had this blue corridor location that I knew I wanted to shoot in, but this man that worked there thought I was a wh*re or something, and had security escort us out the building. I was very upset because I really liked this shade of blue and wanted to shoot it there. Shoutout to The Royal Film Academy of Jordan for giving us the necessary papers to be able to shoot in that blue corridor. We also had a lot of people stopping us from shooting the street scenes, and the only way we could get past it was to start running. No one can stop you when you're running!"
"Make It Work For Me" is off Thoom's forthcoming debut EP, Fantasy For Danger, out March 30. The project draws from the tumultuous first few weeks that followed her move to NYC from Berlin, and is sonically inspired by the Lebanese artists of her childhood, Soapkills and Haifa Wehbe. Watch the "Make It Work For Me" music video below, and read on to learn more about Thoom.
What are you up to right now — describe your surroundings.
It's 11 a.m. in NYC and I'm on the train with a bouquet of two dozen roses. I'm stuffing my face with them because someone is really stinking up this train car. There's a couple making out in front of me and a man is holding a cart filled with used plastic bags. A hot Eastern European man on the right is blasting bad music out of his phone. Okay, and here comes a trail of liquid from the front of the train car. I think it's Gatorade!
What's your earliest music-related memory?
My parents making me bellydance when friends and family would come over.
Describe your sound/music in three words.
Playful, dramatic, sexy.
What's your favorite spot in NYC right now and what do you like to do there?
Seward Park. I like to drink coffee there with my best friend and eat croissants. People watch.
What's the last album you listened to in full and enjoyed, and why?
I'm really obsessed with Goldfrapp right now. I LOVE their album Supernature. It's like the girl version of Iggy Pop's The Idiot. I would suggest it for driving into Manhattan at night. It makes me feel like I'm in the '30s, '80s and now. It's so thick and sexy. Woooo. And it has the type of female aggression that I relate to. It's the perfect sound if you live in chaos.