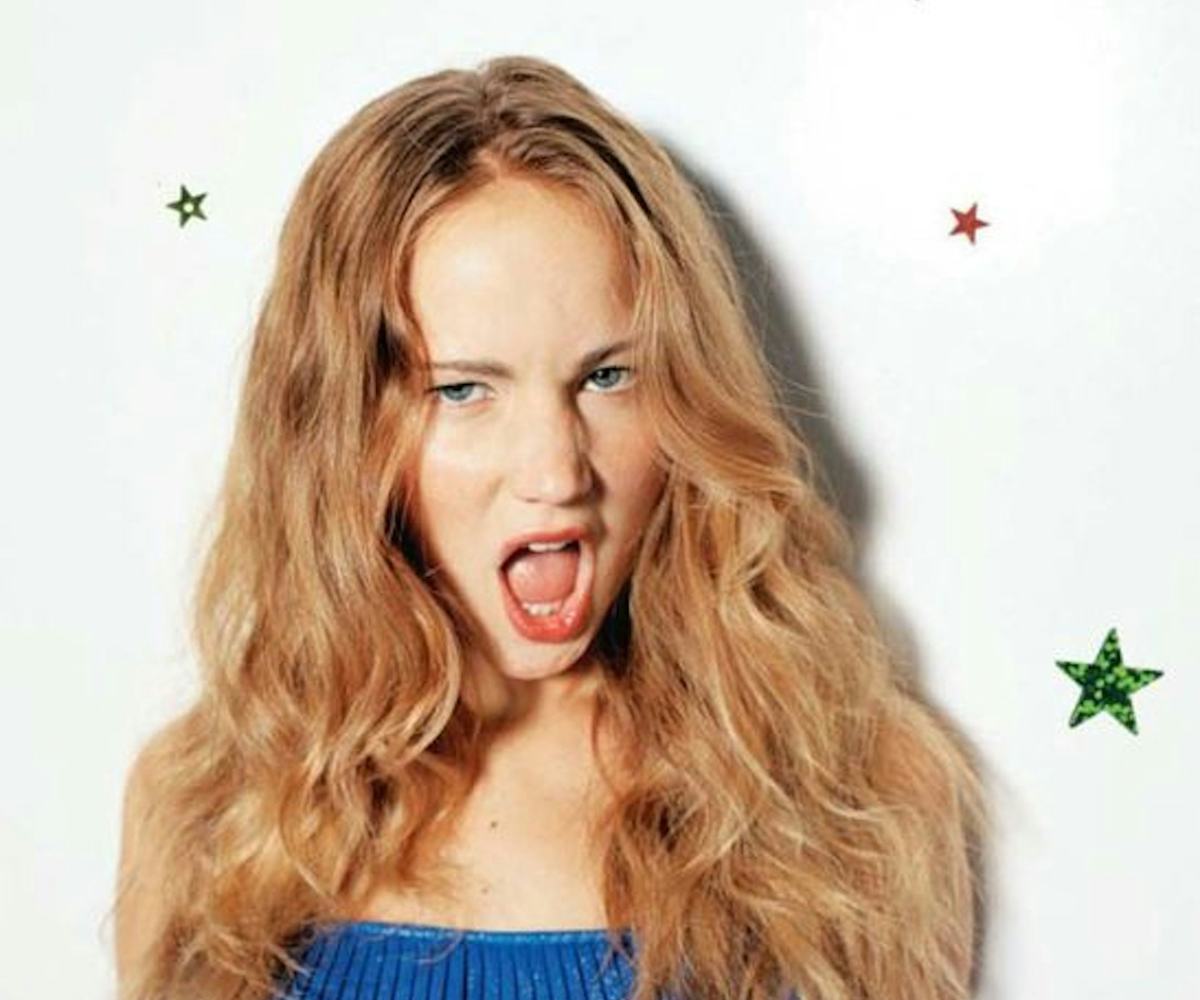 photo by brantley gutierrez
throwback thursday: jennifer lawrence has the best #tbt
This week, Jennifer Lawrence broke her silence about the hacking crime. To celebrate her bravery, we're taking it way back to our '09 interview with The Hunger Games star.
Like any up-and-coming actor worth her salt, Jennifer Lawrence exists in a permanent state of creative hunger. The teen star of TBS' The Bill Engvall Show, who recently made the transition to the big screen in The Burning Plain, is currently being considered for another movie. The film's director is in New York, Lawrence at home in Los Angeles, and her agent has already talked enthusiastically about a conference between the two via Skype. But Lawrence, who desperately wants the part (about which she is not permitted to speak), instead headed directly to LAX and bought a ticket for the next available flight to New York. [2014 edit: We bet $100 this was The Hunger Games!] She was on the east coast by morning, awaiting what will now be a face-to-face meeting later today. 
"I hope the director doesn't think I'm too crazy!" she says in her Midtown hotel room, laughing loudly. "But I am determined. Hey, I have to be."
In The Burning Plain—Amores Perros screenwriter Guillermo Arriaga's multilayered feature-length directorial debut that, indeed, burns slow and long and deadly—Lawrence plays a disaffected teen whose actions, upon learning of her mother's infidelity, will haunt her forever. It is a necessarily bleak performance in what is ultimately a bleak and rather unforgiving film, and marks the first piece of serious acting for this 19-year-old who fell into acting more by luck than ambition. 
A Kentucky native, Lawrence was spotting by a casting agent during a vacation in New York five years ago, and hasn't looked back since. She has had small roles in Medium and Monk, as well as her recurring role in Engvall. "I've been blessed, clearly," she says. "And when Guillermo told me I had the part, I couldn't quite believe it."
In the film, she stars as the daughter of Kim Basinger's character, and though Lawrence speaks gushingly of this modern-day legend—"she is just the sweetest, most generous woman; I loved her"—she stopped herself from getting too close to her on set. 
"I regret that now, but my character has such a distance from Kim's that I didn't want to get too friendly just in case it affected my performance," she says in a manner that suggests she has recently graduated from the Robert De Niro School of Acting. "A method actor, me?" She shakes her head. "Nooo. I was learning my way as an actress, that's all. And my character was really pretty dark. It was difficult to shake off sometimes." That said, when she thinks back to the eight-week shoot, what she remembers most is the laughter between takes. "Anyone would think it was a comedy!" 
But make no mistake, The Burning Plain is not a comedy. And neither is her next film, Winter's Bone (due out early 2010), another art-house thriller in which she inhabits a role a world away from her all-American-sweetheart persona on TBS. "I'm so grateful for the sitcom because it allows me to show another, lighter side of myself," she says, though she admits that, "I am drawn to darker characters. I've no idea why." She certainly carries it off, her glacial, almost aloof beauty offset by a voice that could carry a Joan Jett song with wholehearted abandon. It's a voice that doesn't fit such a waif, a voice belonging to someone who surely gets through 40 cigarettes a day. 
"Ha! I get that a lot. People thinking I'm a heavy smoker," she purrs. "But I've never smoked in my life. I just always had a raspy voice. You should have heard me as a kid..."