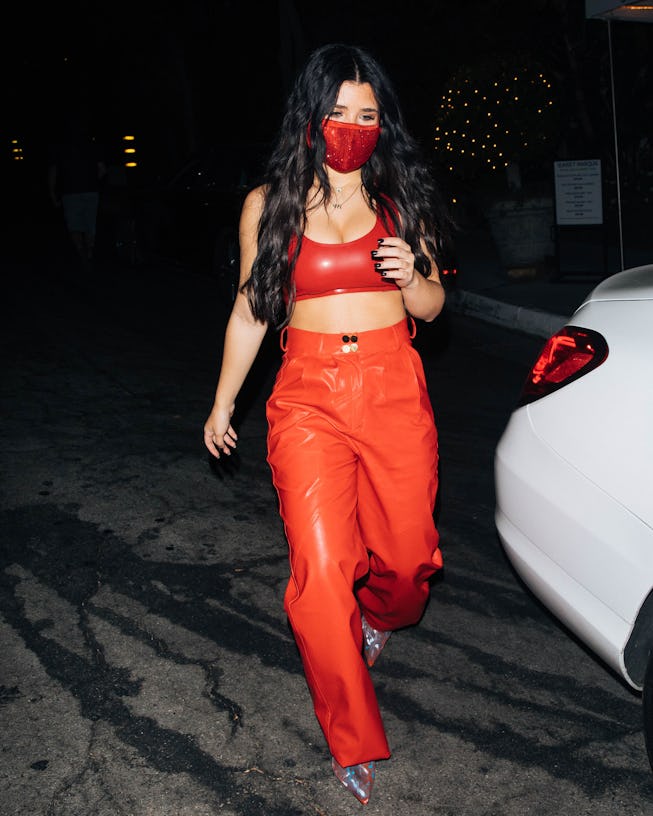 MEGA/GC Images/Getty Images
All The Brain-Breaking Details of The Jaden Hossler and Nessa Barrett Drama
The good, the bad, and the ugly.
Celebrities dating each other has been tabloid fodder since the dawn of time. But the newest iteration — hyped TikTok stars getting romantic — is a whole new beast. Just like the app itself, news of flirtation, love triangles, breakups, and new relationships rising from the ashes travel at warp speed. Take the latest romance born from TikTok between Jaden Hossler and Nessa Barrett. The relationship is still fresh, but still packed with convoluted drama. Luckily, we're on the case with an explainer to let you know what's what.
The Original Couples
Before Jaden and Nessa got together, they were both in relationships. Jaden was dating Mads Lewis, while Nessa was coupled up with Josh Richards. Everything was fine for the most part, up until Jaden and Nessa began hanging out more while recording and promoting their single "La Di Die."
The Accusation
Something didn't feel right to Mads, who accused Nessa of stealing Jaden from her. Mads was mad, deleting most of their photos together, and then posting and deleting a montage of photos soundtracked by Taylor Swift's "Better Than Revenge." The drama pushed the couples into breaking up, but Josh still wasn't taking Mads' claims seriously.
"It wasn't the situation Mads was putting it out there to be," Josh said on an episode of the BFFs podcast. "It was just jealousy. That's just like a girl getting broken up with, then being jealous for no reason and then throwing sh*t online. It's trying to put assumptions together and make something out of nothing. It's just like one of those dumb high school fights you see, except now, every kid in high school has ten million followers."
Although Josh admitted that the thought of Jaden getting together Nessa would be upsetting, he still didn't see any validity to Mads' claims. Turns out, Josh was very wrong!
The New Couple
On April 12, Nessa and Jaden were spotted out together by The Hollywood Fix. Nessa and Jaden didn't deny being a couple — in fact, they both confirmed to the paparazzi that they're currently the happiest they've ever been.
"I don't know anything about that, but we're just trying to enjoy ourselves," Jaden said. "Really trying to be happy." Jaden continued, adding that they feel like they handled the situation "respectfully and privately."
Mads Goes On Call Her Daddy
As if the drama wasn't already wild, Mads went on the Call Her Daddy podcast to discuss her side of the breakup. The episode is now live, and the teaser trailer insinuates that Jaden was hiding his feelings for Nessa... and that he came clean on the morning of the podcast recording.
Sway House Retaliates
The Sway Boys are furious that their friend Josh was done dirty, and have of course taken the beef public. "Nobody is loyal," wrote Griffin Johnson. "F*ck everyone. I'm going to war for you until the day I die @joshrichards."
Jaden, Nessa, and Josh Respond
Jaden and Nessa weren't just going to stay under fire without getting a word in! The two took turns addressing the drama to their fans; Jaden said that Mads' hurt was why she was acting like this, then addressed his former pal Josh.
"I actually went to jail for him. I got detained, I was in jail for 15 hours," he admitted. "That's real life... That's how much I loved him." Jaden confirmed that Josh blocked him across all socials, but he still sent out his plea: "Josh, if you're listening bro, please just call me."
Meanwhile, Nessa took a more cryptic route. "I don't need to pity myself. i know the decision i made," she tweeted. "[Y]'all don't know the whole story and probably never will because the truth hurts and it shouldn't be online. night."
You think Josh had nothing to say? Think again! "Personally, I am going to handle this offline," he wrote on Twitter. "The last 3 weeks has been hard on me and I just need time to think. I appreciate all of my friends and supporters that have reached out to check in on me. It means more than you know. I'm doing ok and have no ill will towards anyone."
Mads' Call Her Daddy Episode Airs
The episode's title is "Backstabbing D*ck," which is masterfully designed to immediately skyrocket your blood pressure. Just as the trailer teased, Mads tearfully announced that Jaden admitted to liking Nessa the morning of the podcast recording. But despite her very obvious pain, Mads had sweet words for her ex, especially concerning his new music.
"It is literally the greatest album I have ever heard in my entire life, and I'm not capping because I'm in love with this person," she explained. "It is so f*cking good and it is going to change people's f*cking lives when they hear it because I know why he wrote it."
She continued: "He wrote that f*cking album for Cooper. I don't know if you know Cooper's story, but I f*cking love that kid. And he's gone through so much f*cking sh*t in his life. And I realize that album is about Cooper. About losing someone, whether it's love, a family member over drugs, f*cking mental abuse, eating disorders, anything. That album is going to change people's f*cking lives and I'm so f*cking proud of him. And if him's being happy with her, then f*cking do it."
What's To Come
With Mads' side live on Call Her Daddy, it's only a matter of time until Nessa, Jaden, and maybe even Josh hop on a podcast to tell their side of the story. This love rhombus is still feels very much in its infancy — buckle up!