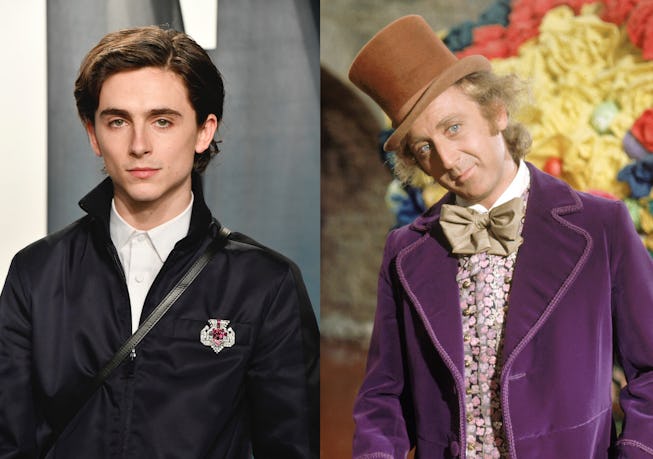 Getty/Shutterstock
Timothée Chalamet Will Star As A Young Willy Wonka In Origin Story Musical
Presumably set in a world of pure imagination.
Timothée Chalamet is headed into a world of pure imagination. After it was announced in May that the young heart throb had been cast to play Willy Wonka in Warner Bros' forthcoming origin story about the iconic chocolatier, Wonka, the actor has now unveiled photos of himself in costume on Instagram for the first time.
Posted on Sunday, the pictures show Chalamet dressed to the nines in a velvet suit paired with a patterned shirt, and yes — he's got on the signature Wonka top hat. Along with the sneak-peek he captioned the photo with a line from the original film, writing, "the suspense is terrible, I hope it will last."
Wonka will be a movie-musical based on characters originally created by Roald Dahl, including Chalamet as the titular candy maker Wonka who was first brought to life by Gene Wilder in 1971's Willy Wonka and the Chocolate Factory. Johnny Depp reprised the role for 2005's Charlie and the Chocolate Factory, bringing the classic story to a new generation. Warner Bros' Wonka will reportedly be the first time that Charlie Bucket, the young protagonist from the earlier films, will not be featured.
This latest iteration will reportedly focus on young Willy Wonka and his adventures prior to opening the world's most famous chocolate factory. Sources told Deadline that Chalamet will be putting his singing and dancing skills to use for the first time on screen, with several musical numbers set to appear in the film. In a recent interview with Time, Chalamet opened up about recording the film's musical numbers. "I felt out of my league. Like I was desecrating history!" he said, jokingly.
Though working on Wonka pushed the actor out of his comfort zone, he said it was a welcome change of pace. "It's not mining the darker emotions of life," he told Time of the film's plot. "It's a celebration of being off-center and of being O.K with the weirder parts of you that don't quite fit in."
According to The Hollywood Reporter, Wonka went into pre-production in early January and began principal photography in London on September 29. The film is currently set to premiere on March 17, 2023. In the meantime, the Oscar-nominated Chalamet will also be seen starring in Dennis Villeneuve's Dune and Wes Anderson's The French Dispatch later this year.
Editors note: This article was updated on October 11, 2021 with new information about Wonka.
This article was originally published on