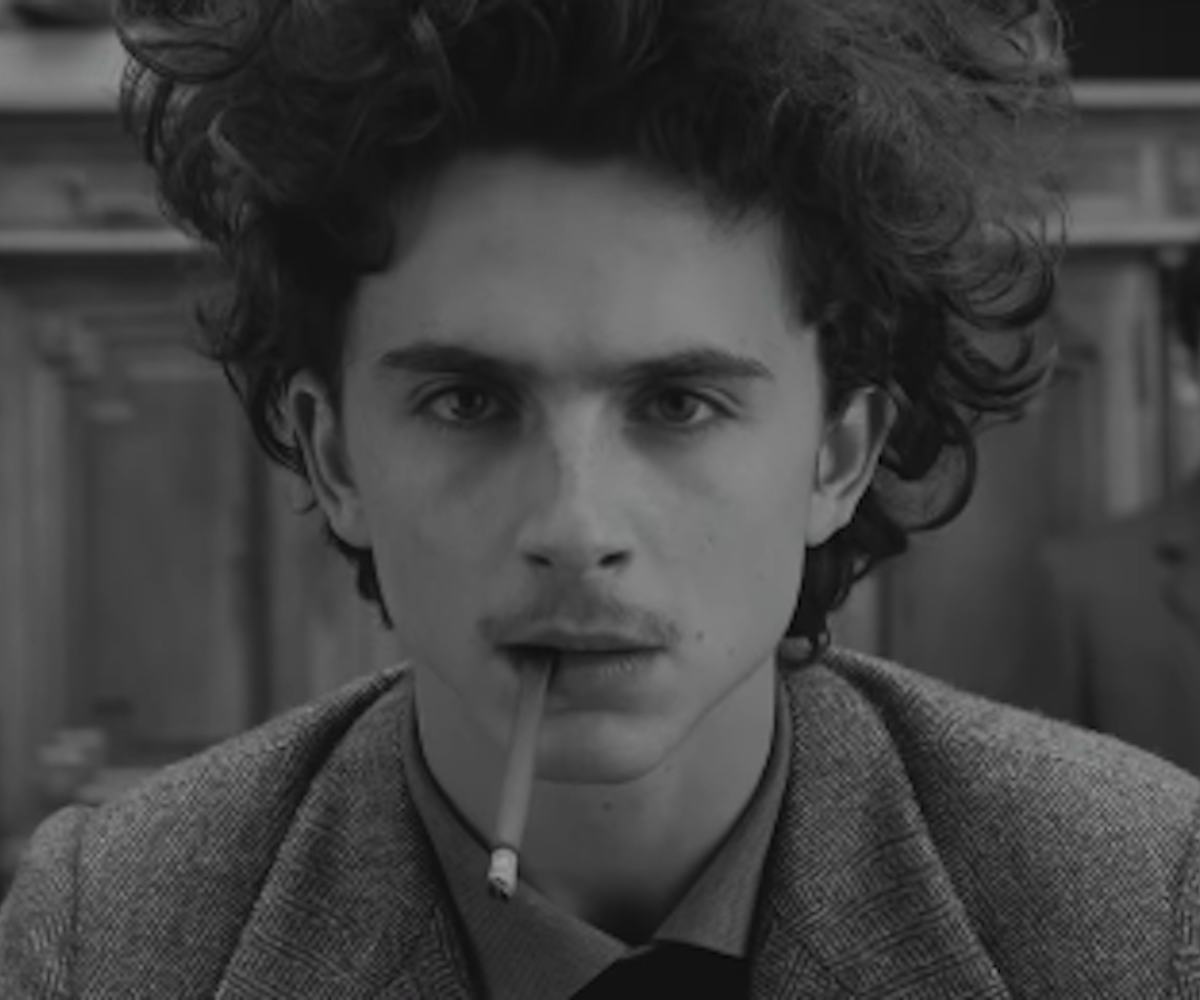 Photo via screengrab
Timothée Chalamet And His Mustache Star In First 'French Dispatch' Trailer
'The French Dispatch' also stars Saoirse Ronan, Léa Seydoux, Frances McDormand, and more
The French Dispatch, the upcoming tenth film by twee auteur Wes Anderson, has been many things over the past couple years: a musical and then not a musical, another starring vehicle for frequent collaborators Tilda Swinton and Bill Murray, and a "love letter to journalists." These things are all, indeed, correct. But today, with the release of The French Dispatch's first trailer, it's clear that, above all, the upcoming film is a movie about one thing and one thing only: Timothée Chalamet taking a bath with a towel wrapped around his head. I would like one ticket, please!
"It began as a holiday," the trailer starts, in a voiceover by Academy Award-winning actress Anjelica Huston. "Eager to escape the bright future on the Great Plains, Arthur Howitzer Jr. transformed a series of travelogue columns into The French Dispatch, a factual weekly report on the subjects of world politics, the arts, high and low, and diverse stories of human interests. He assembled a team of the best expatriate journalists of his time...these were his people."
If that sounds slightly familiar, it's because it's supposed to. Anderson has admitted that the concept for The French Dispatchwas inspired by the inner-workings of The New Yorker, a magazine the writer/director has read and collected since he was a teenager. As is the case with most Anderson films, this trailer does little to clear up other aspects about the film, but from the looks of it, The French Dispatch will focus on three stories that were "published" in the fictional French Dispatch of the film's title.
The first, "The Concrete Masterpiece," focuses on Moses Rosenthal, an apparent asylum inmate widely considered to be "the loudest artistic voice of his rowdy generation." The second, "Revisions to a Manifesto," tells the story of a group of rebellious youth that "obliterate 1000 years of Republican authority in a fortnight" in their search for freedom. The last, "The Private Dining Room of the Police Commissioner," appears to hone in on a specialty restaurant accessible only to the most elite guests.
Then again, we all know that you just want to hear Little Timmy scream in fright and say, "I'm naked, Mrs. Krementz!"
In addition to the Oscar-nominated Chalamet, The French Dispatch boasts an impressive ensemble cast — featuring some frequent Anderson collaborators (like Bill Murray, Tilda Swinton, Owen Wilson, Léa Seydoux, Frances McDormand, and Adrien Brody) as well as some new ones (like Saoirse Ronan, Benicio del Toro, Jeffrey Wright, and Elisabeth Moss).
Watch the trailer below. The French Dispatch hits theaters nationwide on July 24.