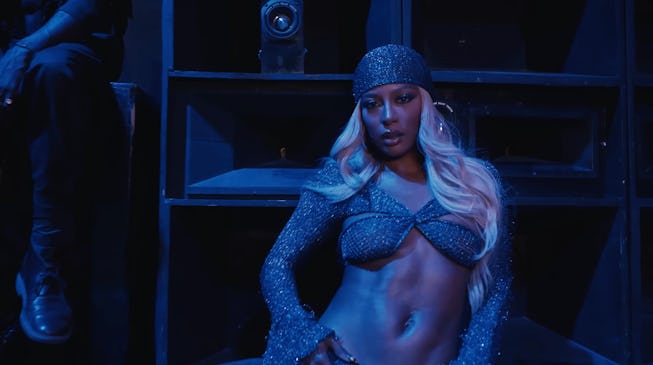 YouTube
Victoria Monét's "Party Girls" Is Our Bid For Song Of The Summer
This multi-arc tune will be the sound of BBQs and ragers all season long.
By Labor Day, the blockbuster song that has reigned all season — affectionately dubbed the "song of the summer" — will have become old news. It'll have played at every grocery store and CVS, been rinsed clean at parties, BBQs, and beach hangs, and been called in on the radio at least once every hour. And yet, it still thrives for one simple reason: its ability to not be a boring song. It has melodies, excitement, verve that can withstand the test of being put on repeat billions of times — which is why I'm putting my bid in for Victoria Monét's "Party Girl" as 2023's song of the summer.
Longevity is what you're chasing when you make a SOTS. That might come from dialing in an addictive hook or beat, or maybe it's just weaving an intricate enough track that every listen unravels something delightfully new — which is exactly my experience listening to Monét's heady and sensual dancehall smash that sounds like multiple different songs deftly strung up into one.
"Party Girls," the latest single off Monét's forthcoming album Jaguar II, is not what it first seems; gently kicking to life with the purr of bass that feels like it can shake the walls of a house, its first few moments simmer like a laidback, R&B tune. It's sensual and sexy, riding an even, mellow buzz like the steady climb of a come-up. Then, her guest feature, king of reggae and dancehall Buju Banton, barrels in, and the song distinctly switches into a palms-on-the-wall sweat-er ushered in by drums and a barrage of laser synths. "Want to know what a true Jamaican night life is like," Banton asks.
When it smoothly transitions back to Monét's intoxicating chorus melody — "Let's hear it for the party girls, out lighting up the world," she sings — it somehow takes on a brighter more effervescent sound the second time. This dizzying, layering of the song continues until the outro, when Banton and Monét collide to send out their ode to the gorgeous, singular party girl: "I like the girls who like to party." At the end of the song, it feels like you've taken a generous swig out of the most delightful layered, ombre drink: sweet, spicy, and tangy all mingling on the palate. Most importantly, it is never boring.
The luscious accompanying music video, directed by Meji Alabi and featuring jewel-dripping looks by stylist Kollin Carter, only hammers that point home even further. Monét and a mass of other dancers and partygoers heat up the cement interiors of a warehouse; booties bounce against walls and other guests. It's impossible to not feel FOMO.
What's so mesmerizing about "Party Girls" is how you can never get familiar enough with its melody. When you think you've pinned it down, it slips out of your grip — a testament to the genius of Monét's songwriting and ever-evolving ear. As the famous songwriter to Ariana Grande, Fifth Harmony, and more, she knows how to hammer out a instantaneous radio-pop banger, but "Party Girls" is a different beast: that subtle waft of incense that lures you in without you even knowing. I can picture myself playing this for every function under the sun this summer. It's a track that can bend itself to fit any setting — an offering that truly honors all shades of party girls out there. Or, in Monét's own enthusiastic words, "[the] women around the world who keep celebrations alive!" What is more "summer" than that?