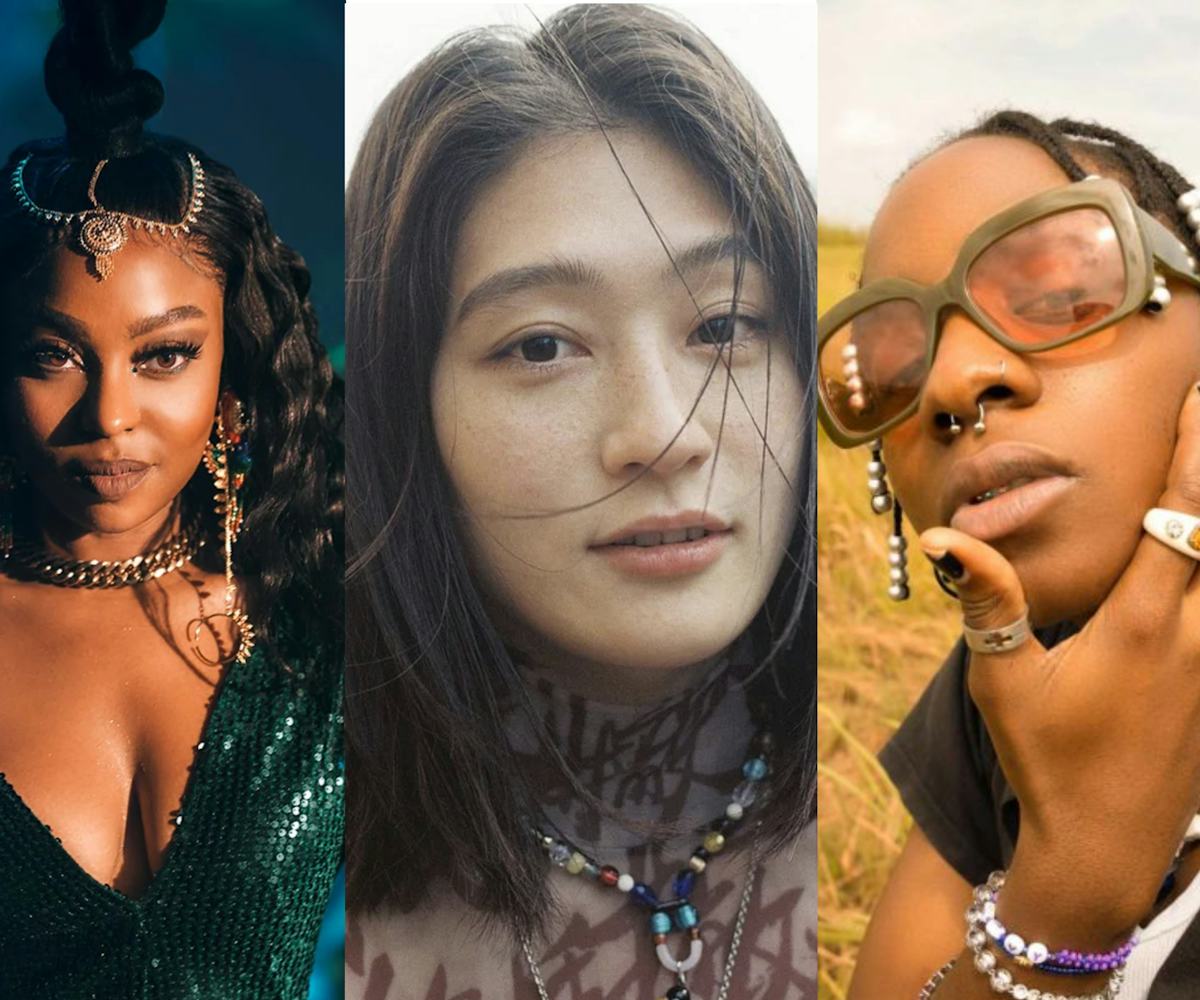 Felipe Jaramillo; Toshiaki Kitaoka; Walter Banks
"Power And Femininity": Behind The Music Of Victoria's Secret Revamped Fashion Show
Musicians KOM_I, Goyo, and Wavy The Creator tell the story of The Tour '23's soundtrack.
The Victoria's Secret fashion show is officially back, but this time it looks a little bit different. Rather than its usual star-studded runway spectacular, the lingerie brand is debuting their latest collection via a special collaborative film event called Victoria's Secret The Tour '23. Created in collaboration with 20 women creatives hailing from four cities around the world — Tokyo, Lagos, Bogota, and London, the film will showcase four separate fashion curations, each centered around themes of femininity and the beauty of womanhood.
Among the 20 creatives are three musicians — Japan's KOM_I, Colombia's Goyo, and Lagos' Wavy The Creator — who spearheaded the creation of the music and official soundtrack for the unique fashion event. Working with their teams, they faced the unique challenge of distilling each city's central message, or theme, into sonic form. "A keyword for this project was the word 'body,' and at that time I was pregnant so every day I was thinking my body. It was changing, transforming," says KOM_I, the former lead singer of the J-Pop group Wednesday Campanella, and whose pregnancy at the time greatly contributed to her sonic contribution to The Tour '23.
Ahead of the film's premiere on Sept. 26, NYLON caught up with all three of the musicians during a NYFW press day in early September. In person, and through translators, they told the story of how they made each of their songs come to life.
Lagos singer Wavy The Creator on being inspired by her mom:
WAVY THE CREATOR: I got an email saying that [Victoria's Secret] wanted to work with me and add me to this amazing project. I think at first I was skeptical. But [after] doing more research about it, it just seemed like something that was pretty exciting and I wanted to be part of such a beautiful project.
[I was apart of] the Lagos team. My role was creating the music behind everything and we tried to work as close as possible together, all the different women from our city. We had a theme that we were going with: amplifying the woman and the goddess, and bringing that power and femininity out. My role was to create a sound that centers everything together.
I was mostly channeling my culture, my upbringing as well, being able to experience growing up in Lagos and also in America as well. Even down to my mom, trying to bring up that powerful and strong woman and showcase her in a very beautiful light. My mom has inspired me throughout my journey as a creative. She's the most relentless woman I've ever met. I've gotten that trait from her, to always go for what we want and never be afraid. I feel like it's shaped me and it's helped me watching her as I grew up.
I've always felt like an alien and very alienated as well. When I was growing up in Lagos, I knew that there was something odd and different about who I was. Moving to America, growing up in Kansas City, Missouri kind of forced me to find out what that was. I don't think I broke out of that shell until I moved to Texas [and] went to school in Houston. I think I've been able to experience different parts of the world and it's shaped me to be who I am.
I was between 17 or 18 [when] I moved as a personal photographer for a popular artist back to Lagos. It was a random day because I was in the music scene and I loved music a lot. I was just like, "You know what? I want to try and create music." I made a random song, I dropped it on my birthday and it just shot up. That's literally how my journey started; I was experimenting and having fun.
Colombia's Goyo on finding her solo voice:
Goyo: I am from Colombia, but I am born in Chocó. Chocó is like the Pacific coast in Colombia. It's like Africa inside Colombia. I am an artist born there, but [my team was from] Bogotá. We are talking about multiculturality, about the diversity that we have in Latin America. It's so important to push different types of woman, no one model, and no one size. This is what the Colombian team is talking about because our designer is talking about her community. [Our collection] explains a lot about our struggles.
I think the message is [believe in] your dreams. Because, sometimes we don't have opportunities because Latin America [is so] far. It's about saying, "We can." It doesn't matter where you're born. Believe in you, stay working. This is the message. If you can, I can.
The important thing about this collection is the scars. It's in my music too. Every time I'm talking about the life on the song, you have bad times, it's empowerment. The scars are only experiences in life. Every time you have a scar, it adds wrinkles.
For me, to collaborate with Victoria's Secret was freeing. I write my own lyrics, I do my own music. Every time they told me, "You can do whatever you can."
I'm working on an album solo, because I come from a group in Colombia. We call us ChocQuibTown, but right now I am alone. My first single is the same single Victoria's Secret used for the campaign. I'm so happy and so grateful for the opportunity because it's so important to put my voice for her, and for her to give me a voice.
Japanese musician KOM_I on creating during her pregnancy:
KOM_I: I made two tracks. One is with lyrics, and another one is more music for a soundtrack. I started when I was pregnant. A keyword for this project was the word "body," and at that time I was pregnant so every day I was thinking my body; it was changing, transforming. It was like it was splitting, trying to emerge in order to bring out a new creature.
I felt like an alien was living inside my body [laughs]. I love my baby. Now, I feel it is human. But, I didn't know exactly what it [was]. So the only way to figure out what this creature was was to listen to its heartbeat. There was a small machine to listen to the heartbeat of the baby. My heart beat is around 60 bpm. But my baby's heartbeat is 130 bpm or something. We started to make music from those two rhythms. So that's my guide to [the] music, based on the different rhythms.
The biggest difference between making music for this project and making music for other or my own project is the director, UMI. UMI is making an entire world, an entire concept for the Tokyo scene. And I feel she is poet more than director. The Tokyo scene starts with her voice, her voice over, [and] she's reading her poem about Tokyo. So this time, I wrote lyrics, but it was not really my writing. It was more like I was this medium channelling UMI.
In Japanese, there is so many vocabularies that indicate "me." In English [there's] only one: "I." But in Japanese there's so many versions to say "I." [Usually] when I write "I" in Japanese, I use the character which is watashi, what you always use for written Japanese. But UMI used Katakana, another form of Japanese writing, and wrote not watashi — watashi is more formal — but atashi [Editor's note: atashi is a pronoun primarily used by women in Japanese]. For me, that felt like women who's strong, with pride and dignity. When I was writing the lyrics, instead of using watashi, I, channeling UMI, used atashi and used that energy in my lyrics.
I'm always collaborating with someone to make music. This time I'm influenced by UMI to write lyrics, and also I'm collaborating with Jamalmos, the musician, and he made the tracks. I wrote the melody and songs and we combined it. After this project, I got more freedom because I feel I can get influenced by anyone or anything, work with a free mind. Because UMI helped me. My baby [also] inspired a lot. I feel like I can get inspiration from anyone. Like, ah, maybe there are more hints around me. I can be aware of it.
The Victoria's Secret World Tour premieres Sept. 26 on Prime Video.