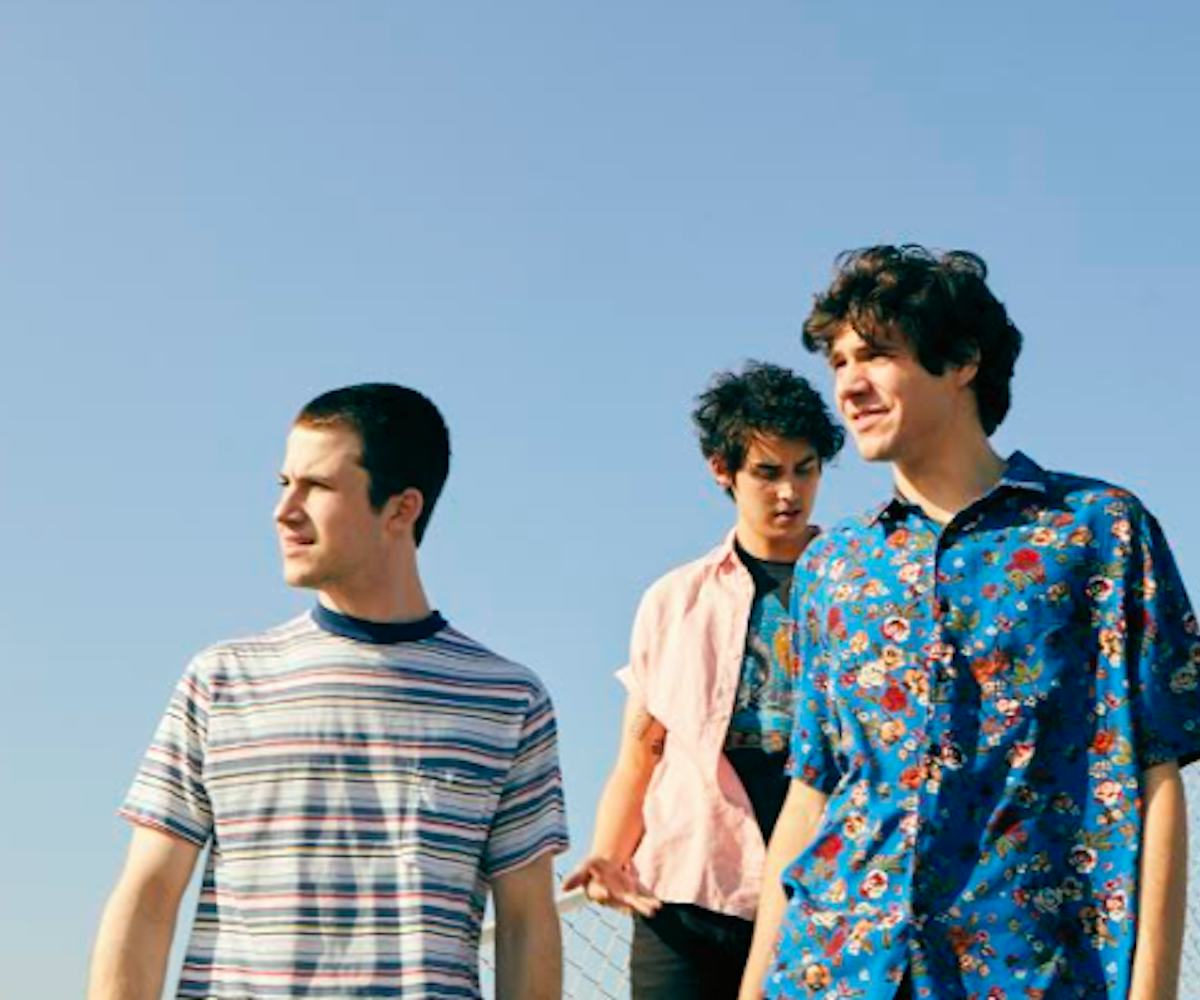 Photo Courtesy of Wallows
Wallows Are Ready To Let You Into Their Indie Rock World
Get to know the band whose debut EP is out today
Usually, the best things in life are made possible when we're able to look past the mindless details. At least, that's what worked for Braeden Lemasters, Dylan Minnette, and Cole Preston, the three musicians behind the L.A.-based indie rock group Wallows.
Almost exactly a year ago, the group decided to stop obsessing over the little things, finished mixing what became their first four tracks, and sent them into the ether. "I think we had a tendency to not be sure of our decisions and just hold off on things and not put it out because we were nervous to or we felt like it wasn't ready," says Minnette. "At that time, we were like, 'This is the right time because we need to just do it. We need to follow our guts, put it out, and not think about it, just put it out and see what happens.' And that's what we did."
Wallows instantly gained traction upon the release of their debut single, "Pleaser," perhaps partially due to Minnette's coinciding exposure last spring for playing Clay on the Netflix hit series 13 Reasons Why, but there's no doubt that the band warranted attention in their own right. Having made music together for nearly nine years, the trio had honed in on a crisp indie rock sound which propelled them to unexpected success, including a record deal with Atlantic and the opportunity to release their first EP, Spring, (out today) with the help of producer John Congleton (St. Vincent, Alvvays). "I don't think we ever pictured ourselves getting to [this] point," says Preston, explaining that Wallows was a dream between three friends, a creative world that they inhibited with only each other for almost a decade. Now, though, they're confident enough to let others in. 
The band's origin story starts in an unlikely place: a hot tub. It was while sitting in one that an 11-year-old Lemasters heard his friend Minnette sing the Beatles' "In My Life." It was Lemasters' first time hearing the classic, and the experience turned out to be a formative musical memory, and not the first time the friends would inadvertently share musical inspiration with one another. Years later, on the way to band practice, Minnette experienced an indie revelation as Preston introduced him to the Arctic Monkey's Favourite Worst Nightmare. Moments like these contributed to their musical brotherhood of sorts, which actually began in a chat room for parents of child actors and later flourished in a youth music program. These moments are made Wallows the band they are today. "Our sound has definitely formed over time, and I think that's thanks to each other and musically what we're listening to. We all end up getting inspired by the same things at the same time," says Minnette. "That's where we're at right now, so we'll see where it goes next."
As whisper-soft as a California breeze, Wallows' music creates a forlorn warmth in its easy guitar-led sound. It carries an air of sweetness, as well as reflection. Though rooted in danceable, riff-heavy tracks, the band's lyricism looks past anything superficial and instead turns inward to wrestle with introversion in songs like "Let the Sun In," and the ambiguity of youth coming to a close in "Ground."
"I think a goal in our lyrics is to be as simple as possible, so people can listen and relate and feel like they're listening to someone who is just having a conversation with them, or [it's] something that makes so much sense to latch onto and apply in your own life," said Minnette. "I feel like music that has these lyrics that just makes so much sense to you when you hear them immediately; it's such a great feeling, and we want people to have that feeling with our songs."
After a whirlwind year, Lemasters, Minnette, and Preston are excited about what the future holds for Wallows. "This is when it's hitting us," Preston says. "I feel like we've always sort of taken this mindset of, We're just going to do it because we love doing it and it's fun and we're all friends… [but] it hadn't really felt like we had achieved any insane goal that we'd been trying to achieve as kids until we saw [our first tour schedule] and we were like, 'Damn. We're going to spend time in a van and play and drive around.'"
Minnette says, "It's super-exciting, but it feels normal. It doesn't feel like anything's different. It's just happening, and we're just rolling with it and seeing where it's going to go." 
"I think our hopes are to continue evolving our sound and having fun with it, taking ourselves seriously while also not taking ourselves seriously," Lemasters says. "It would be cool to even branch off from music... like maybe create something else, like a short film? Who knows? But I think it would be cool to make an entity of Wallows and see what happens as we move forward."
Minnette says, "I think we could've waited and waited and waited, and maybe we wouldn't have even put out [our first single that made everything possible], because we would've worried about what could've happened, but so I'm happy we did."
Spring is out now.