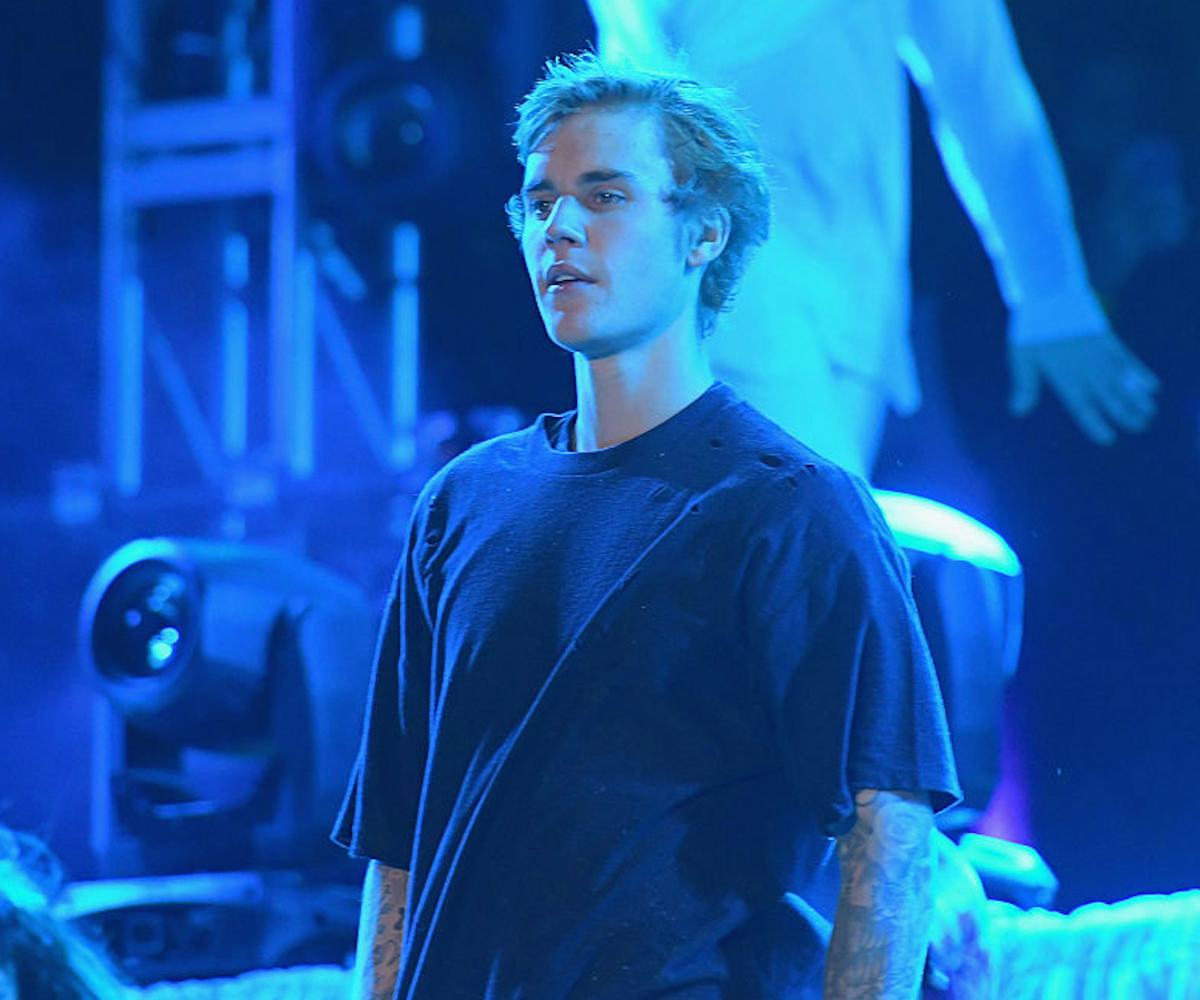 Photo by Gustavo Caballero / Getty Images
So Where Does Justin Bieber Go From Here?
Fresh of the biggest hit of his career, the singer abruptly cancels his tour
This week, Justin Bieber made a decision that can't possibly be easy for a touring musician: He canceled the remainder of his Purpose world tour.
It speaks volumes about where he's at as a person and as a performer. John Mayer took to Twitter to remind Beliebers that "when someone pulls out of a tour, it means they would have done real damage to themselves if they kept going," while Bieber's manager Scooter Braun stressed that "a man's soul and well being [come] first and we must all respect and honor that." That's true, especially since the last year has been an uphill climb for the Canadian pop prince. Back in 2016, he canceled meet and greets because he felt drained by them, and he confessed that the constant stream of selfies and photographs made him feel like a zoo animal. Plus, in October, he stormed offstage after fans refused to stop screaming (and shortly afterward punched one in the face).
So it's evident to almost anyone who's been paying attention that Justin Bieber needs to hit the brakes or risk combusting even more self-destructively than he did the first time. Also, there's power in self-awareness. There's courage and strength in recognizing and honoring your own limits. And it's not like Biebs is about to disappear.
The thing is, when he does return—whether that be in a few weeks, a few months, or a few years—he'll be in a different position altogether.
It's easy to forget amidst the recent game-changing career news that Bieber's current hit, "Despacito," just broke the global streaming record last week, hitting 4.6 billion streams in six months. And while even that milestone has been tainted with the symptoms of burnout, it still cements the singer's legacy as a bankable artist who's still relevant nearly a decade after he emerged as a child prodigy. 
Success can be terrifying. It can unleash the best and worst versions of a person, and, in the case of Justin Bieber, it's also led to an adolescence and young adulthood defined by meeting and exceeding the expectations of other people. As a pop star, Bieber consistently put his fans first, only recently beginning to break from protocol as the effects of worldwide fame began creeping in. Even his year-or-so of rebellion back in 2014 was followed by an extensive apology tour, with the then-21-year-old making appearances on daytime television to repent for how he'd been acting, prior to being the subject of a Comedy Central roast, in which comedians did not even try to hide their disdain for him. Ultimately, Justin Bieber has always belonged to his team, his fans, and the rest of the world—but he's never belonged to himself.
Which is why the success of "Despacito" and his recent break can be parlayed into an easier, healthier relationship with the music industry. As part of a collaboration, the zest for "Despacito" can be attributed to the combined efforts of Bieber, Luis Fonsi, and Daddy Yankee, meaning that its legacy doesn't sit on the shoulders of a single artist. And that matters when we think about the biggest hits of the summer so far; DJ Khaled, Bryson Tiller, and Rihanna delivered "Wild Thoughts," French Montana and Swae Lee gave us "Unforgettable," and the recent "Feels" featuring Calvin Harris, Pharrell Williams, Katy Perry, and Big Sean are all testaments to collaboration equaling currency. Artists don't necessarily have to go it alone to make their mark.
And Bieber's been doing it alone since the dawn of time. Yes, he was originally delivered to us under the wing of Usher, but the pressures of being Bieber belonged to only one person. So it's time for him to figure out who he is outside press, coverage, and a jam-packed schedule. And it's time for him to figure what sort of adult he wants to be, since he didn't get much of a say in his formative years. Most importantly, it's time for him to recharge before he implodes, a key move for every person, let alone a young pop star who's sold out countless stadiums across the world.
And from there, should he choose to return, he'll be in a place where he can dictate the terms of his professional life. He can collaborate more, stepping in to deliver a verse on someone else's track, since "Despacito" proves that he can. He can produce, which would be a great option considering he's come of age in recording studios (and arguably understands how production and recording works). Or he can take years away and re-emerge as another type of solo star, one whose music reflects this particular time and what he's learned in the wake of the year's revelations.
Or maybe he doesn't come back at all. Maybe, after giving us so much of his young life already, he decides that the rest of it gets to be reserved for him. Either way, Bieber deserves credit for recognizing that amidst popular demand he needs to put himself first. I'd rather a world with Bieber alive and happy than a world without Bieber at all.