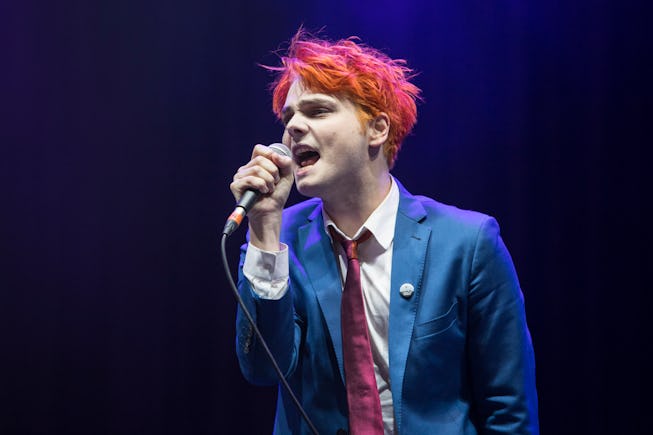 When We Were Young Festival Is Pivoting To Albums For 2024
Headliners My Chemical Romance will play 'The Black Parade' in its entirety.
When the music festival When We Were Young announced itself in 2022, no one knew what to expect. A Warped Tour-esque line-up in this day and age? What would that look like? Would it just be emo Fyre Festival? Despite a few weather-related setbacks, its inaugural edition ended up going swimmingly, and the festival has since wrapped up a successful second year. But now, it seems like it's shifting gears to nail down its true identity and purpose as a festival: to focus on the art of the album.
For When We Were Young's 2024 edition, over 50 bands and musical acts will perform full albums live, per festival organizers in its latest lineup announcement. That includes a live performance of the seminal classic The Black Parade by the festival's main headliners of 2024, My Chemical Romance.
The emo legends will be joined at the festival by other legacy acts like Fall Out Boy, A Day To Remember, Simple Plan, Jimmy Eat World, The Used, Cobra Starship, and more — all of whom, except FOB, will also be performing full albums "front-to-back with highlights," per a press release. Simple Plan is set to bring 2002's No Pads, No Helmets... Just Balls to the stage; While Jimmy Eat World will perform Bleed American, and A Day To Remember, Homesick. Nearly every act on the lineup is confirmed to perform a complete album for their set, usually their most popular project. It's the biggest co-sign for albums we've seen in 2023 yet.
In this age of music festivals, When We Were Young's focus on the album is a pretty unique gimmick that also happens to make sense for its demographic. The golden age of pop punk coincided with the golden age of CDs, walkmans, and other longer-form listening, so more often than not it was the full album that stayed with a fan rather than separate singles or songs.
When We Were Young 2024 kicks off in October in Las Vegas. Read on for the full details about the festival, the lineup, and how to get tickets.
When is When We Were Young 2024?
The festival takes place Saturday, Oct. 19, 2024 at the Las Vegas Festival Grounds.
Who is playing When We Were Young 2024?
My Chemical Romance and Fall Out Boy are headlining the festival alongside A Day To Remember, Jimmy Eat World, Pierce The Veil, The Used, Simple Plan, and more. See the full lineup, along with the album's they'll be playing, below.
How do I buy tickets to When We Were Young 2024?
A presale kicks off Friday, November 17 at 10 a.m. PT. You can sign up to access that here. Any remaining tickets after the presale will go on sale to the general public at 2 p.m. PT the same day.