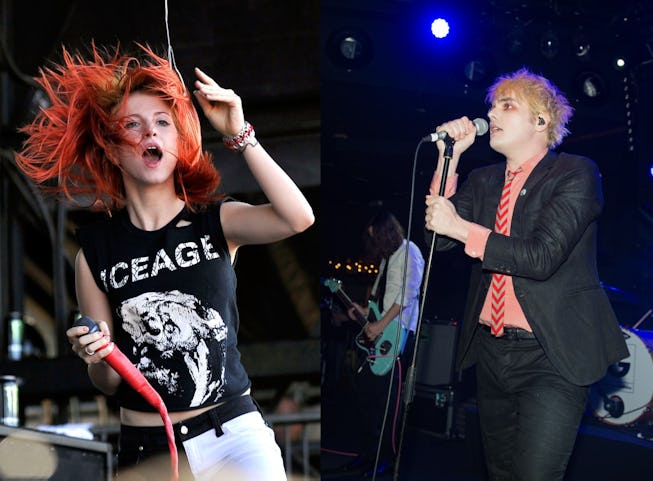 Getty Images
Paramore, My Chemical Romance To Headline When We Were Young's 2022 Festival
The festival has expanded to three days.
Warped Tour might be dead, but that doesn't mean your dreams to relive its glory days have to be, too. When We Were Young, the gritty rock festival that debuted in 2017 in Santa Ana, CA, has announced a truly bonkers 2022 lineup that includes pretty much every band that you would've seen on the Vans-sponsored extravaganza — and more.
Paramore and My Chemical Romance will headline the one-day event, with a robust supporting bill including Avril Lavigne, Bright Eyes, Boys Like Girls, Taking Back Sunday, The Used, and more. That's just a very small taste of the festival's wild lineup which spans over 50 acts and includes pop-punk newcomers like TikTok stars Lil Huddy and JXDN, as well as some wildcard acts like U.K. synth-pop group Wolf Alice. So every generation of emo-pop lovers — yes, even the ones who don't know the the classics — is pretty much guaranteed to have a great time.
When We Were Young's 2022 festival will kick off in October, this time in Las Vegas. For everything we know so far about the festival, including the exact date and how to buy tickets, read on below.
When We Were Young Festival Dates & Location
When We Were Young has expanded to three days and will now take place October 22, 23 and 29, 2022 at the open-air venue Las Vegas Festival Grounds in Las Vegas, NV. All three days will have the same lineup.
Get The Nylon Daily Newsletter
Your go-to source for the latest in fashion, beauty, entertainment, music, and more, so you'll always be the most in-the-know person in the group chat.
When We Were Young Festival Lineup
All the greatest hits from emo-pop's heyday are expected to grace the festival's stages.
My Chemical Romance and Paramore will headline the one-day festival alongside a supporting bill that's also not to be scoffed at. Avril Lavigne, Bright Eyes, Jimmy Eat World, Bring Me The Horizon, A Day To Remember, The Used, Dashboard Confessional, Taking Back Sunday, Boys Like Girls, and many, many more will also perform.
The lineup doesn't just stop at throwback bands, either. Gen Z pop-punk stars including Lil Huddy and Jxdn, and rising tween punk group The Linda Lindas, are also in the mix. See the (pretty bonkers) lineup, below.
How To Buy When We Were Young Festival Tickets
Due to high demand, When We Were Young has added a third date to the festival.
Day three tickets are available for presale registration now. Tickets will go on sale Jan. 31, 2022 at 10 a.m. PT with general admission passes starting at $244.99.
Will it be Emo Fyre Fest?
Since the festival's lineup was announced on Jan. 18, concerns and speculation around the festival's organizers being the same as those behind Astroworld and its improbably-large lineup for a one-day festival quickly took off online.
Indeed, the organizer behind When We Were Young is Live Nation, one of the defendants currently being sued in multiple lawsuits for the tragedy around Travis Scott's Astroworld festival. The entertainment company is also one of the nation's two largest concert promoters, organizing and promoting over tens of thousands of concerts a year.
In response to the rise of safety concerns around When We Were Young and in hopes of dispelling those worries, Live Nation has now addressed the light backlash in a statement writing per Chron: "The safety of fans, artists and staff is thoroughly planned for among event organizers and in coordination with local authorities. We have seen a lot of excitement around this festival and we look forward to putting on an incredible event for all of the fans this October. We encourage fans to check the festival website and socials for all of the latest updates."
Regarding additional worries that the festival will be some sort of emo Fyre Fest due to the large number of acts scheduled to play the one-day festival, Live Nation specified that the event will have multiple stages and that smaller acts will play shorter sets.
"The Las Vegas Festival Grounds is a large event space that has held multiple other large scale events and festivals in the past," Live Nation wrote. "Set times will vary with earlier bands having shorter sets and the headliners having the longest. For many festivals it is typical for earlier acts to have 20-30 minutes, while headliners often perform longer, closer to 45 to 60 minutes or more."
Whether or not they'll be serving up single-cheese-slice sandwiches — well, that'll be harder to say.
This article was originally published on