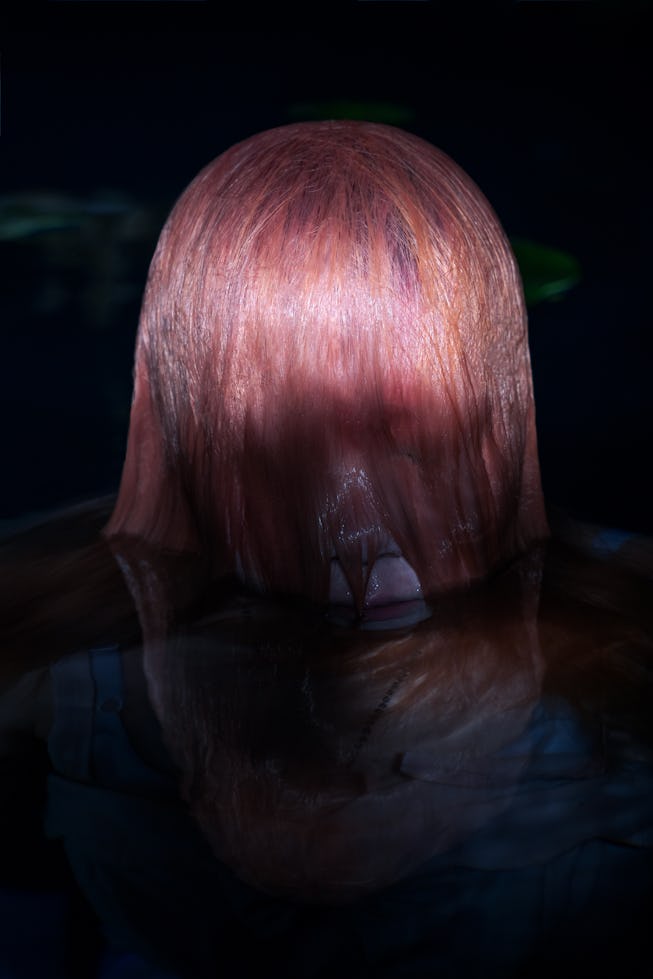 Hendrik Schneider
Who Is Wisp, The 19-Year-Old Making Top-Notch Shoegaze?
Get into the enigmatic song-maker taking the genre by storm.
What do you do when the first song you've ever released gets 25 million streams? This is the problem, or, perhaps, good fortune, facing Wisp, a 19-year-old musician based in San Francisco who's amassed a cult following of at least 30 thousand (on Instagram) with just three songs to her name.
It all began with the release of her debut song "Your face," a wall-to-wall shoegaze heater that seemingly sprung fully formed on the internet with millions of listens earlier this summer (it's now sitting on Spotify with over 25 million streams). Its stunning popularity led to intense intrigue, led to a cult following to her spare Instagram filled only with nighttime flash photos of forests and blurry out selfies (her username at least reveals that she's a fan of popular 2010s shoegaze band Whirr). With the arrival of her second and third songs, "Tangled Dreams" and "Once then we'll be free," which NYLON featured in Soundcheck earlier this month, the fascination has only exponentially grown. Who is Wisp, and how did she get so good at making shoegaze?
Because the songs are genuinely good. Take "Your face," which has everything you'd want out of a shoegaze track: a banging guitar line and crashing waves of drums and vocals so complete it's enough to totally submerge. At times, her voice is so blurred and hazed out it's hard to catch what she's singing, like she's serenading you from the depths of a lake, but that only adds to its effect. It's also likely intentional: in an interview she did with Pigeons and Planes, Wisp said she wants her music to sound like "being underwater. I want it to be an experience, immersive, and hard hitting."
Today, that vision has been translated literally as she releases the highly anticipated music video for "Your face," which takes place underwater. The clip, directed by Boni Mata, includes no faces, just bodies swimming and gliding among swaying seaweed. The closest we get to maybe seeing the artist are interspersed shots of a figure with a sheet draped over its face. The intense obscurity even bleeds into the video's end credits, where all the names are smudged out.
While we likely won't be getting more information about Wisp anytime soon, it's exciting to get to witness her vision slowly unveil itself. Watch the video for "Your face" below and read on for NYLON's interview with Wisp, where she talks about making music in L.A., and the community of fans she's fostered.
What are you up to right now — describe your surroundings.
I just recently got back from an L.A. trip. I've been making a lot of music down there. I've met a bunch of cool people and I'm happy to make friends in the music scene. My life in SF is definitely a lot more mellow but I love spending time with my parents and my childhood friends around the city. Also, still working on music everyday, in and out of the studio.
Can you describe your earliest music memory?
I didn't get into music all that much until I was around seven years old. I did violin for about five years after that, and over those years my music taste grew a lot.
What's the story behind "Your Face?"
My friend talked about making a song, which inspired me to do the same. I kind of keep the true meaning of "Your Face" a secret, but I wrote it about someone I enjoyed talking to. It's a song about circumstances that hold you back from expressing your love.
You've gained a sizable following online and there's a lot of intrigue into who you are. How are you handling this new attention?
It's super fun! Getting to become friends and chat with listeners gives me a lot of motivation to create better music. Everyone in this community are the sweetest people ever, I owe them so much. I also like the aspect of being able to create this aura/image, that's still true to myself but also builds a fantasy world around my music as well.
What's next for you?
Make more music, tour, meet as many people as I can. I also really want to practice my singing and guitar skills a LOT!