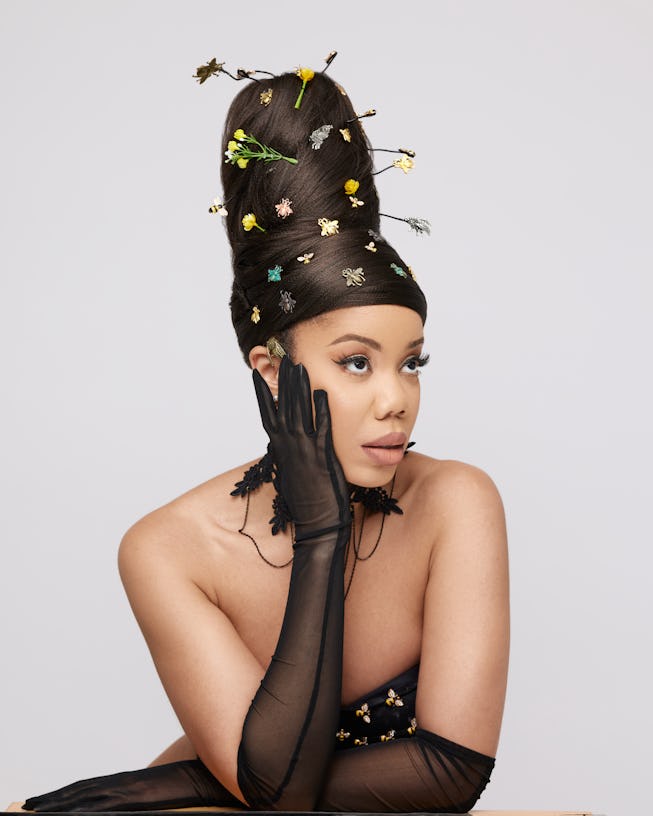 How KIRBY Found The Voice For 'Swarm' Pop Star Ni'Jah
The songwriter to the stars talks writing as Ni'Jah, and why she was explicitly told to not emulate Beyoncé.
For nearly all of Swarm, the show's mega superstar Ni'Jah stays off screen. The fictional singer — whose massive pop cultural influence looms over the series and is not-so-subtly hinted to be a stand-in for Beyoncé — is instead seen, or rather heard, through her music. Viewers hear errant out-in-the-wild blasts of it from passing cars, through the isolating headphones of protagonist Dominique Fishback's Dre, buzzed from the television speakers as a newly released "Festival" music video plays on the screen. Much like her real-world counterpart, Ni'Jah is simultaneously ubiquitous and not; everywhere and also nowhere.
This isn't too surprising; Swarm, co-created and co-written by Donald Glover and Janine Nabers, is mostly about Dre, and the deadly parasocial relationship she forms around her beloved idol. On the show, the fictional superstar is played by actress Nirine S. Brown (Ruthless, Sprinter), but her voice comes from veteran songwriter and singer KIRBY, who's written for real-life mega stars Rihanna, Ariana Grande, and yes, Beyoncé. It's her voice we hear on the soulful, cosmopolitan, and swaggering original songs which help fill in the gaps of Ni'Jah's place and presence in Swarm's fictional world. It's her voice that's ostensibly magical and powerful enough to compel Dre into committing some truly heinous deeds. "I just need [the audience] to think, who's this girl that can sing? But also it's like, she's got bars," Kirby tells NYLON of finding the voice for Ni'Jah. "She's saying crazy shit."
Below, NYLON caught up with KIRBY to chat about how exactly she brought the fictional pop star's catalog to life, why she was explicitly told to not emulate Beyoncé, and how a show about and starring Black women kept the same energy behind-the-scenes.
This interview has been edited for length and clarity. Light spoilers for 'SWARM' ahead.
How did you get involved with Swarm and become the voice of Ni'Jah?
I have to give all credit to Michael [Uzowuru], who produced and did the score. He's the homie from way back, and he just dropped my name in a room with Fam [Udeorji, Donald Glover's manager], and was like, "You guys need a girl that can sing, and also do a little rapping." He ended up texting me, like, "Kirby, I got this show I think you would be dope for." I just went into it very blindly. I think what made me really want to do it is just Michael and Fam are just really great people to work with, and I was like, "Okay, if we can have this much fun in a studio session, I don't care what we're working on."
What did they tell you about the character Ni'Jah, and what did you know about the show?
I knew so little. They would say, "Hey, we need a song for the scene when she's mopping up the blood," [and] I haven't even seen that episode. I just remember watching it in the studio and they were like, "All right, here's the temp music, but we kind of need something that's going to work for this." Michael would just have these really fire beats that were fun. I kept questioning, "Do I have this much freedom? Are you guys sure I can just write what I want to write? I can become the character?" I think that was why it was so much fun, because it wasn't a lot of pressure. They didn't tell me, "Ni'Jah has to be this way. Ni'Jah can't say this." We would just choose the music and be like, "All right, I rock with this. This is hot. Let me just do the top line." So I went in as an artist.
I think that's why we were able to get some authentic songs for her, because they weren't trying to make her be anything. I could create an artist. I went in blindly, but also with complete freedom of what we wanted her to say, what we wanted her to feel like. I had no rules.
Watching the show, it's pretty obvious that Ni'Jah's the stand-in for a Beyoncé figure. Was Beyoncé's name ever mentioned?
No. It was no Beyoncé references, like, "We want this song to sound like a Lemonade [track]" — none of that. I think if it would've been some of that, I probably would've been turned off by it, because it kind of makes it corny. Of course, it's obvious that it's a big Beyoncé superstar, that's clearly evident. But when I went in as a writer, it wasn't about, "We want her to sound like Beyoncé. We want a 'Crazy In Love.'"
The only thing that we wanted to give her was the versatility of just being able to sing, be a vocalist. There's some tracks where I feel like — actually, the strip club scene, that's giving, I guess if you want to say, "Halo" vibes. But no, it was highly emphasized that the show does enough of that. We don't need the music to.
I'm sure they also didn't want the risk of accidentally plagiarizing or doing something too similar to Beyoncé.
Yeah, that too. But honestly, I think that would just make it a little less authentic. I just think the references [in the show] are so strong that the obvious doesn't need to be stated, or in this case, sung. [It] gave me freedom to not feel like I had to be a baby Beyoncé, and that took a lot of pressure off me.
Could you describe Ni'Jah the superstar? What was she like in your head when you were writing for her?
I felt like it was a little bit of a city girl. I wanted her to spit and say some crazy stuff: "I'm a female rapper. I can go hard with men. I can say something that you think a Nicki [Minaj] or a Latto would say on one of their tracks." Like, you go to "Agatha" and it's a lot of bars. But also we can be international, like "Big World." There were no rules, I could say whatever I wanted to say, like, "Your old bitch doesn't look better than me. I think what I really made sure of was that Ni'Jah was the opposite of me. I kind of got off doing everything that I would love to say as an artist, but I know that people would not technically want to hear under my name.
I was prepared to go in there and, like, really [deliver] Dangerously In Love Beyoncé era, and they started playing these traps and I was like, "Oh, Ni'Jah's a little edgy? Okay, Ni'Jah's just going to talk her shit." Once I realized that they were okay with me being a little bold and risky, we just kind of leaned into having that Southern type of rapper.
Were you listening to other artists when you were trying to come up with her sound?
I was really into Doechii at the time. I was listening to a lot of Doechii, a lot of Flo Milli. I love the fact that they chose the superstar to be a dark-skinned Black woman. I think that was important to me. I was listening to a little Latto. But mostly, whenever I had a moment like, "Damn, I want to try something fun. I need inspiration," I would turn on Doechii.
What was it like working with Donald Glover and the rest of the music team?
I've had songs on Insecure. I had a theme song for a show that came out on ABC last year. I love sync and I have done a lot of sync, but nothing where I actually got to become a character and create a world. And, like I said, [to] have this much creative freedom. I was not bombarded with briefs and made to feel like there's a group of people outside of us in the room that's going to [make] the executive decision. I kept asking [Fam], I was like, "Well, who gets the final say?" He was like, "We are the final say." And I think for me, that was the most empowering part.
As a Black woman in songwriting, to have that level of creative freedom and to have the trust and respect of Fam, Michael, and Donald really means a lot. I didn't have all the experience in the world doing something like this, but they really trusted me and they gave me so much respect. I feel like in a day where black women are still fighting to be heard, everything that I said in that room was taken into account. I was a part of the final say, and as a Black woman doing a show that's starring a Black woman, the superstar is a Black woman, and the songs are written by a Black woman, it's essentially very Black, very great, and something that I'm humbled and grateful to be a part of because it really was us in the room doing it.
'Swarm' is streaming now on Amazon Prime.