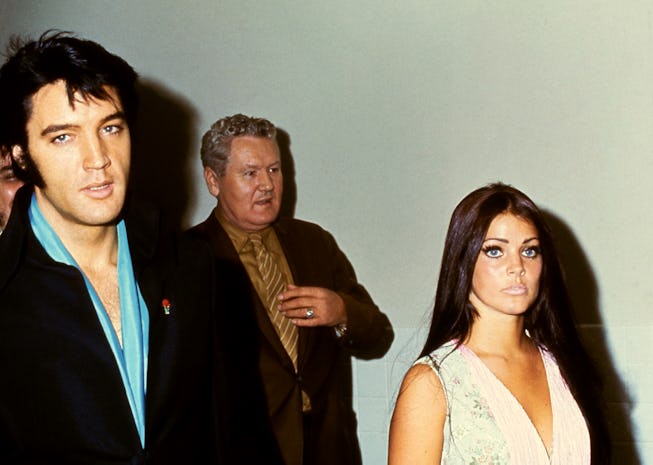 TPLP/Archive Photos/Getty Images
Sofia Coppola's 'Priscilla' Will Not Include Music From Elvis
The upcoming film will feature an anachronistic soundtrack instead.
If you were expecting to hear Elvis' signature drawling croons in Sofia Coppola's forthcoming biopic on Priscilla Presley, Priscilla, think again. According to Coppola, the King of Rock and Roll's voice will be notably absent from the highly anticipated film, which will instead feature an anachronistic soundtrack largely contributed by the indie pop-rock band Phoenix.
In a revealing interview with The Hollywood Reporter, Coppola revealed that Elvis' Estate — at least the 85 percent majority owned by branding company Authentic Brands Group — declined to give the filmmaker permission to use any of his music in the film. "They don't like projects that they haven't originated, and they're protective of their brand," the director explained. "But that made us be more creative."
That creativity apparently meant reverting to what Coppola does best: crafting an exquisite period film that incorporates modernity and pop culture through music cues, as seen in her previous work like Marie Antoinette, The Bling Ring, and more.
For Priscilla, Coppola's husband, Thomas Mars, who is the lead singer of Phoenix, supplied a lot of the music, including a cover of Frankie Avalon's song "Venus," which plays at the pivotal moment of Priscilla and Elvis' first-ever encounter and later becomes the film's theme song. Covers, in fact, seem to have been Coppola's main loophole for getting past clearance issues, as the film also opens with a 1980 Ramones cover of The Ronettes' "Baby, I Love You" from 1963, per Hollywood Reporter.
Despite the music issues, the entirety of the Elvis Estate wasn't uncooperative with the film, as at least one Presley was tightly involved with the project: Priscilla herself.
"I just got who [Coppola] was and I felt that she could get me," Priscilla said of Coppola, who also grew up around industry royalty, and why the director was the best choice to tell her story. "I thought, we have different stories, but she could understand this better than any writer because [Coppola] kind of lived it in her own way."
Coppola's Priscilla doesn't have a release date, but is set to arrive "soon" via A24. The biopic, based on Priscilla's best-selling memoir Elvis and Me, will follow the course of the glamorous couple's relationship from when they first met at 14 (Priscilla) and 24 years old (Elvis), to her growing up at Graceland, and to their separation in 1974, all told through the point of view of Priscilla. It'll continue on themes that have long defined and been explored by Coppola's oeurvre: "finding one's identity, and teenage girls growing into adulthood," the director said.
Euphoria's Jacob Elordi will play Elvis opposite actress Cailee Spaeny's Priscilla. Coppola, who said she met Elordi at a coffee shop near her home in New York, said that she knew Elordi was perfect for the role when she witnessed how effortlessly he charmed all the women around him. "All the girls in the room just turned to him, they gravitated," Coppola said. "I just felt like, 'Yeah, he has that kind of charisma that I imagine Elvis had.' "
Check out the first-look images and trailer for Priscilla, here.