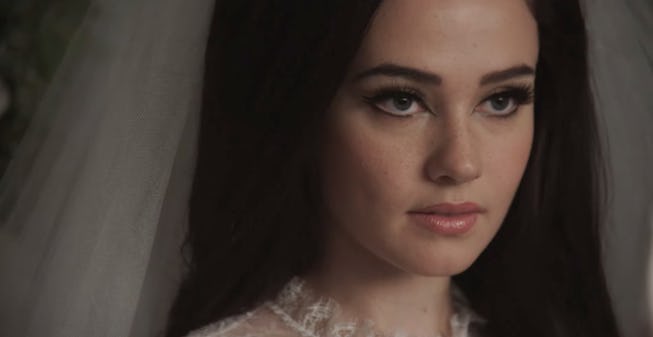 A24
Watch the Trailer for Sofia Coppola's Priscilla Presley Biopic
What was life like for the glamour icon growing up in Graceland? Coppola wants to show us.
A year or so after Baz Luhrmann's Elvis, we are getting our first look at Sofia Coppola's Priscilla Presley biopic Priscilla, which Coppola wrote and directed and is forthcoming from A24. While not much time has passed — in fact, Austin Butler, who played the singer in Luhrmann's biopic, is still talking like the singer, a role that may have permanently altered his brain chemistry thanks to his embrace of method acting — we're getting our first peek at Coppola's take on the American musical tragedy, one that centers Priscilla.
A poster was released on Tuesday and a trailer on Wednesday, offering a first look at what already looks like an American classic — one that, like Coppola's Marie Antoinette, tells a well-trodden story in less-told emotional brushstrokes. The poster shows co-stars Jacob Elordi and Cailee Spaeny in an embrace, about to kiss, her long, pearl-colored tips brushing against his cheek. A24 posted the image on Instagram, promising the first trailer will be released on Wednesday.
The trailer is 45 stylish seconds showing snapshots of Priscilla's aesthetic we've become so familiar with, a classic, hyper-feminized Americana glamour silhouette repopularized by Lana Del Rey. In fact, you wouldn't be crazy for thinking it's one of her music vides. We see Priscilla apply liquid liner, append false eyelashes, and wrap her dark brown hair around a curler. We see snapshots of her and Elvis' early days in love, their marriage, and eventually we see her carrying a baby, Lisa Marie.
Coppola has wanted to make the film "for some time," according to insiders, and the project started filming in Toronto in the fall. It is based off Priscilla Presley's 1985 New York Times bestselling memoir, Elvis and Me.
"Priscilla is the real focus of it," Coppola told Vogue. "There are some aspects of Elvis's career included but it all sort of plays out in the background of their relationship and her developing her identity. I loved how Baz [Luhrmann] approached his story in a very collage-y way, but I'm glad it didn't go into much of Priscilla's story because now I can really dive deep."
The film stars Cailee Spaeny, of Mare of Easttown and The First Lady, who, according to Deadline, "has been [the director's] top choice from day one for the role of Priscilla." Bad news for Lana Del Rey, who has been saying since 2019 that she wants to play her look-a-like Priscilla in a biopic. (Fans even commented on A24's Instagram post, writing "Recast Lana for the role." They have a point!) Jacob Elordi will play Elvis, which means it's finally time for Butler to drop the act. Elordi notably nabbed the role just a month after GQ declared him "Gen Z's Leading Man."
Priscilla also stars child actors Raine Monroe Boland and Emily Mitchell as Lisa Marie Presley at different ages, as well as Succession's Dagmara Domińczyk, Jorja Cadence, Rodrigo Fernandez-Stoll, Luke Humphrey, and more.
A24 and Coppola have always been a match made in auteur film heaven: After The Bling Ring and On The Rocks, Priscilla will mark Coppola's third film for the company. It also marks her second biopic, after 2006'sMarie Antoinette, where Kirsten Dunst played the ruler in Coppola's brilliant, semi-contemporary take on her life.
"I'm excited to do something rooted in that Americana style for the first time. And Priscilla is a quintessential glamor icon," Coppola told Vogue. "I was just so interested in Priscilla's story and her perspective on what it all felt like to grow up as a teenager in Graceland. She was going through all the stages of young womanhood in such an amplified world — kind of similarly to Marie Antoinette."
Watch the trailer for Priscilla below: