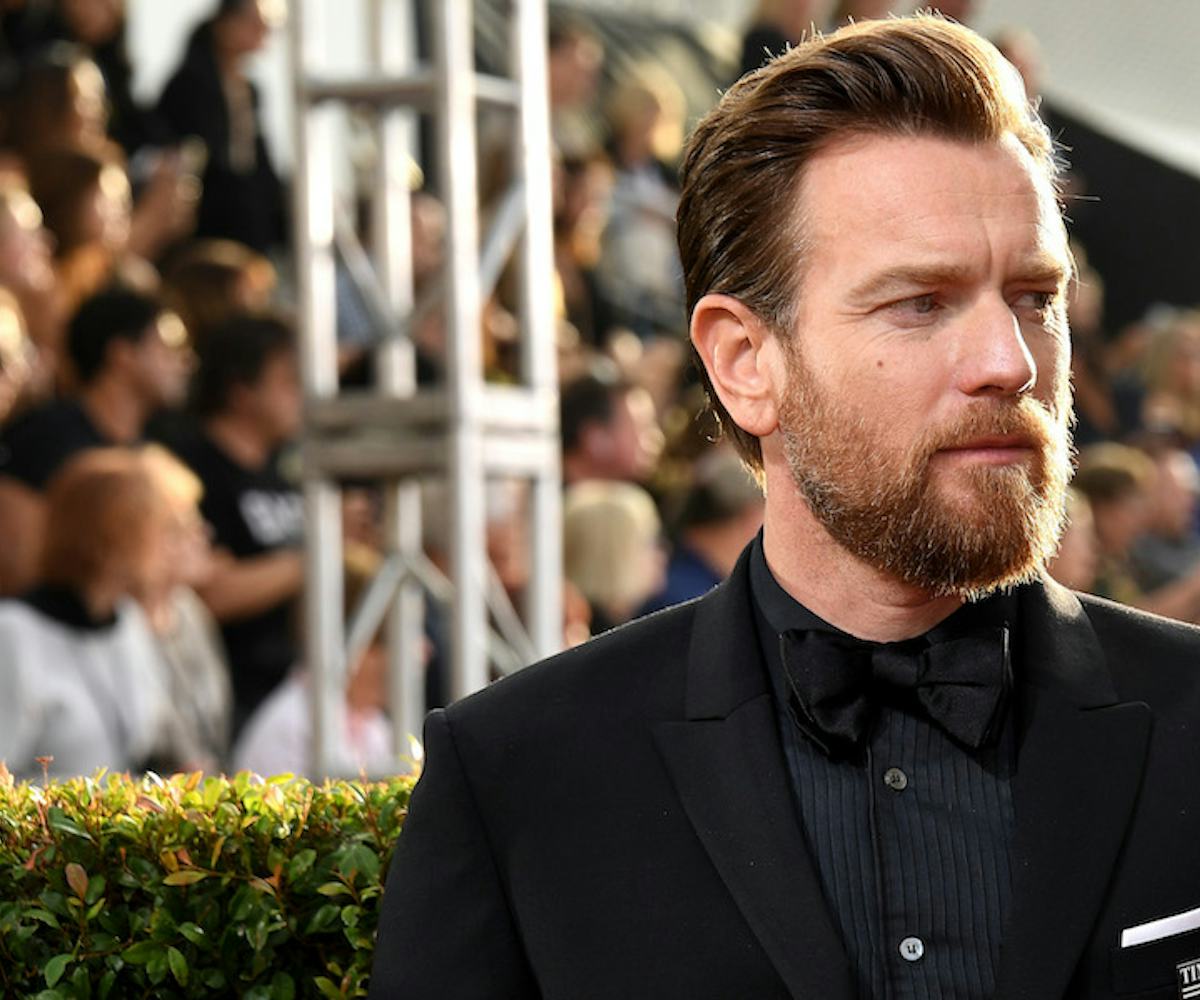 Photo by Kevork Djansezian/NBCU Photo Bank/NBCUniversal via Getty Images via Getty Images
Ewan McGregor Transforms Into Fashion Legend In Ryan Murphy's 'Halston' Teaser
Plus three things we learned from the first look at the '70s-set miniseries
Halston is one of America's greatest designers — but he's also one of its most tragic. In the 1970s, the designer came to prominence as a fixture for the Studio 54 set, eventually going on to solidify his legacy during the historical 1973 Battle of Versailles fashion show. But at the height of his career, the legend succumbed to complications from AIDS and died in March 1990. The story of his life is devastating, which is why it should have felt like a forgone conclusion that Ryan Murphy would eventually try to dramatize it. With excellent series about the murder of Gianni Versace and the widely publicized trial of O.J. Simpson already in the bag — and an upcoming story about Monica Lewinsky currently in the pipeline — Murphy has more than proven himself as a maestro of the traumatic biopic. And now, with the first look of his Halston Netflix miniseries (simply titled Halston), we can be rest assured that the Hollywood super-producer has no plans to end his streak yet.
Yesterday evening, Ryan Murphy took to Instagram to upload several clips teasing what's to come from Halston. Against a relatively blank background, the clips epitomize the Murphyian aesthetic, as several actors and Halston-clad models dance to a party-ready disco beat while smirking for the camera. In the accompanying caption, he wrote, "After a long 20 years of twists and turns, the limited series HALSTON starring the fantastic Ewan McGregor began production today. I am so proud of our director and leader Dan Minahan, and Christine Vachon of Killer Films. I am thrilled to be producing this great and meaningful show with them and Alexis Martin Woodall and Pamela Koffler."
Here are three things we can expect from the series based solely on this set of three 45-second-long teasers.
The fashion is great and we'll get a look into Halston's creative process.
A fashion miniseries is nothing without the fashion itself and Murphy, who did a phenomenal job in this arena for 2018's The Assassination of Gianni Versace, seems to know this firsthand. Luckily, he isn't abandoning this philosophy for Halston, as the teasers show a plethora of beautiful clothes, all featuring that token American Halston '70s aesthetic. There are jersey dresses, tie-dye pantsuits, sparkly bodices, and wide-legged trousers, as well as flowy silk caftan-style gowns that any woman would kill to rock on a beachfront property. But more importantly, the teasers also offer us a glimpse of Halston sitting on the floor, legs crossed, as he clips away at one of these dresses, making alterations to the hem to achieve the perfect fit. When he's done, he gestures to his fit model to give him a twirl, and then offers a smile. It's the kind of small detail that can elevate a show like this from a mediocre Lifetime special to a prestige must-see moment. Design is an art — shouldn't we get to see what that process is like behind-the-scenes?
The show feels appropriately '70s.
Sometimes, the most important detail to get right in a show like this is the period setting. Though Halston's designs were indeed timeless, much of his story, his legacy, his ability to build a career, was indebted to the culture of the '70s era he came up in. It was the time of Studio 54 and Andy Warhol, of unapologetic glamour and decadence, of copious drug use — and Halston's own party-minded spirit, which often spilled over into his designs, fit right in with the values of the time. Over the course of the two minutes and 25 seconds of these first-look teasers, this spirt effectively comes alive in the music (Roxy Music's "Love Is the Drug" soundtracks the clips), in the fashion, and, most prominently, in the sight of everyone having a cigarette dangling from their lips.
The cast is stacked.
Prior to yesterday's announcement, little was known about Halston other than the fact that Ewan McGregor would portray the designer and Ryan Murphy would produce. However, in his post, Murphy filled in some blanks about the rest of the cast, and there is plenty to get excited about. In addition to McGregor in the titular role, the series will also star Smash actress Krysta Rodriguez as the one and only Liza Minelli; Rory Culkin as Halston's close friend and a filmmaker in his own right, Joel Schumacher; Rebecca Dayan as Tiffany jewelry designer Elsa Peretti; David Pittu as famed fashion illustrator and future Halston creative director Joe Eula; Slave Play's Sullivan Jones as Halston's assistant Ed Austin; and Gian Franco Rodriguez as the artist, window-dresser, and partner of Halston, Victor Hugo.
No word yet on when exactly Halston will premiere, but it is expected to debut on Netflix sometime next year.