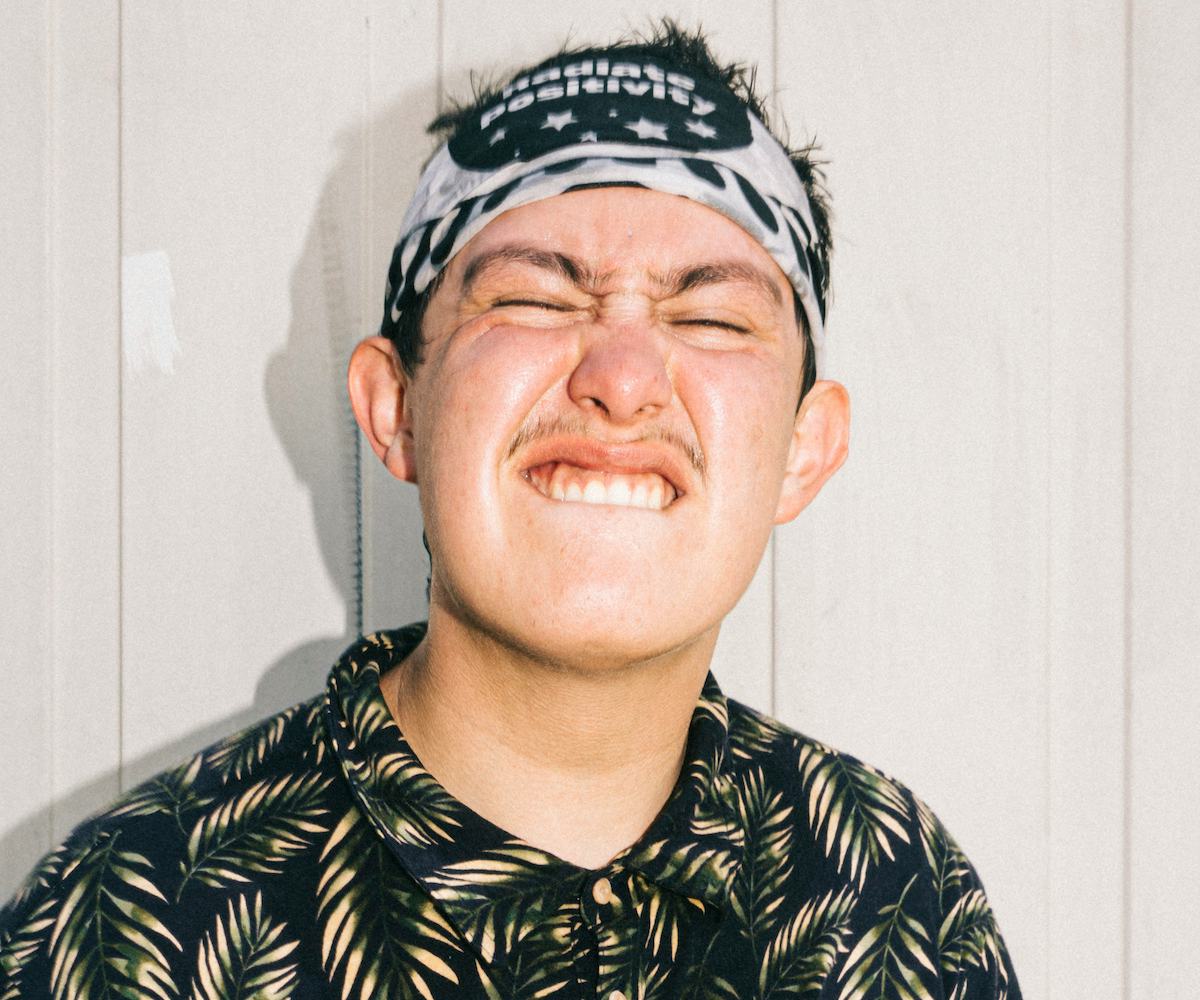 Photo by Lindsey Byrnes
Hobo Johnson Is So Much More Than Just Another Sad Boy
Fall in and out and back in love with the musician on his new record
When I first spoke with Hobo Johnson, real name Frank Lopes Jr., he was months away from announcing the release of his new album, The Fall of Hobo Johnson, and a week away from dropping "Typical Story," which would become its lead single. But, his genre-straddling sound, landing somewhere between rap and lackadaisical surf punk, already had plenty of people throwing him praise—particularly after he first spawned viral attention on the internet with his audition for NPR's Tiny Desk competition, in which he performed an endearing backyard rendition of his song "Peach Scone."
But he's always played with bigger sounds than that, and on The Fall of Hobo Johnson, he pushes genre boundaries to their furthest extent, traversing from wall-of-sound punk rock on "Typical Story" to the subdued cool of string-heavy hip-hop, returning to bare-boned guitar soundscapes by the end of the album that have his bars sounding like slam poetry.
Several songs from The Fall were written before "Peach Scone" blew up, Lopes tells me, and the rest came after, wrapping up at the top of this year. The songs aren't presented on the album in chronological order in which they were written, though they feel as though they are, as there is a clear emotional trajectory that is easy to hear (and internalize) as you listen to the album. It's not dissimilar to the feeling of leaving a party, high off the camaraderie of friends and maybe a little something else, only to wind up in your feelings as you slowly sober up on the way home.
Lopes shared a particularly revelatory moment he had while recording "Moonlight," a song that turned out to be the emotional crux of the record. "I got out of a relationship with a girl I wrote a lot about, and then I got into a new relationship with a new person, and I just burned it to the ground months later, because I was really afraid of committing to something, because all I've seen is relationships fail my whole life," Lopes says, "Shit felt so easily disposable; I just broke up with her one day so rash and abrupt and shittily. It was really bad."
But at the top of the second verse of "Moonlight" came his subconscious lyrical confession:
I love you like the train loves to roll
And whenever it stops all it wants is just to go
But sometimes when it's going all at once is a break
Stuck forever on this track is just very scary to face
It wasn't until someone else listened to his lyrics and gave him feedback that he confronted his own underlying issues. Lopes says, "I had talked to my guy at Warner [Music], Jeff [Sosnow], and then he was like, 'No you're afraid of commitment.' And I was like, No I'm not! What the fuck?!" Later that day, he realized what Jeff said was true, and called up his most recent ex to get a drink. "So now we're dating," he says, smiling, "And I'm happier than ever… Realizing [the meaning of] that line in my song, I think, corrected the path of my life."
"And I'm happier than ever… Realizing [the meaning of] that line in my song, I think, corrected the path of my life."
Lopes' own penchant for personal growth, ability to acknowledge his shortcomings, question his intentions, and desire to give and get love from the world is what makes him so charming. He has all the allure of the sad boy without any accompanying, defensive hypocrisy; he's a romantic, a creative, and he's a little fucked up. But aren't we all?
Though Lopes claims to write so many of these introspective and poetic lyrics intuitively, only to realize what they mean later on, he uncannily encapsulates layered, sticky feelings with ease through flippant jokes and heavy-handed metaphors. A single line ties the happiest and saddest moments together unintentionally; in both "Mover Awayer" and "Moonlight," Lopes describes being in love with the same lyrics: "You make my Mondays feel like Fridays/ You make my Ruby Tuesdays taste like Benihanas." But this repetition was accidental: he originally wrote it as a standalone lyric for "Moonlight" rather than the hook for "Mover Awayer," but he never thought the former would become an actual song.
The Fall could, in many ways, be more aptly titled The Rise of Hobo Johnson, though that was already used as the name for his last album. The Fall is about falling in and out of love, but it's also about how Lopes felt about his overnight success, and how adding fame and money only complicated the interrogation of his own wants and needs.
On "Subaru Crosstrek XV," he both reflects on his stature in the music industry ("I would have bought a Lambo but I'm not quite there yet") and quips at his own expense, weaving in his typical, relatable humor ("I wish that I was friends with Drake/ So I can dig through his trash and have a yard sale today"). After the emotional downturn on "Moonlight," Lopes turns to laying his flaws out on the table even if they're particularly damning. He depicts a brutal breakup on "Happiness," quoting himself at the breaking point of a relationship in the second verse, owning up to having projected his own self-consciousness onto his ex and shooting down her dreams. He ends the album by mulling on his own dreams, admitting the way his desires snowball from simple to far-fetched on "I Want A Dog."
His relationship with his own fame is fertile ground on the album, as Lopes takes a moment to acknowledge others who have had far quicker rises into the public conscious, and how they were crucified for not handling it perfectly. He empathizes with Justin Bieber, who similarly went viral on YouTube (be it, to a larger degree), and on "Ode to Justin Bieber," reflects on Bieber's fall from grace and subsequent revival. "Even though [my own success] is, like, a millimeter of what he's ever dealt with in his whole life, it made me respect him so much more as a person," Lopes says. "People knowing who I [am] is just this weird thing; I felt this perspective shift, which wasn't necessarily for the better. And it made me think about Justin Bieber so much, for some weird reason," he adds. "He came out the other side, even being a pretty positive person. Seems pretty put-together despite everything that happened." As he raps on the track, "If you buy your mom a house when you're 13, you're going to be fucked up mentally, ya know/ I'm really, really sorry that nobody understands."
Lopes is at his best when he's "just ranting," throwing it all out there and, afterward, refining it into a structured song. And unsurprisingly—though he's been hesitant to talk politics previously—applying this structure to the current political administration created a bonkers masterpiece for "You and the Cockroach." In it, he gives you the history lesson you wish you'd had in high school; Donald Trump isn't mentioned by name, but the description of being orange with "really dumb" hair and fingers that look like "lil' smokies" are pretty on the nose. The song also references Kim Jong Un, nuclear war, and, you guessed it, cockroaches. It's all a bit mad—and if you think too hard about it, a bit too realistic—and Lopes hopes to one day expand it into a musical. Really.
After all, Lopes has big plans. Following this tour, maybe he'll go right back on tour, he says, but he might also jump into something totally new. "I kind of want to make a movie," Lopes says. "I'm thinking about doing a play, which would also be fun, or I'm thinking about just surfing all the time."
The album's emotional trajectory might feel like a clear downward plummet, but Lopes describes his frighteningly fast come-up as an overall positive experience. "It was definitely a completely overwhelming situation, but I've enjoyed it so much. Of course, it's stressful sometimes, but I think it's made me a happier person, which is good." Even as he lays out his most manic and pessimistic inner questionings through his lyrics, he conveys a romanticized appraisal of it all. And I should hope so—though Lopes has seen the lowest lows, his sheer knack for storytelling and demonstration of artistic growth are proof that The Fall is merely the rising action to the plot of a fruitful future.
The Fall of Hobo Johnson is out now.