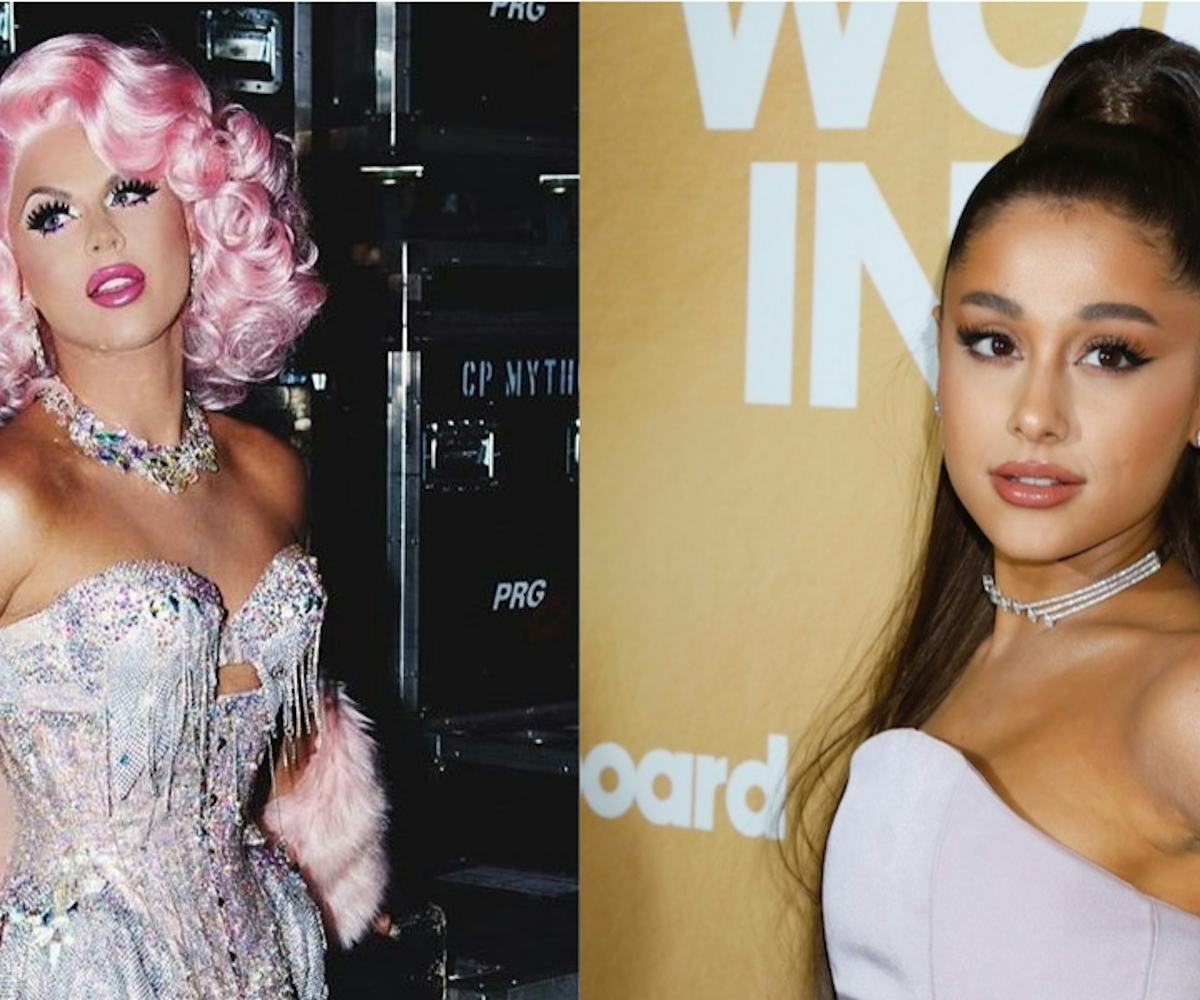 Photos via @farrahrized on Instagram, by Gregory Pace/Shutterstock
'Drag Race' Star Farrah Moan Calls Out Ariana Grande For Suing F21 After "Stealing" From Her
"I guess stealing from queer artists for profit is fine tho"
Ariana Grande may be suing Forever 21 for ripping off her look, but former Drag Race star Farrah Moan thinks Grande "stole" it from her first. When news broke that Grande would be seeking out $10 million from the fast-fashion retailer for using a lookalike model and "7 Rings" visuals to suggest Grande endorsed the brand, Farrah sounded off on Twitter about where the look in question really came from.
"Ariana should give me a cut of that 10M since her team literally sent a pic of me to the designer and paid them to copy my look from as4," Farrah tweeted with an image of a look she wore on season 4 of RuPaul's Drag Race All Stars in 2018, next to Grande in "7 Rings." She added, "I guess stealing from queer artists for profit is fine tho."
"Idc what the lawsuit is really about, her legal team is accusing theft of likeness, image, w/e," Farrah wrote, adding, "But the point is her team also stole. U can attack me all day but it's not gonna change anything."
In regards to the designer paid to recreate the look, Farrah has no hard feelings whatsoever. "I don't fault the designer because the designer she hired was a local queen and paid them A LOT of money to do it, money they couldn't turn down. And then was honest with me about it," Farrah wrote. "Ariana has COIN."
In reply to a Grande fan, Farrah expressed her love for Grande and noted that she had "known for MONTHS" but only decided to speak out after hearing of the lawsuit.
This is not the first time that Grande has been accused of borrowing from other artists for "7 Rings." Back in January, rapper Princess Nokia played the track up against her own "Mine," and pointed out similarities in the flow and beat. "That sounds really familiar to me, oh my god," Nokia reacted in the video, adding, "Ain't that the little song I made about brown women and their hair? Hm. Sounds about white."