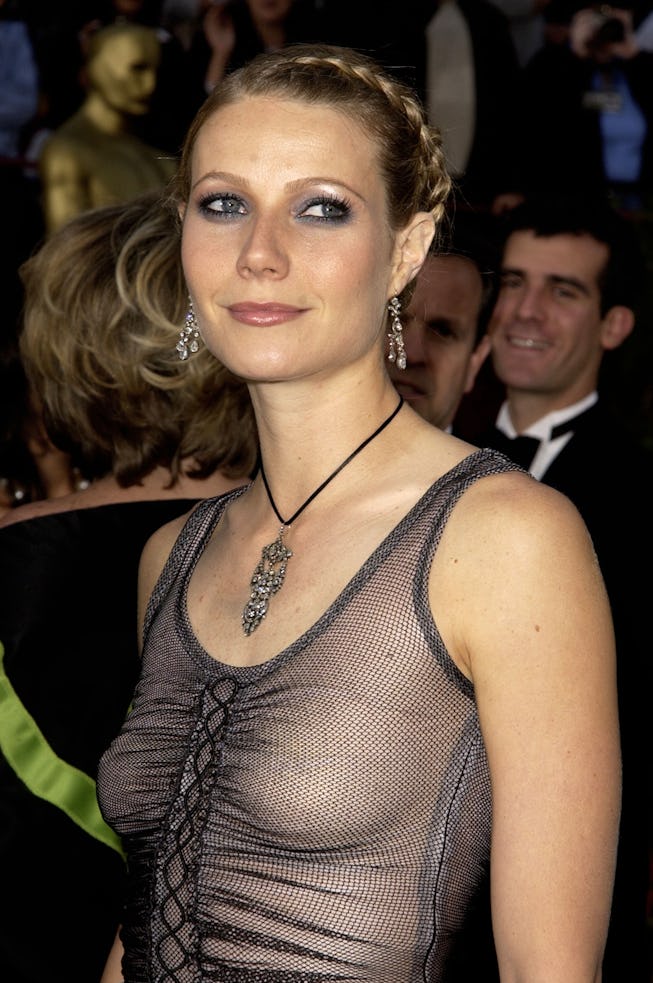 Steve Granitz/WireImage/Getty Images
Apple Martin Recreated Mom Gwyneth Paltrow's Goth Phase
She tried on her mom's 2002 Oscars dress that "everyone hated".
Gwyneth Paltrow decided to bless us with an "ask me a question" Instagram story on Thursday and that means — along with sharing her breakfast today and that "work" has been keeping her up at 3 am — we got another sneak peek into the life of her daughter Apple Martin. Replying to the question "does apple ever wear any of your fashion archives," Gwyneth posted a photo of her daughter in her black Alexander McQueen gown for the 2002 Oscars.
When Gwyneth wore the dress in 2002, she received a tonne of backlash. It was called "unflattering" and ended up on many worst-dressed lists. In 2021, Gwyneth reflected on the so-called fashion disaster in a Vogue "Life in Looks" video, saying that "everyone really hated" the dress, but she liked it. "I think at the time, it was too Goth … too hard. I think it sort of shocked people. But I like it," she said.
At just 19 years old, Apple has already had seats that those in the fashion industry work their whole life towards. In fact, in January she made her fashion week debut at the Chanel haute couture Spring/Summer 2023 show in Paris. She wore an ensemble of a black-and-white tweed Chanel skirt and jacket set and black platform loafers.
We're not surprised that Apple raids her famous mom's closet (oh, to be a nepo baby) but it's fun to get a behind-the-scenes look at Gwyneth's walk-in-wardrobe nonetheless. And who knows, maybe people will finally get behind Gwyneth's infamous goth dress — only 21 years later.