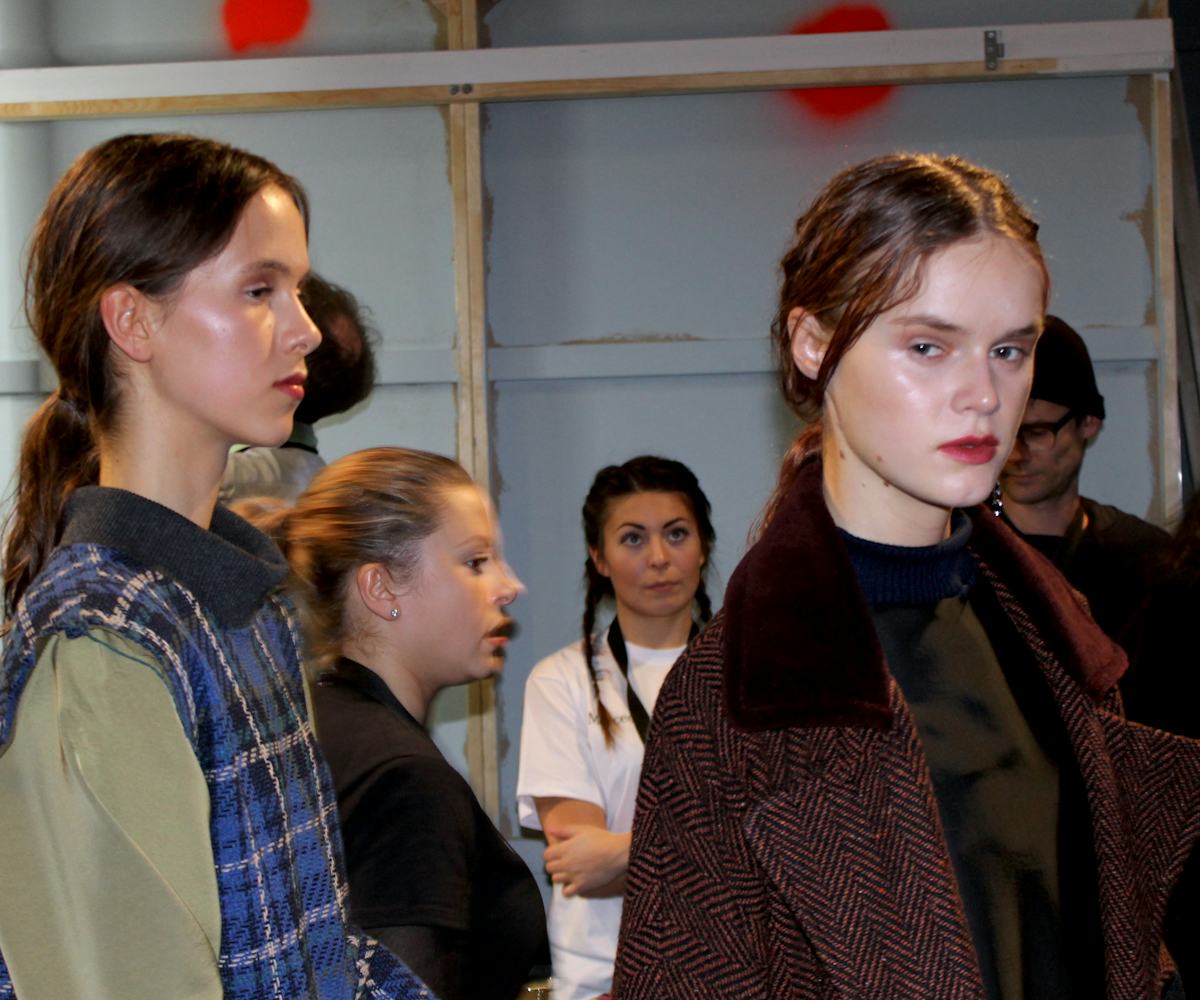 Photo by Alex Catarinella
The Best Of Berlin Fashion Week
Watch out Paris, Milan, New York, and London
I'm gonna go ahead and compare Berlin Fashion Week's aura to the "gone with the wintery wind" image of Kate Moss, powering and pumping through a Brrrlin (sorry, had to) afternoon last week. Here goes: There's her morning after-ish—albeit still perfect because, it's Kate—locks, her immaculately layered designer duds, minimal makeup, a statement piece pop via those hoop earrings, and the drowsy eyes (relatable!).
That was Berlin Fashion Week. In other words, I'm still recovering.
Many of my heart explosions were triggered by the aforementioned aesthetics on the catwalk, with my (drowsy) eyes especially impressed with many a designer mastering the art of layering. Drum roll please: and the winner is Vladimir Karaleev. Hi there, model storming down the runway, as a sensual thumping beat pulsates (think trendy hotel bar elevator), whilst clad in a sleeveless black dress underneath a nearly floor-length, puffy navy, cape-y vest. You had to see it IRL to believe that dizzying description. It gave me high-fashion North Face visceral vibes, and it changed my existence. There was a lot of wearable elegance (think Katie Holmes meets up with Posh Spice at a Champagne-spilling, A-lister-filled fête), often spiced up with head-turners like asymmetrical jackets and super-flared and funky trousers for both men and women, with cutouts, plaid, and camo. I loved the red lip and tousled ponies, and the dude with the perfected '90s Depp-like middle part deserves a special shout-out. Swoon!
Elegance and layering were also on high-fashion alert at Hien Le's show, but with a quirky twist. His collection was inspired by skateboarding culture circa the '40s and '50s, which translated to the rocking of white sneakers with midi skirts, borderline baggy suits, and cool AF outerwear, like a jean jacket replete with a faux sheepskin collar, all of which would look great on racks at Opening Ceremony, Assembly, and the hip, in general. 'Tis all about the effortlessly appearing styling, though; I was super into the really cute glasses, and I screamed when I found a pair in my gift bag. Also, props to Le for opening the show with a killer "Kiss It Better" Rihanna remix. This all cured my hangover. 
I was in hunk heaven when I went (ran) backstage to take photos of (drool over) the army (also, army as in bicep-y) models getting ready for the Ivanman show. There were lots of chiseled jaws and smoldering eyes happening. As for the clothes? Need. In Ivanman's winter wonderland, lavender is the new black, and it slays. Massive lavender trenches, lavender suits, and lavender cable knit sweaters, oh my! I wanna be an Ivanman when I grow up.
Before watching what would end up being my favorite overall show, I popped into the Appel Design Gallery to check out a buyable exhibition of handmade clothes from the iconic Patricia Field's gallery artists, including Scooter LaForge, Jody Morlock, Iris Bonner, and Kyle Brincefield. The amazing folks at MADE (who support exciting, emerging fashion designers) and Field selected and invited 15 young designers from Europe to the space for individual portfolio reviews and workshops. Upon entering, I was greeted by Field's iconic rasp. I guess I was starstruck or something because her rasp provoked me to inform her that I had relapsed on cigs (aka smoked two packs within my first 24 hours on this trip), before having her pose for the camera in front of LaForge's mural, which featured an "I'll quit tomorrow" slogan. I also informed Field that I had watched Sex and the City in German the evening before (the release your inner goddess workout class episode, naturally). 
Speaking of goddesses, my overall favorite collection came from Steinrohner's divine collection. I was be-freakin'-witched right from the get-go, which definitely had something to do with the opening track reminding me of this Reiki YouTube video I often play on loop before bed, because Ambien is so two years ago. Something Steinrohner and I have in common is an affinity for sheer everything. Also, patent thigh-highs. I was so down with the collection's Girl Power, owning-your-beautifulness-and-sexuality fashion feels. I also enjoyed the sartorial sprinkles of Christina Applegate in Don't Tell Mom the Babysitter's Dead moments. I personally think Rihanna should get Steinrohner on the phone, ASAP. I could picture her pumping down the Victoria Secret's runway, as she iconically did in 2012 during her performance of "Phresh Off the Runway," in Steinrohner's lingerie-as-eveningwear naughty numbers. Steinrohner better work (work, work, work, work…!)
So, yeah, Berlin Fashion Week rocked my world like the existence of Kate Moss. (Well, there was one insufferably long show, and another was Disney-themed, replete with gift bags overflowing with things like a PEZ dispenser and coloring books. And, yeah, I did walk into a floor-length mirror in my hotel bathroom thrice as a result of my violent jetlag.) Anyway, I advise New York/Milan/Paris/London Fashion Weeks to protect your overconfident backs—there's something in the Berlin water. So much so that my Spice Girls '98 World Tour hat was snatched right off. 
Despite my traveling remedies (overdoing it/overdosing on B-Complex and Juice Press' Fireball Ginger Suckers, which may or may not have been sometimes paired with currywurst and pomme frites), I'm back in New York sick and cuddling my cat. It's my fault. I didn't exactly dress for the Brrrlin weather. (I went for the Adidas track pants paired with cat-fur-covered Forever 21 hoody thing, because, fashion.) If only I took notes from the immaculate layering on the Berlin Fashion Week runway—and from Kate, of course.
Click through the gallery below to get a peek at what went on behind the scenes. 
I see chiseled jaws, good hair, and an excellent Hien Le chunky turtleneck. 
While backstage at Ivanman, I suddenly no longer believe in the whole it's rude to stare thing.
Now that's my kind of (Ivan)man. Also, feel free to wear that jacket on our first date, please.
I'll never quit loving you, Patricia Field.
The Baby-Sitters Club meets Don't Tell Mom The Babysitter's Dead meets Clueless. Steinrohner is basically heaven on earth. 
Now that's what you call a look, ladies. Steinrohner has got it going on.
Stone-cold stare, slumber party albeit slaying hair, backstage at Vladimir Karaleev.
Somebody at Vladimir Karaleev was happy to see me (or maybe the arrival of the catering).