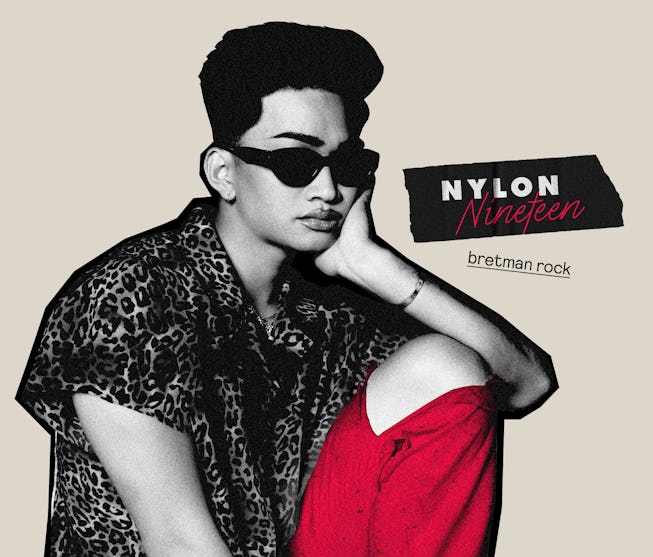 Bretman Rock Wants to Be the Child Of Britney Spears And Justin Timberlake
The social media megastar takes the NYLON 19 to celebrate the Bretman Rock x DIME Optics collection.
Bretman Rock is known for a lot of things, including but not limited to: being one of the most prominent faces in the online beauty community with over 35 million fans globally, his perfect eyebrows, having a pole (that he knows how to use) in the middle of his marbled home foyer, and even an upcoming MTV reality show. At the age of 22, that would be enough for most people, but for Bretman, he knows he's only just scratched the surface on his potential.
As he happily explores new and uncharted territory, the larger-than-life social media personality is making his first official move into the fashion space — debuting a new eyewear collection and campaign in partnership with DIME Optics.
Available now, The Bretman Rock x DIME Optics collection includes six styles in polarized and blue-light lenses for $30 each, accompanying a wildly good campaign which features Bretman recreating some of the world's most famous works of art, like Girl with the Pearl Earring by Vermeer, or The Scream by Munch. Naturally, the collection is also available at your favorite influencer's favorite fashion destination, Revolve, where you'll also be able to find two styles exclusive to the site.
"Dime is fairly new company, so I figured it would be best to grow with a new brand instead of working with a rundown brand," Rock said of aligning his first fashion partnership. "Revolve has obviously made their mark in the fashion industry, and so I thought it'd be cute to marry a new brand and someone that's already respected in the fashion industry."
Over the phone, Rock shared with NYLON that a move into new opportunities has been in the works for a while. "I really want to get away from the beauty industry, I could not be a part of that industry anymore. To be honest with you, it became too toxic for me and it wasn't the industry that I thought I felt growing with anymore. I will always be into makeup and always be a beauty boy, but I wanted to venture out into other things I'm interested in, and I was like, maybe it's time to rock the fashion world. Period."
To celebrate the collaboration, Rock takes on the NYLON Nineteen below, talking his dream festival lineup, Taco Bell, and being too young for AOL Instant Messenger.