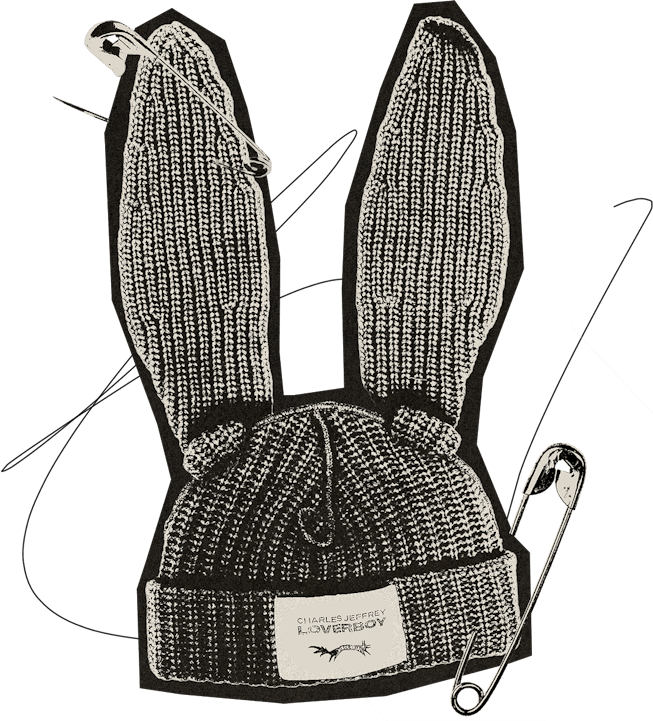 Inside The Bunny Hat's Global Craze
How alt TikTok, K-pop, and '90s nostalgia led to a global bunny hat explosion.
We may receive a portion of sales if you purchase a product through a link in this article.
For this Lunar New Year, ringing in what Chinese astrology deems the "year of the water rabbit," Burberry released a collection of bedazzled rabbit-ear beanies and a fleece baseball cap. Japanese luxury-streetwear brand AMBUSH released a fuzzy bunny balaclava that has already been worn by BLACKPINK's Jennie Kim and Gigi Hadid for ELLE US's March cover story. Around the same time, NewJeans, the teenaged K-pop girl group who's seen astronomical international popularity since debuting last year, wore bunny trucker hats from Italian alt-rave brand W.I.A. for the music video and broadcast performances of their hit single "OMG" (one of the tracks that made them the fastest K-pop act ever to chart on the Billboard Hot 100). Big, floppy ears are not usually considered chic, but lately, bunny-themed headwear has been inescapable.
From dozens of K-pop idols, like TWICE's Chaeyoung and Stray Kids' Seungmin who both donned the animal ear-style beanies from the London fashion label Charles Jeffrey LOVERBOY, to models on the runway, everyone is embracing the bunny hat, which has experienced a surge in visibility. The trend has swiftly trickled down through social media, with crafty Gen-Zers sharing knitted bunny hat creations on TikTok, uploading tutorials on YouTube, and selling bootlegs on Etsy and Grailed. Clearly, the outlandish ears of this small furry mammal have enamored consumers across global and cultural borders and been remixed by designers and DIYers alike into new versions that range from edgy to sleek or ultra-cute. But how did the bunny hat get this big, and why does everyone want it on their heads?
"It's such a statement piece," says Monica Kim, a former U.S. Vogue editor and stylist for the musician Yaeji, to NYLON. "It grabs your attention right away, which I think is something people really look for now in the TikTok age."
‌
Bunny ears have long been a source of fascination in high fashion, with the cute animal features showing up on the runway from as early as the '90s. Yet, what was largely considered a statement piece or niche accessory by Western luxury brands has been gradually democratized by East Asian celebrities and musicians, who inspire fans to incorporate bunny headgear into everyday looks. In the early 2010s, Moon Kana, a Japanese rock singer and prominent gothic and lolita model, was known to wear huge bunny bonnets on stage and at fan events. In more recent years, the gap between Eastern and Western celebrities have donning bunny ears — to add a touch of kitsch and edge to their outfits — has narrowed; BTS' j-hope sported a black bunny beanie for his 2021 solo single "More," and in 2019, Dua Lipa wore a bunny balaclava on the cover of The FACE Magazine.
But the impetus for today's global craze might actually stem from more humble origins: a South Korean bunny hat toy that became a must-have item in 2018. The hat, which has a cartoonish face and two dangling paws that, when pressed, allow you to pop up the corresponding ears, was reportedly recreated by a Gyeonggi-based toy shop owner named Kwon Young-tae. He hawked the adorable accessory to K-pop fans, leading it to be used by idols and variety show comedians for years to come.
Through K-pop's global popularity, the Korean bunny toy slowly became an in-demand accessory among overseas youth. First, it was just the K-pop stans who would show off the novelty item on their Instagram and TikTok videos, says Mimi Taylor, a 23-year-old Seattle-based alternative TikTok influencer who goes by @brainlesscatboy. Midway through 2020, Taylor began seeing alt TikTokers incorporate the accessory into their outfits, pairing the cutesy item with heavy goth makeup, fishnet stockings, Demonia boots, Kandi bracelets (beaded bracelets associated with rave culture), and other clothing items associated with Japanese Lolita and Harajuku subcultures.
Taylor eventually also got their hands on the Korean bunny hat, and although it got weird looks from strangers in public, they enjoyed being able to express "how I want to express myself," they say. "I think it takes a certain bravery to dress like an animal in public." Even a few years ago, they note, they felt an "overlap" between K-pop fans in the West and young people who dressed alt, because both their interests differed from the norms of mainstream society. "People who feel free enough openly express that they love K-pop, they might get different looks from others, the same way that people who dressed alternatively would get, too."
It was around 2018, too, that balaclavas started trending in high fashion among designer brands, quickly making their way into streetwear. Though he wasn't inspired by bunnies in particular, Paris-based creator Jose Wong was one of the first streetwear designers to put round animal ears — inspired by Mickey Mouse, he tells NYLON — on a 2019 balaclava that has been worn by Bad Bunny and J Balvin.
Having grown up across China, Japan, and France, Jose Wong cites Japanese style as a major influence, which is likely why he felt emboldened to make such a whimsical accessory. "I just wanted people to feel cute," he explains. "Because so many people try to act cool or whatever. I want people to stay child[like]."
"The boom of the bunny hat is a prime example of the feedback loop between East Asian style culture and Western high-end brands that has been increasingly narrowing in the past half-decade or so."
Daisy Wang, the founder and designer of the New York-based modern Chinese streetwear brand DAWANG, agrees that bunny hats have long been popular in East Asia due to its culture of valuing "the cutesy," she tells NYLON. "I think we [East Asians] are more drawn to stuff like that." She first witnessed the craze in 2019 during a trip back to China, where versions of the original Korean toy were being sold on the street. "I personally wouldn't wear it, but I love the concept of how it moves and that it kind of expresses the personality of whoever's wearing it."
Inspired by that hat, Wang designed DAWANG's fuzzy bunny beanie which was released in time for this Lunar New Year. "It's more unisex, a little bit more fitted for all personalities," she says. The super stretchy material allows one to pull it over a ski or snowboarding helmet, she suggests, or the ears can be tied around one's neck for warmth.
That original Korean bunny hat toy has since fizzled out from the mainstream; on TikTok, it fell out of favor after some popular alt influencers who wore the hat had allegations of racism surface against them, claims Taylor. But the bunny hat trend is still going strong, especially now that 2023 is the year of the rabbit, Kim says, granting the accessory "timeliness." Along with increased awareness of Lunar New Year in the Western world — it was recognized as an official holiday in California this past year, with an ongoing push to make it federal — she notes that the luxury and streetwear world are also producing collections that seem less superficial than in years past.
The boom of the bunny hat is a prime example of the feedback loop between East Asian style culture and Western high-end brands that has been increasingly narrowing in the past half-decade or so. "The influences are bouncing back and forth so furiously now," Kim remarks. "Those alt kids might be influenced by K-pop, as much as K-pop stylists are influenced by those kids."
The zeitgeist's embrace of an animal as sweet as the rabbit could also be indicative of a larger global desire to return "back to simpler times," Kim says. She adds that the need for nostalgia also seems tied to the heavy Y2K influence permeating style today, in the form of design influences in ravewear and Tokyo street style — subcultures that are tied to the '90s.
"I wish there was a less cheesy way to say this, but we're living in very difficult times," Kim adds. "I think that for a lot of people, a way to cope or soothe yourself is to [...] dive back into your own childhood and grasp for innocence." For some, wearing a bunny hat and being enveloped by its soft furry ears, could be the coziest way to do just that.