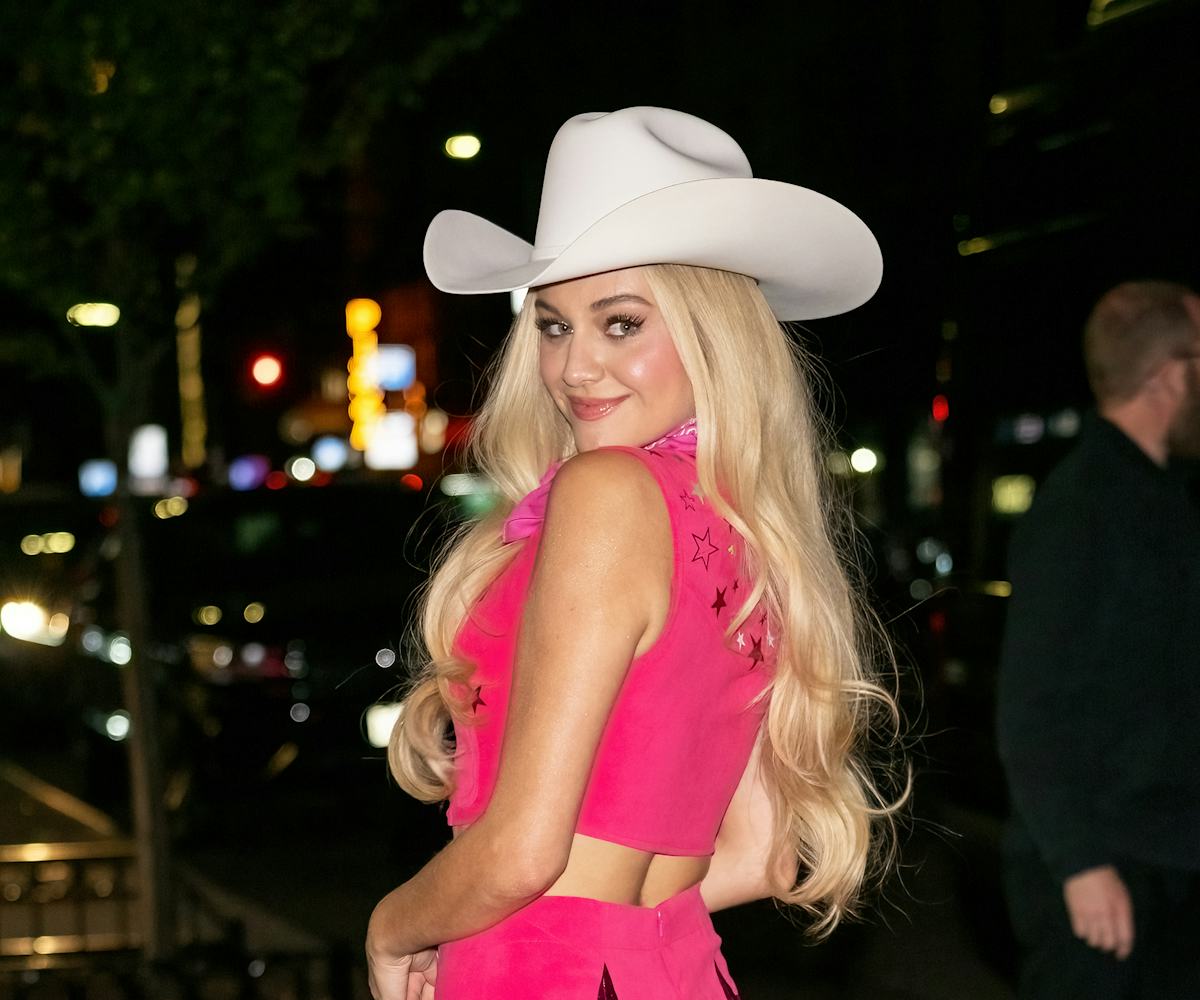 Gilbert Carrasquillo/GC Images/Getty Images
Kelsea Ballerini's Western Barbie Wins Celebrity Halloween
The best fashion from the past week — Halloween edition.
Welcome to NYLON's Fit Picks, a weekly roundup of our favorite celebrity outfits.
Halloween is finally here, which means we get yet another year of celebrities dressing up all over our social media feeds. While the holiday technically falls on Oct. 31, it seems that, despite the ongoing SAG-AFTRA strike and caution against struck content, many of our favorite stars are celebrating a few days early this year, showing off their best costumes (and for some, they have many more to come in the following days).
Kicking off spooky season is country musician and NYLON's recent cover star Kelsea Ballerini. Last week, on Oct. 25, the singer was in New York City to throw her very own Halloween celebration with the Original Donut Shop.
Ballerini channeled her true inner cowgirl at the event with a vibrant Barbiecore pink outfit, which included a literal star-studded vest and flared jeans. She finished her outfit with a matching pink bandana around her neck, matching rhinestone boots, and a white Western hat. Ballerini confirmed the inspiration behind her 'fit in a recent Instagram post, captioning it "💕🤠 HI BARBIE, HAPPY (early) HALLOWEEN 🤠💕."
Check out the rest of our favorite celebrity costumes from the past week, including Halsey's mermaid look, Alix Earle as Madonna, and more below.
Hailey Bieber
On Oct. 28, Hailey Bieber coordinated with husband Justin Bieber in Flinstones-inspired costumes. While Justin channeled Bamm-Bamm, Hailey went as Pebbles in a neon green top with a blue skirt, white heels, and a short orange wig.
Halsey
Halsey arrived at Vas Morgan and Michael Braun's Halloween Party as an ethereal mermaid. The musician wore a sheer bralette and maxi skirt adorned with seashells and pearls, and completed her outfit with a long Ariel-esque wig.
Alix Earle
TikTok star Alix Earle hosted a Halloween party with Marquee New York and Casa Del Sol Tequila on Oct. 28. That Saturday night, Earle dressed as Madonna in a white bodysuit paired with black stockings and matching heels, a blond wig, and a bright-red lip.
Meredith Duxbury
Beauty and fashion content creator Meredith Duxbury was also in attendance at Alix Earle's Halloween party in New York City, dressed as the '90s fictional Disney character Jessica Rabbit in a sequin red gown and purple opera gloves.
Paris Hilton
Paris Hilton made her way to the Casamigos Halloween Party dressed as pal Britney Spears. The OG socialite went as the singer's 2003 hit music video "Toxic," donning a blue flight attendant costume and metallic accessories.
Kaia Gerber & Austin Butler
Kaia Gerber and Austin Butler attended the annual Casamigos party as Edie Sedgwick and Andy Warhol, wearing all-black ensembles and short spiky wigs.
Megan Fox and Machine Gun Kelly
Megan Fox and Machine Gun Kelly are spotted together at the Casamigos Halloween Party. Their first of many costumes came on Oct. 27 when the two dressed up as Kill Bill characters Gogo Yubari and Bride, with Fox in a bloody schoolgirl outfit and the musician in yellow sweats.
Paris Jackson
Paris Jackson went as the classic Internet meme Old Gregg over the weekend at the Casamigos celebration. There, the singer layered gray and black crop tops with a fluffy pink tulle mini skirt and ripped leggings. She also wore a white tie and matching boots, a rainbow belt, and the character's signature green wig.
Brianne Howey
Ginny and Georgia actor Brianne Howey attended the Casamigos Halloween Party as the AMC commercial version of Nicole Kidman. Howey channeled Kidman in a fitted pinstripe suit with a lace bustier underneath, black pumps, and the theater's classic red cup.