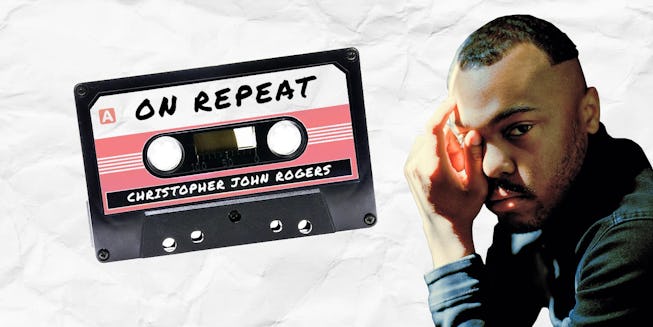 Photo by David Molle
On Repeat: Christopher John Rogers Shares His Favorite Songs For Fashion Inspiration
Ahead of his second New York Fashion Week runway show, the award-winning designer listed off the songs he's playing nonstop in the studio
On Repeat is a brand new music series where NYLON asks our favorite creatives — designers, artists, and more — about the songs they can't stop playing while they work. You're going to want to add these to your playlists and streaming platforms ASAP.
With Christopher John Rogers dressing some of entertainment's most-watched talents — Lizzo, Lil Nas X, Rihanna, Tracee Ellis Ross, and Greta Lee, to name just a few — it's no surprise that music plays nonstop at the designer's newly opened SoHo studio. (After winning the 2019 CFDA/Vogue Fashion Fun Award last November, opening a proper HQ was at the top of Rogers' list.) The designer is currently prepping for his second New York Fashion Week runway show, which takes place on Saturday and follows a standing-ovation-worthy debut from September.
Rogers and his team have been working around the clock, which is why we asked him for his favorite songs that serve him major fashion inspiration. Some stellar must-listens include Norwegian duo Smerz's "Because," a tune that best describes Rogers' anticipated "darker, sexier" Fall 2020 collection, as well as artist Armando Young, whose song "Loved Ones (Saudades)" holds a special place in in Rogers' heart, as it was the finale song for his first runway show.
Read on to find out more about what the award-winning designer is listening to on repeat.
"Hit the Back" - King Princess
"We're really big fans of King Princess in the studio."
"Sexy Please" - Lion Babe
"Lion Babe is an OG CJR Girl and a must-have on the CJR playlist."
"Statue" - Bonnie Banane
"Iconic!"
"Loved Ones (Saudades)" - Armando Young
"This song is an emotional one for us, as it closed our first runway show last season. It's just really beautiful."
"What If" - Amber Mark
"We hosted a party with Amber Mark and Tumblr last season and she's always a favorite amongst the team."
"Because" - Smerz
"The vibe this season is a bit darker, sexier, and this is a song we've runway-walked through the studio to a lot."