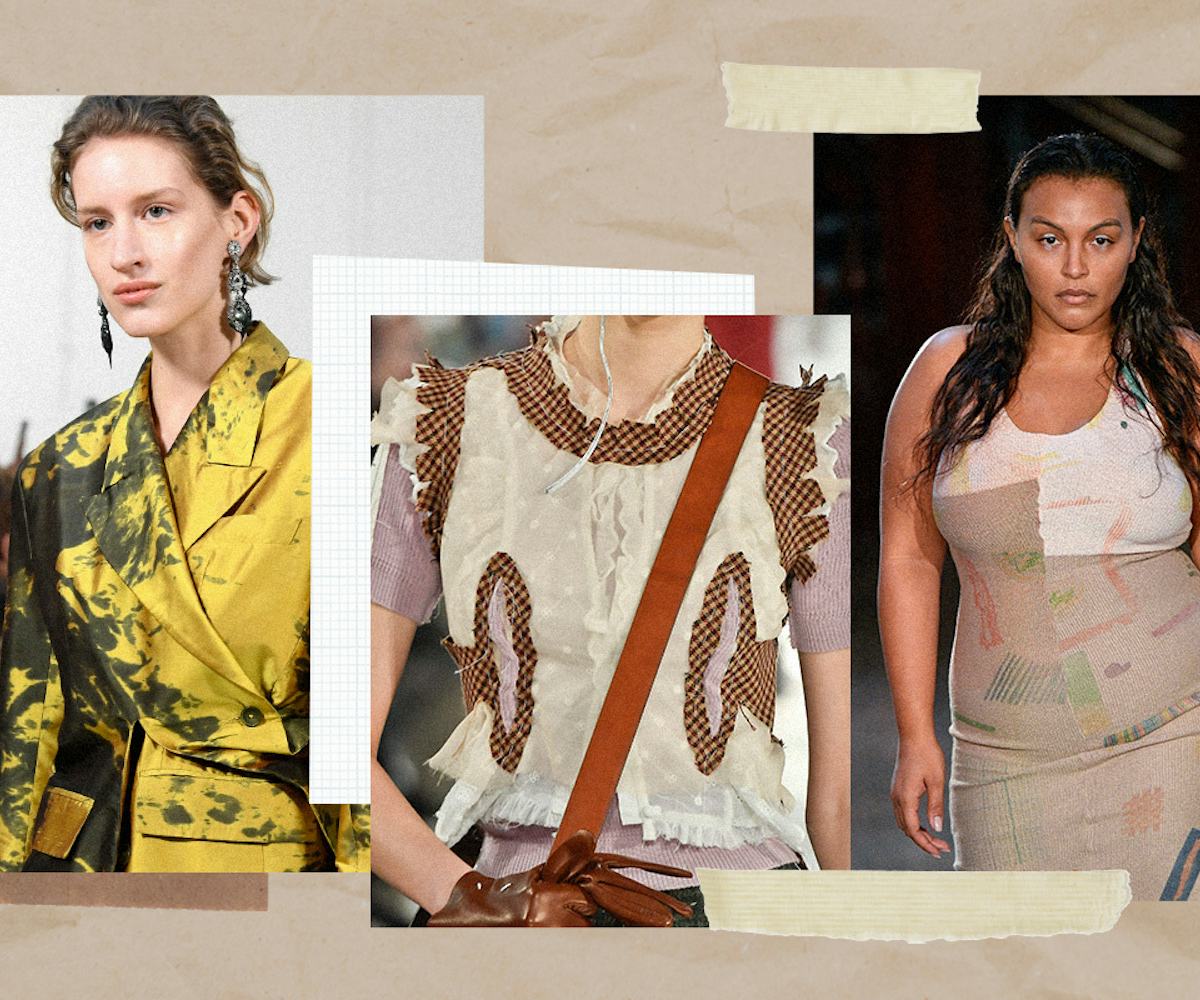 Photos: Getty Images
"Craftcore" Is Fashion's New ​Subculture In 2020
Designers are taking an interest in traditional, homey feeling techniques like crochet, hand-knits, tapestries, and quilting
Craftiness is quickly spreading through fashion. Chalk it up to designers taking an interest in traditional techniques like crochet, hand-knits, tapestries, and quilting — all things that have an intrinsically crafty, homey feel. Doily-style lace was seen on the Spring 2020 runways at Puppets + Puppets, Markarian, and Tory Burch, while crochet popped up at Maryam Nassir Zadeh, Jonathan Simkhai, and Kate Spade New York.
After Fall 2020 fashion month wrapped in Paris, one thing was clear: "craftcore" is here to stay. Legacy labels like Chloé and Maison Margiela touched on elements of crafty couture; the former utilized crochet trim while the latter showed a collection full of beautifully upcycled pieces that looked as if they had been patched together by a home sewer. Emerging Berlin-based brand Ottolinger presented a collection of patched-together knits with raw unraveling ends, abstract homespun acid washes, and tie-dyes. According to co-designers Christa Bösch and Cosima Gadient, the inspiration goes back to their childhood, and is a typical element in the brand's DNA. "We both crafted a lot as kids, and we still love to work with our hands — making 3-D models from scratch is always the start for the collection," says Gadient. "The crafty look is very intuitive, and we love to mix this with clean design."
At New York Fashion Week, up-and-coming label Dauphinette also capitalized on craftiness in its first-ever fashion presentation, featuring hand-drawn prints and upcycled, hand-beaded bags. "By incorporating hand-painted pieces and real floral elements into my design thinking, I hope to access a more lifelike, storied form of dressing without taking away the inherent function of clothes," Olivia Cheng, Dauphinette's designer, says.
One of Dauphinette's signatures has become blouses and jackets with hand-pressed flowers on the inside. "Traditionally, pressing flowers, gardening, and making use of the household 'yield' is inherently crafty and seen as a domestic hobby," Cheng notes. "I really feel that all art is craft built up on specific tastes and contexts, and my ultimate goal with using these 'crafty' techniques in a designer-led brand is to surprise people with how new and strange 'normal' things can become."
Other popular designers are making craftiness their entire signature aesthetic: Take Emily Bode, who is known for creating skirts out of vintage quilts. The fact that the CFDA awarded her the emerging designer of the year for 2019 just proves that craftcore is becoming a movement. New York favorite Eckhaus Latta also shows a penchant for the growing trend. Co-founders Zoe Latta and Mike Eckhaus have always gone for a crafty appeal, with an approach to textiles that looks firmly homemade. Knits often have purposeful holes and raw edges, while dyes and prints look DIY in the best possible way.
Chopova Lowena is another young brand using scrappy fabric remnants and needlepoint pieces for skirts, which have a punkish, made-by-hand feel. The label sources vintage needlepoint and fabrics from Bulgaria, and then upcycles them into innovative masterpieces. The brand's global popularity is evident from a scroll through a recent street style gallery: It's common to see someone wearing a Chopova Lowena dress or skirt, with its crafty fabric, wide leather belt, and metal carabiners that connect everything together.
"We are constantly on the lookout for interesting textile pieces we can repurpose," says co-founder Laura Lowena who works on the label with Emma Chopova. "We have always loved needlepoint tapestries and slowly started collecting them until we finally were ready to produce this style. Emma grew up around women — relatives who would always embroider as a pastime — and was always fascinated with the outcome. These skirts are all so unique, made up of completely different embroidered images, each panel carries history and skill and a story."
Embroidery, needlepoint, and even gardening are proven inspirations of the new craftcore movement, but perhaps one of the other greatest influences is hand-knitting. New York-based Rui Zhou makes gossamer fine knits, sometimes by hand, most of which are so fine that they involve a slightly Victorian effort to put them on. According to the designer, using handmade techniques in knitwear is part of her innate fashion design language. "Even following the same pattern, different yarn or crafts can change the texture of the fabric a lot. This is the most charming part of knitwear and handmade pieces."
In Copenhagen, Holzweiler (founded in Oslo by siblings Susanne and Andreas Holzweizer) makes all showpieces by hand, with most of them knitted from leftover fabrics and yarns. (The label's Head of Design, Maria Skappel Holzweiler, also has a knitting brand with her mother and sister called Skappel that sells knitting patterns and yarn.) In their stores, they even offer knitting kits to make signature styles yourself. "For us, knitting gives us the opportunity to hang together and be present, which is an important value for us," explains Maria Skappel Holzweiler. "Personally, knitting together in my family has meant 'togetherness' and room for many deep and meaningful conversations. When you knit, you kind of have to log off because both your hands are occupied — it's like meditating. You reconnect."
Other designers are indulging in hand techniques to make a statement about fast fashion. "We believe the return of hand-knitting and hand crochet work is an indication that customer values are changing — and changing for the better. Hand-knitting beautifully illustrates the extreme of this anti-fashion fashion philosophy," says Jed Krascella, one-half of JED, a knitwear label founded in 2015. "Hand work, in general, is to be celebrated and respected in today's world, where too often we must settle for shoddy products created via poorly executed automation."
The craftcore movement stretches beyond the runway — it has also expanded to the internet, where brands born on Instagram are indulging in the art of handmade fashion, and benefitting from the visual exploration of it all. Think: Beepy Bella, which makes one-of-a-kind necklaces that recall the early 2000s, and Margrethe Hjort Hay, the 14-year-old designer from Copenhagen who does beadwork onto Nikes to transform them.
"Craft has a special place in my heart because I believe handmade objects hold powerful magic to them," says Beepy Bella's Isabella Lalonde. For her eclectic creations, she sources vintage charms and blows glass charms by hand. "My inspiration stems from fairy tales, retro toys, and experimental films. While I studied at Parsons, I focused on surrealist set design and performance. I've always been enchanted by world-building and the DIY aspect of making everything from scratch. This outlook allows me to give life and personality to inanimate objects. It's a way to feel more connected to my childhood and genuinely place a part of my innermost soul into everything I make."
When it comes to retail, Cafe Forgot, the New York-based pop-up and Instagram sensation (that stocks Beepy Bella), may just be one of the biggest supporters of the craftcore movement. "A lot of our clothes are one-of-a-kind pieces," says co-founder Vita Haas. "For some designers, such as Copenhagen-based Louise Lyngh Bjerregaard and longtime NYC friend So Far, this results in a very delicate almost couture look. For others, such as Physical Affection, Aurellia Cotton, and Alterita, this translates into playful colorful accessories with a childlike nostalgia about them... [With them,] we hope to inspire our customers to make their own work." To help with that, Cafe Forgot is planning to host workshops, that will teach customers everything from naturally dyeing to creating objects found in the store.
In a highly digital world, it's no wonder craftcore is resonating in fashion. It's not only a return to making something by hand and being more sustainable, it's also a break from the constant stream of distraction coming from our phones, laptops and everywhere we look. In a world of fast fashion and overproduction, the appeal of a crafty knit or upcycled needlepoint skirt is that it's also one-of-a-kind. It's a rebellious statement in a world of fast fashion, but the fashion world seems to be embracing it with open arms.