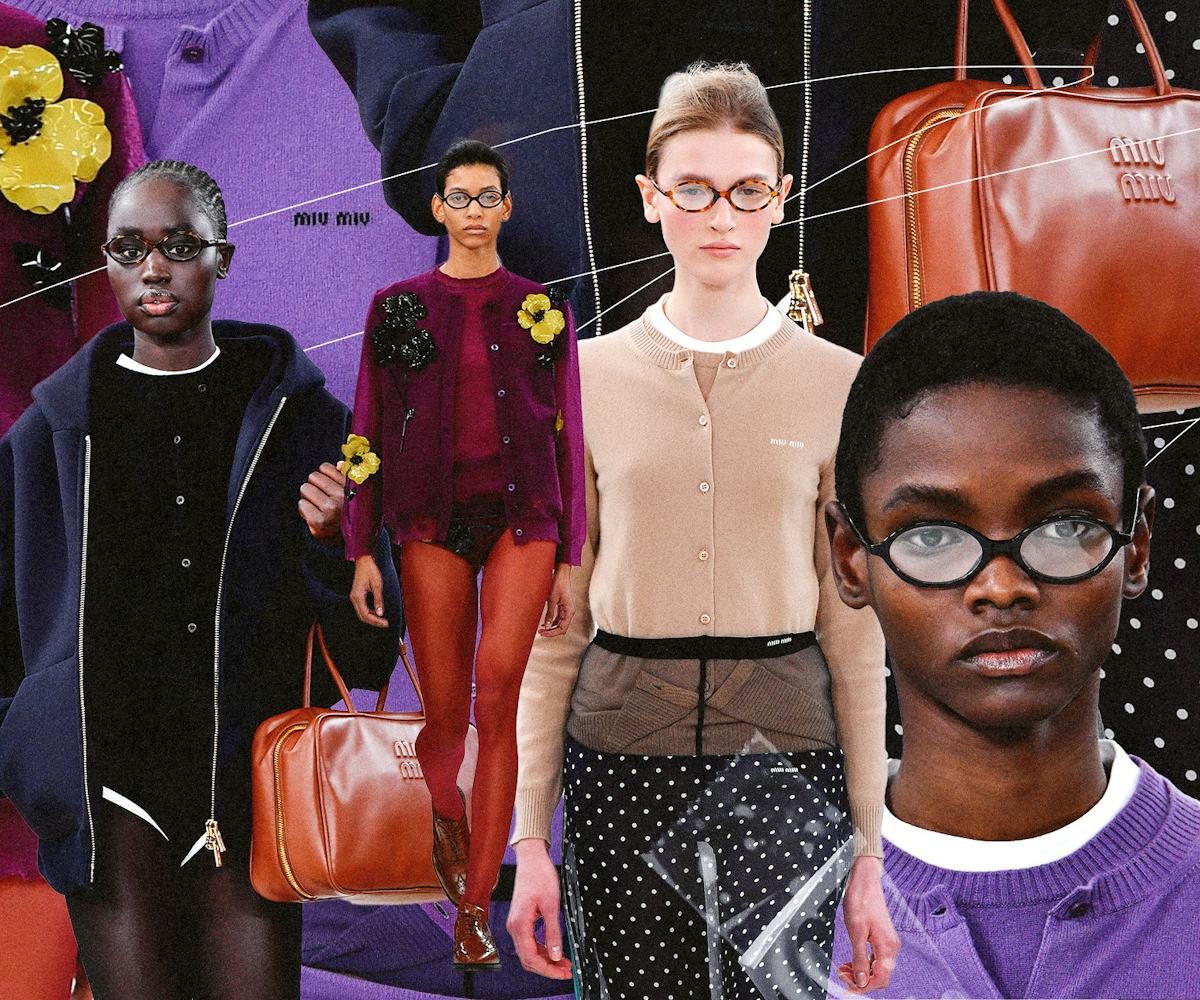 Lindsay Hattrick/Nylon; Victor VIRGILE/Gamma-Rapho via Getty Images
This Fall, Fashion Will See A Revenge of the Nerds
Next season's "It" girls are taking an intellectual approach to getting dressed and how they present themselves to the world through clothes.
Every season, a slew of new identities comes parading down the runway, and each one is dissected into oblivion searching for one thing: the "It" girl's new, fresh aesthetic. The ever alluring "It" girl is always mysteriously ahead of the trend cycle, mostly because she creates it. As brands follow suit, during the recent Fall 2023 runway season, we saw the rise of the Certified Dweeb.
These lovable weirdos differ from the previously sought after glamazon girls of Euphoria-inspired makeup and DIY-ing Paris Hilton's infamous 18th birthday dress. Instead, she's a girl who's confident in herself and freshly rolled out of bed. She has no time for complicated hair and makeup, and is merely looking to go about her day feeling comfortable, because at a certain point, avant-garde-subversive-basics-biker-core-ballet clothing has gotten pretty uncomfortable to wear.
The dweeb possesses a casual confidence that makes her persona an inspiration and, as a result, her wardrobe desirable. Amongst numerous conversations about "stealth wealth" and trending minimalism, the dweeb sets herself apart through her intellectual approach to getting dressed that envisions an item's longevity and the many lives it can live with her through the years as she learns more about herself and her style. The most important appeal here is not the temporality of today's favorite going-out top or viral item, but the conscious thought process of how we present ourselves to the world. With increased fashion consciousness, consumers and fashion fans alike are valuing fashion's history and brand archives more than ever, which has led to today's popularization of this sort of "fashion nerd."
Miuccia Prada is a pioneer of the "ugly chic" woman, and Miu Miu's runway once again resurrected this idea of intellectual styling. Always self-referential, Ms. Prada nodded to runways past, such as Spring/Summer 96's underwear under sheer skirts. The designer often highlights the origins of her own nerdy aesthetic in the early years of her design career to demonstrate her consistency against the tides of internet driven trends. The cardigans tucked into tights are undoubtedly youthful, while the sheer dresses demonstrate a subtle maturity in style and sex appeal. What makes Miu Miu's anti-viral styling so refreshing is its thoughtful simplicity — many of these items could likely be found in your own closet. While runway styling still serves as inspiration through reinvention, the true desirable aspect of these outfits — and these women — comes from their ability to casually, thoughtfully express their identities without flipping through the rolodex of online trends every morning.
The collection, as described in the show notes, references Korean artist Geumhyung Jeong, whose work explores the interplay between human creative expression and technology. As the notes point out, "there is a codependency, but in the end, machines do not need us. We need them." Jeong's work questions the nature of machine-driven invention, but doubles as a warning against humanity's loss of art — something that has been increasingly discussed with the introduction of AI models — by combining machinery, textile work, theater, and music. In a way, Ms. Prada's dweeb does the same thing. Fashion content creator Rian Phin aptly joked about this intersection between nerdy clothing and technology by describing the collection as "the rise of the industrial dork complex." By acknowledging fashion trends' technological dependency, Ms. Prada takes a step back to allow the Miu Miu woman to still exist and express her own multidimensional intellect — far away from the algorithm that promotes homogeneity and rapid consumption.
In 2023, the feminine dweeb takes up space without question and uses her wardrobe as an extension of her wit and expression. The Y2K resurgence during the pandemic coupled nicely with the TikTok-driven acceleration of fashion trends, reviving brands like Blumarine and Dsquared2. However, with this came a new definition of "basic," including hyper-trendy items like micro skirts, corset tops, and strappy sandals. Items such as these are not necessarily transferable across seasons and feel dated quite rapidly once the crowd moves on. While Julia Fox briefly cornered the "It" girl market with her DIY denim and belt looks, the hyper-stylized and unwearable nature of this aesthetic feels deeply unsustainable in the midst of an industrywide shift towards conscious consumption. Instead, fashion-minded consumers are valuing the idea of a capsule wardrobe that can be punctuated by current interests, whether it be a "polly pocket" shoe or a belt print with a little less Y2K-BDSM.
Instead of praising single-use outfits, trend analysts across both runways and street style have noted that this "smarter" mode of dressing emphasizes creating clothing for experiences rather than for "likes" by bringing attention to largely offline celebrities like Jennifer Lawrence and the Olsen twins, who have been dominating the "hot dweeb" allure for years.
Content creator and fashion archivist Arianna Aviram describes how this altered interaction with technology, like Jeong's artwork, is productive to personal style. With fashion's rapidly cycling micro-trends, "consumers have really tuned into social media to creators (such as Rian Phin) who give context behind the philosophies of fashion and the way we dress." She adds to this idea, "I think this gives many the confidence to genuinely be themselves and look to styling suggestions not from just what SSENSE is sending in an email blast."
The dweeb's ultimate power is her conscious decision to wade the tides against the McBling, gorpcore, and bloquette aesthetics (to name just a few) knowing that simplicity and intellect alway comes back around — whether it be the "art lesbians" in Sex and The City's Prada loafers and power suits, Carolyn Bessette-Kennedy's casual prep, or Succession's Naomi Pierce's baby mullet paired with The Row. While "It" girls are known for constantly chasing after the next best thing, those who engage with their clothing in a purposeful, sustainable manner will always possess an authentic, timeless appeal that will continue to endure the invention of email and AI — and unlike the viral fashion item of the moment, that's something money can't buy.