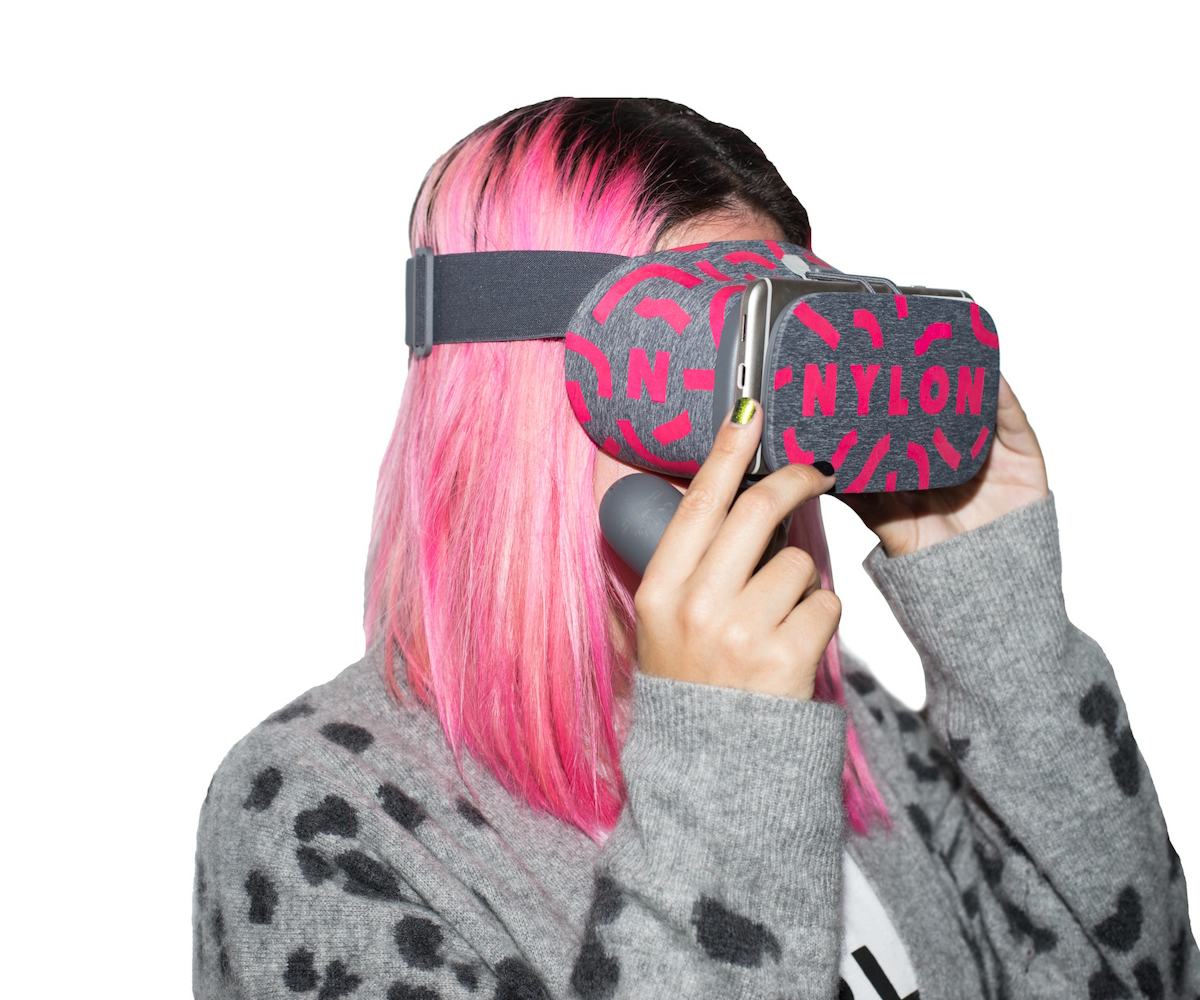 Could Virtual Reality Be A Fashion Game Changer?
We test out the Google Daydream View for ourselves
The following feature appears in the February 2017 issue of NYLON.
Imagine sitting front row at Rag & Bone's spring runway show in New York. You're perched between YSL muse Staz Lindes and NYLON fashion director J. Errico. As the clothes breeze by, you're so close you can see every detail, from the opening look's silver zippers to the models' nude lip gloss. Radiohead's OK Computer thumps from the speakers as lasers dance to a beat on the ceiling, a trick by the London tech collective TEM. After the final outfit—a moody pinstripe suit—stomps by, designer Marcus Wainwright takes his bow, and everybody claps. (Okay, everybody Instagrams, but that's the postmodern version of applause, yes?) You all get up to leave. As the other showgoers head for the crowded exit, you remove your virtual reality headset and decide it's time to put on some pants and get coffee. Maybe you're in Austin or Boston or Barcelona. It doesn't really matter, because with Rag & Bone's spring 2017 show, you can experience it anywhere—as long as you're hooked up.
Enter the Google Daydream View, a new VR headset and controller (compatible with a Daydream-ready phone like the Google Pixel or Motorola Droid) that launched worldwide in November. At $79, it's more accessible than a Gucci bag or even a Yeezy hoodie, but tech fiends are working to make it just as coveted for style fans. That's thanks to Google's continuing work with the Council of Fashion Designers of America (CFDA), which counts influential names such as Marc Jacobs, Tom Ford, and both Wangs—Alexander and Vera—as active members. Recently, the CFDA's YouTube channel debuted a Rag & Bone mini documentary made in conjunction with Google, in which you can experience the aforementioned spring runway show, plus model fittings, meetings with Wainwright, and more. It's designed to be watched with a VR headset—or the regular way, at your desk when you're supposed to be working. "Rag & Bone will have a coordinated effort to show the video [in stores]," says Google's communications manager Liz Markman. "But you can watch it on your phone or on YouTube. Obviously, the best experience is in a [virtual reality] headset, but the beauty of YouTube is that it's for everyone."
The fashion world is betting virtual reality is for everyone, too—at least, everyone who shops retail. Ask Rebecca Minkoff, the accessories empress who created a VR livestream for her latest fashion show. "It was phenomenal," she says about the experience, which lured fans into her boutique to see new clothes and try new tech. "I think more and more, as the nature of retail becomes experiential, we will see [VR] as a tool to engage [with shoppers and fans]." Topshop had similar success in 2014, when they optimized their London runway show for VR, which drew nearly a million web visitors to their site. And when Dior Beauté launched a backstage beauty video with their own VR headsets (all black and très sleek, of course), makeup counters in Paris and Tokyo were mobbed by curious mascara junkies.
But just because you want to test a cool headset doesn't mean you're gonna buy some $1,200 boots, or even a $40 mascara. And just because virtual reality is inspiring—and it is, in a jaw-drop, gut-punch, WTF-just-happened kind of way—doesn't mean you want (or need) to walk down the street with a pair of giant goggles on your head. In Wainwright's own words, "The internet's great and all that, but the human experience is never going to go away." And the Daydream believers actually agree, thinking (for now) a VR headset will be worn like your favorite Snuggie: on your couch.
"We get that you're most likely using it in your home," says the head of business development and content partnerships for Google VR, Julia Hamilton Trost, "probably once a day, probably in the evening. It's not when you're walking around throughout your daily life. It's like watching videos, but imagine being able to watch any 2-D YouTube video in your own personal big-screen environment—and also check out 360-degree videos and content built justfor VR." That includes a sandboarding session in Peru, a minute-long (and endlessly creepy) zombie encounter from TheWalking Dead creators, and even concert footage of Demi Lovato and The Weeknd. "Anytime you feel like you've been somewhere, you feel closer to it," Hamilton Trost insists. "There's a big theme around VR which is, 'Walk in a woman's shoes.' You have the sense of what it's like to be with someone. You get a sense of them and their mannerisms. You feel closer to whatever you're experiencing."
Here's the thing, though: If you ghost through a social experience like a concert or a fashion show—even a super-realistic 3-D concert or fashion show—can it really be as satisfying as the real thing? With no friends, no possibility of meeting new people, and no selfie potential, what's the point? "The human element will keep coming," says Jamie Garratt, the founder of digital creative agency Idea Rebel, which creates VR projects for brands like Converse and BMW. "But right now, the tech is still evolving. It's still a novelty. What you're talking about—the social part of VR—that's called 'mixed reality.' It's where you go to a store—without actually going anywhere—and try clothes on. It's where you're working from home and walking into someone's office in London at the exact same time. It's like Pokémon Go, heightened and applied to every part of your life. You're trying on a pair of shoes in Sydney. You're seeing a dress in San Francisco. And then you can put your device down and interact with the people in front of you, in real, actual life." Translation: Today's Snapchat filters are tomorrow's virtual Saint Laurent outfits. But even if they look great on your phone, you'll still need to feel the fabric IRL, and love the brand on an emotional (not virtual) level. And as Garratt puts it, "No matter how cool a fashion show looks, you won't buy the clothes unless you, personally, connect with them. And the reason someone's going to love a VR experience is because it tells a great story. It's not just VR. It's a cool story. That's the whole point." Wainwright's blunter take: "We didn't want to create an imaginary world with imaginary people that nobody gives a shit about."
This is where you come in. Instagram may be jammed with swishy-haired style influencers, but the VR space is still an empty dance floor—so if you've dreamed of being "internet famous," this might be your ticket to Leandra land. "The cool thing is you can [create your own VR content] right now," says Markman. "The free Cardboard Camera app lets you take VR photos in the same way you take a panorama shot, just keep spinning all the way around. Once you have [the images], you can view them in Daydream or with your phone—and, of course, upload your videos to YouTube." Which means if you want to be the first VR beauty vlogger to score a makeup contract—or the first VR activist to help lead a revolution—the time to hone your stereoscopic craft is now. (Memo to future Phoebe Philos: Consider Tiltbrush, an app that lets you paint or draw in 3-D, and see potential designs from all angles before buying any fabric.)
Experiment. Collaborate. See what happens. You might even hit on something magical—like the U.K. theater collective Punchdrunk did in December. They paired with Samsung at Miami's Faena Bazaar to reveal Believe Your Eyes, a VR ghost story where actors clutch your hands onscreen—and in real life—at the same time. The effect was gorgeous, gleeful, and seriously chilling. But even as I was scared nearly shitless, I couldn't help but wonder who made the ghost's pale pink slip dress, which looked, from all angles, like a vintage find that got away. Turns out it's by AllSaints, available online, and soon to be shipped from their huge London warehouse to my tiny New York apartment. So it seems great VR content can indeed influence our shopping habits—even if it terrifies us a little bit first.
Google Daydream View customized by Kayla Kern and photographed by Marco Girardo.