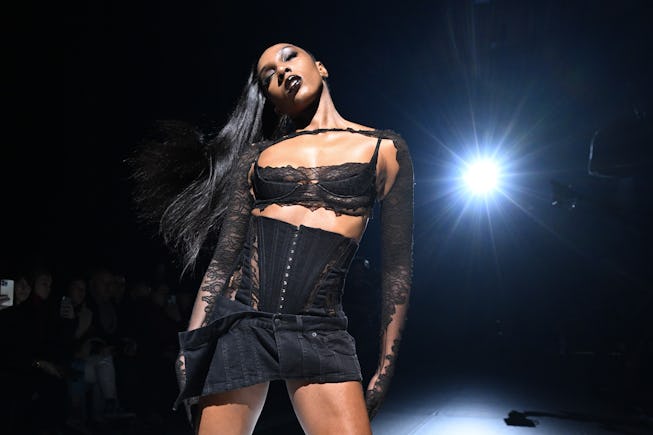 Stephane Cardinale - Corbis/Corbis Entertainment/Getty Images
The H&M x Mugler Lookbook Is Here
The collection is coming May 11th.
Swedish-based clothing company H&M has become known for some pretty iconic collaborations over the years, including Karl Lagerfeld in 2004, Comme des Garçons in 2008, Balmain in 2015, and Moschino in 2018. In February, H&M announced that its next designer collaboration will be with none other than the house of Mugler. On March 23, they set a release day for the upcoming collection, which will launch in select stores and online beginning May 11th. Today, the brands released the full lookbook. The collection, which includes menswear and womenswear, was created under the direction of Mugler's creative director Casey Cadwallader and designed to "encapsulate the unique and vibrant spirit of Mugler".
The silhouette of the collection includes the fit that Mugler's become known for — strong, big shoulders, a tight focus on the waist, and an ode to the lines of the body. The lookbook includes denim bonded thong jeans, spiral multi-semed outerwear, corset tanks, a leather trench coat with elongated scarf detailing, dresses with decadent embellishments, and padded jackets. It also includes gender-fluid accessories, including sheer gloves and tights, bags, scarves, silver and gold body chains, earrings, necklaces, and a silver "M" belt. Alongside new designs, there are also a series of limited-edition archive Mugler remakes, honoring moments in fashion history. These include a black velvet dress, a lace corset dress, a skirt suit with piercing details, and an acidic green tailored jacket.
To celebrate the announcement, Mugler and H&M had previously released a music video, starring Amaarae, Shygirl, Eartheater, and Arca. Together, they recorded their own take on Stardust's 1998 dance hit Music Sounds Better With You, a nod to the sense of community that defines Cadwallader's vision for Mugler today. The news had also already been hinted online earlier this year, with fashion writer @brendahashtag Tweeting "h&m designer collaborations are coming back" on January 2. While some people have credited H&M's previous collaborations with making "great progress in removing barriers between high-end and mainstream markets", others are concerned with how Mugler's multi-panel body suits will translate over to H&M. "Isn't Mugler x H&M just fashion nova?" one person Tweeted.
With the collection set to hit the shelves in May, there's no denying that Mugler has been recently branching out to new audiences. "This collection is a watershed moment for the house of Mugler – a chance for us to celebrate our history and the pieces that we are beloved for today," Casey Cadwallader, Creative Director of Mugler said in a press release. The news of this latest collaboration with H&M proves the fashion house is intent on taking over, and bringing in new customers at lower price points.
This article was originally published on