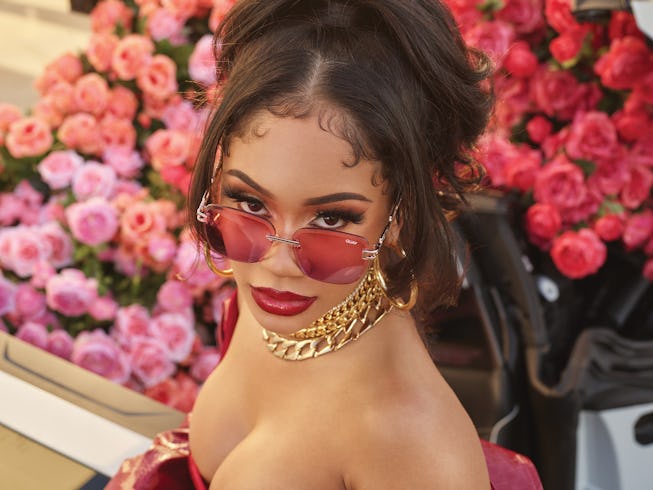 Courtesy of Quay
Saweetie Dropped A Collection Of Icy Sunglasses With Quay
Saweetie wants to protect your precious eyeballs from the sun this summer, but with style. The rapper has launched her first collaboration with Quay on a collection of vibrant sunglasses.
"Everyone knows I love my accessories and sunglasses, so I'm hella excited about my collection with Quay," Saweetie said in an official statement. "The styles are all luxe but affordable, so all my ICY Babies can get glammed out and look GOODT with a 't' just in time for summer."
Almost all of the frames are oversized for a stylish statement look, like the '90s-inspired rimless pair in pink and the exaggerated cat-eye sunnies with studs. Saweetie is even co-signing the aviator's comeback this summer with her own take on the retro trend.
In addition to dropping a slew of new sunglasses styles, the USC alum extended her partnership with Quay to bring back the brand's Education is Quay scholarship program, which will award $100,000 in scholarships to 10 students.
"Education is super important to me. I have been blessed with the opportunity to achieve my educational aspirations and I truly believe that higher education should be available to everyone," Saweetie added. "I'm excited to work alongside Quay to help provide that opportunity to others and to inspire more people to chase their dreams."
The Quay x Saweetie collab is available now on Quay's website with prices starting at $65. Check out photos of Saweetie in the campaign, below.