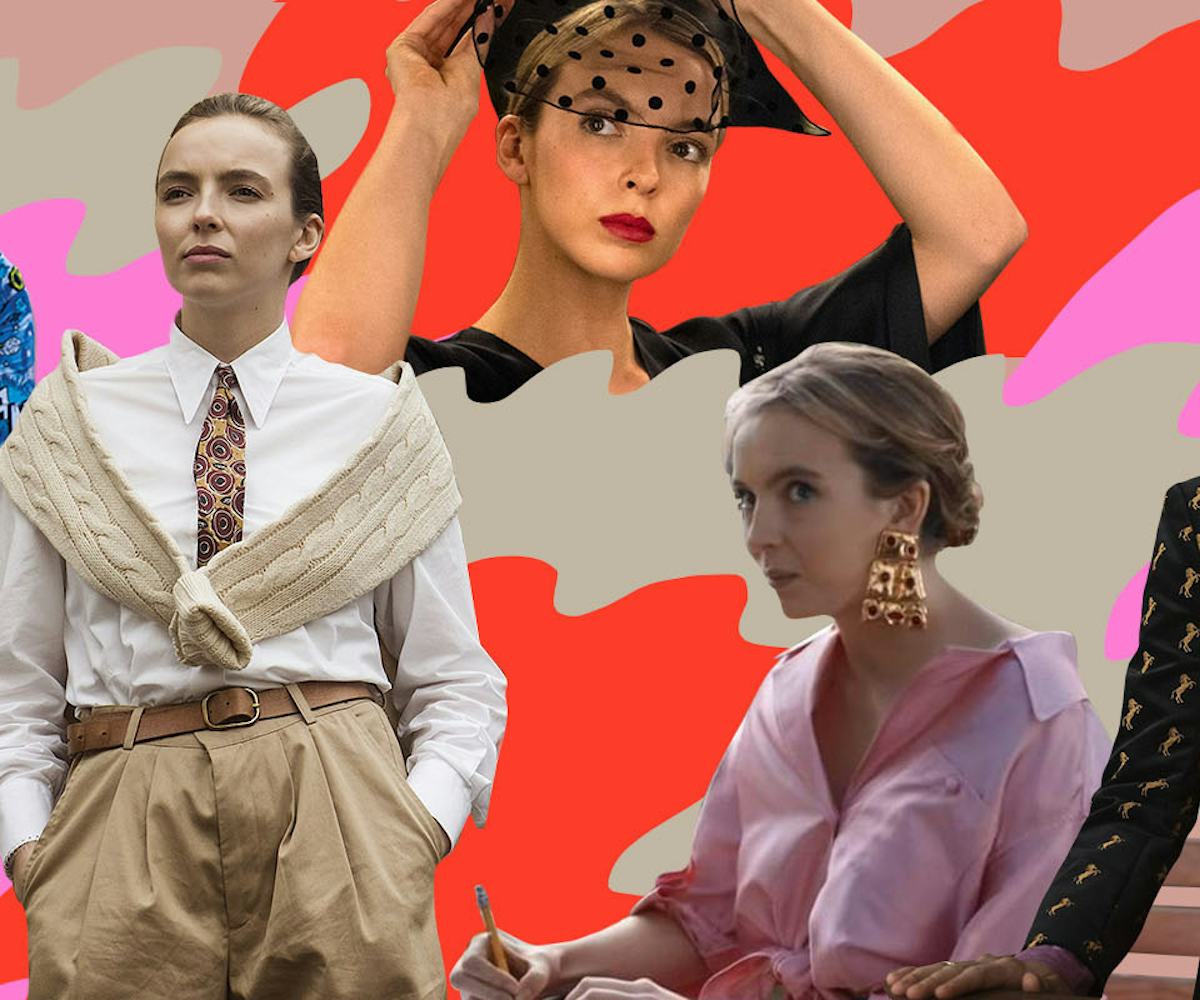 The 'Killing Eve' Costume Designer Explains The Secrets Behind Villanelle's Many Stylish Personas
We chat with Charlotte Mitchell
We've already established that Killing Eve's Villanelle—played brilliantly by Jodie Comer—is one of the most exciting villains on television right now. Well, she's one of the most stylish, too. Costume designer Phoebe de Gaye's first season work caught everyone's attention when Comer wore a large, pink Molly Goddard dress paired with a pair of black combat boots (seen here). But this season finds our assassin, dressed by Charlotte Mitchell, with even more looks that kill.
The second season of the BBC America series starts off 30 seconds after the last episode of Season 1. So, if you're wary of spoilers, you should probably stop reading this piece now. After being stabbed by Eve (Sandra Oh), Villanelle struggles to the hospital to get treated, which is where we find our typically done up assassin stripped down. "[Villanelle's] always playful, always dressing up, always playing a character," Mitchell says. "And this couldn't have been that." When we see here, she's "at the lowest point in her life," Mitchell notes. "So, I thought, What can I put Villanelle in that makes her look quite broken down, almost vulnerable?" Enter: a pair of Crocs.
Before escaping, Villanelle plots to steal some medication. After she secures scrubs and a white coat, she realizes that she needs to place her delicate feet into a used pair of Crocs in order to complete her look. Why the divisive shoe? Mitchell says that she could've gone with trainers (British speak for sneakers), but that they "wouldn't have been so ugly… we wanted to find something really wretched." She made them look even more "ridiculous" by adding stickers and painting them slightly green "to make them a little moody and add a bit more yuck edge to it."
Next up, we see our villain change into a pair of boy's pajamas that she gets from her roommate. Mitchell's assistant found the comic book-looking fabric (they initially wanted to use Spider-Man pajamas, but she jokes that Marvel wouldn't have given them approval), and they made the outfit from scratch out of a stretchy Lycra. "It helped the joke that she stretched them out and that they were tight on her," Mitchell says. Some more not-as-funny comedy can be found in the words on the onesie. The young patient who gifts Villanelle her tween outfit has been admitted after surviving a car crash that killed his whole family. "The fabric has 'bam' and 'crash' on it," Mitchell points out. "It kind of nods to the dark humor of the show."
Once Villanelle finds herself back with her old employer, she also finds herself getting back to her luxurious sartorial roots. The first outfit we see her in—as herself and not as her playing dress-up—is a black jacket with puffed sleeves. "We knew it was going to be shot through the school gates, so we went with a strong silhouette," Mitchell shares. "We wanted her to look powerful at that point." And the outfits only get better from there. "She's really loving being back and being eclectic," Mitchell says. "She puts things together in her way and nobody else's."
She also dresses based on her location. Mitchell says that, when Villanelle is in the U.K., her wardrobe is a bit darker, with muted jewel tones, but, when she goes abroad, it's "poppy and bubblegum-y pink… we get more of a holiday vibe." It's this same bright outfit that elicits one character to come up to Villanelle and ask if she can take her picture for Instagram. "No! No, of course not," she says in return. "Get a real life!"
That's another thing about Villanelle, she's very aware of the fact that she knows how to dress. It's in the stylish outfits she selects (or picks out for other characters, like Eve in Season 1), but also in the way she criticizes those who can't. In episode four, she asks Constantine, who's wearing a black graphic print shirt, "What's with the shirt?" before adding: "Seriously, do not go shopping on your own again." She asks a similarly shady question of Eve in Season 1: "Is that a shirt… attached to a shirt?" Villanelle is not impressed.
But, best of all, Villanelle likes to have fun with her clothes. Like, when she's in Amsterdam and wears a traditional Dutch dress and a pig mask in order to murder a pretty piggish Dutch man in the city's Red Light District. Or, when she goes androgynous by wearing a white button-up, printed tie, tan trousers, and a sweater wrapped around her shoulders to speak with Eve's husband, Niko; it's a look that is clearly mocking his boring academic lifestyle. "That's her seeping into the environment," Mitchell says. "It's a really playful moment without her being playful in a colorful way."
And then there's the moment when she shows up to "kill" Eve while donning a vintage, sheer couture Alexander McQueen dress complete with polka dot veil (which Mitchell designed and created herself). "I thought I would dress for the occasion," she says after Eve compliments her outfit. "I'm about to be in mourning."
Mitchells says, "[Villanelle] really chooses her wardrobe based on what her mood is and how she wants to provoke a reaction… but she does it in true Villanelle style. And she doesn't do it subtly." The black dress is one of Mitchell's favorite looks from the season, and she calls it "the dress you'd wear to see your ex-boyfriend when you really want to show off." Which makes sense that she's wearing it to visit Eve. "She knows what she's doing," Mitchell says.
Whereas Villanelle's style is very much high-end, Eve's is not—just another instance where the MI6 agent serves as the assassin's foil. Eve's not low-budget per se, but she cares more about her job and getting out of the door than she does what she puts on while hunting Villanelle. So we see Eve wearing practical pieces, like pants with elastic around the waist rather than a zipper or buttons because Eve can't be bothered with additional time-sucks. "They had to be practical and quick," Mitchell says about these sartorial choices. Though Eve wears "regular people" clothes, Mitchell says it can sometimes be tricky getting the tone right, though it's much easier to find the pieces for Eve than for Villanelle.
Mitchell admits that it's Villanelle who takes up most of her creative brainpower, because Villanelle's demanding tastes and multiple personas requires a lot of careful attention. "It's kind of a challenge to design for her, because you have this split-personality person," Mitchell says. "You're designing for Villanelle, then you're designing for Villanelle dressing up as a character." It's a challenge at which Mitchell is surpassing all expectations.