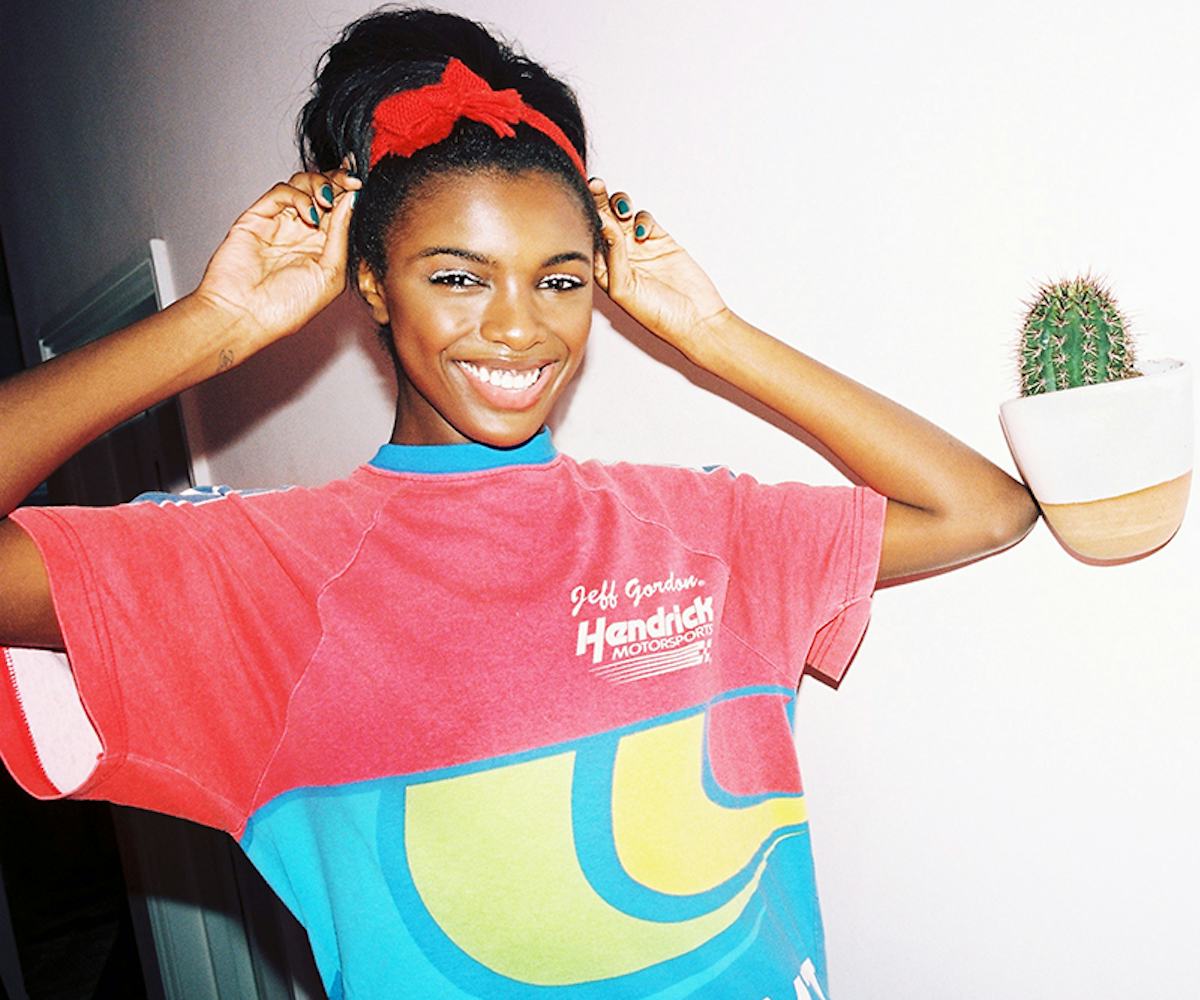 Photographed by Bella Howard.
Get To Know Leomie Anderson
meet the outspoken 'model citizen'
Leomie Anderson's been in the headlines lately for her frank and necessary comments about makeup artists and hairstylists who are unprepared to work with models of color. The following feature appears in the March 2016 issue of NYLON.
"Everyone loved it, but it's the weirdest thing to me because I haven't even got any boobs!" declares the 23-year-old Leomie Anderson with an effusive laugh, referring to the end-of-runway shimmy seen 'round the world that she delivered during her recent Victoria's Secret fashion show debut. "That's why it's so funny, because nothing was moving except the outfit!" 
As we chat post-photo shoot in her native London, the tracksuit-sporting self-confessed foodie and newly appointed Angel fills the room with her sparkly energy. "The reason I wanted to do the Victoria's Secret show is because it's one of the only ones where the girls get to show their personalities, instead of pretending to be somebody else," she says, flashing a charismatic smile. "It's one of those shows I always looked at and wondered what I would do at the end of the runway." 
The opportunity represented a big break in Anderson's career, which started when she was scouted at age 14 on the way home from school—rocking red hair and blue mascara, no less. "I looked crazy, but they still saw the potential, which is cool," she recalls. At the time, modeling was not on her radar, but she did aspire to work in fashion. "That's one thing I always knew. I wanted to create content for a fashion magazine or website, and then I thought maybe I wanted to do something in TV," she explains.
Click through the gallery to continue the feature.
Hair: Sven Bayerbach at Carol Hayes Management London using Bumble and bumble. Makeup: Theresa Davies at Carol Hayes Management Mondon using M.A.C Cosmetics.