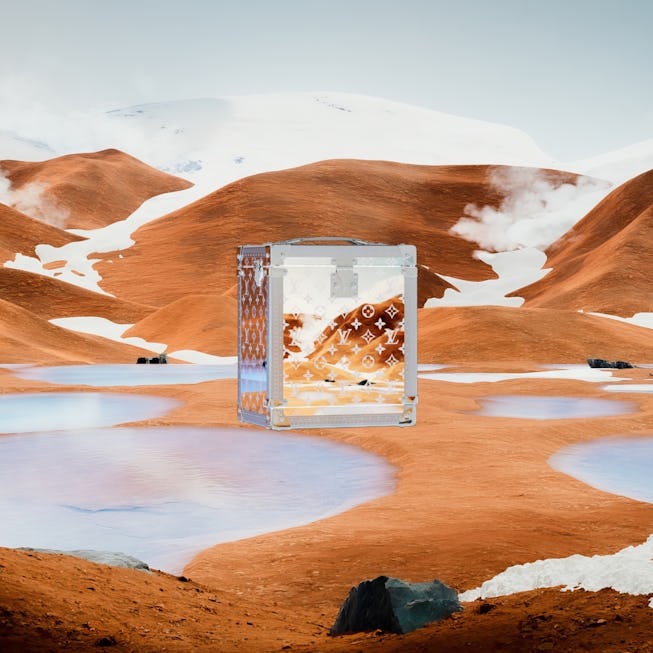 Courtesy of Louis Vuitton
Louis Vuitton Just Launched a Digital Trunk
The collectible "transcends the spirit of travel."
On Thursday, Louis Vuitton released their first digital trunk, the VIA Treasure Trunk, on the brand's website. Created with Web.3, the collectible was "designed for those who seek to travel through new dreams and new realities, and collect unique creations along the way." The first key will drop a few weeks after the Digital Trunk to unlock the first digital collectible, stitching product and digital culture together.
The VIA Treasure Trunks are only available in a very limited and exclusive edition of a few hundred pieces and are priced at €39,000. They will also act as "portals" into the world of Louis Vuitton, revealing new, limited products and experiences through immersive drops which will be progressively launched at regular intervals throughout the year. "The VIA Treasure Trunks are unique and secured for enduring ownership," Louis Vuitton shared in a press release. "The world of VIA will Open Wonder through an ongoing series of digital keys which owners of a Treasure Trunk will be able to purchase to unlock the new and unseen collectibles of the Maison."
The Louis Vuitton Trunk was invented more than 160 years ago and has since evolved into new forms and new materials. For the first digital edition, collectibles will be revealed through the Treasure Trunk in a digital form that is twinned with exclusive access to a physical counterpart. The brand has already shared the news on Twitter, tweeting: "#LouisVuitton unveils VIA, exploring a new facet of its savoir-faire with the first digital trunk from the Maison. This testament to digital craftsmanship weaves the real with the dream to create the exceptional."
The "voyage of open wonder" is first available in Canada, the US the UK, France, Germany, Japan, and Australia. You can already register on a dedicated page of Louis Vuitton's website.