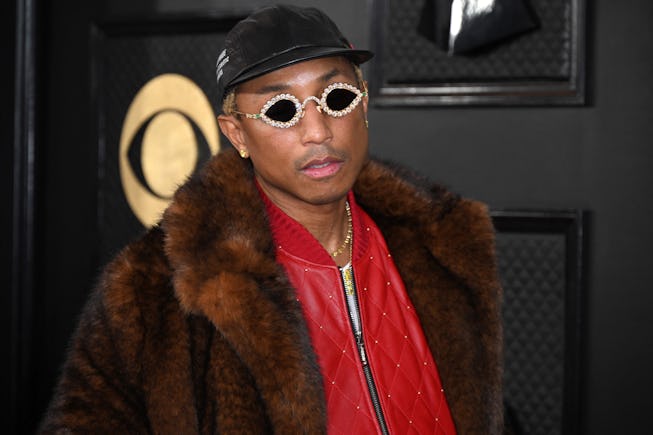 ROBYN BECK/AFP/Getty Images
Pharrell Williams Will Be The Next Louis Vuitton Menswear Designer
Pharrell is filling Virgil Abloh's vacant role at the luxury fashion brand.
Since Virgil Abloh tragically died in November 2021 after a two-year battle with cardiac angiosarcoma, there has been a hole not only at Louis Vuitton—where he was the artistic director of the menswear division since March 2018— but in the fashion industry at large. Making history as Louis Vuitton's first Black designer, the brand has since been looking for someone to take over Abloh's vision for Louis Vuitton. On Feb 14., Louis Vuitton finally confirmed news of a newly appointed designer. Pharrell Williams is will be the next men's creative director of Louis Vuitton.
Pharrell will be the first permanent head of menswear since Abloh. Since Abloh's passing, Louis Vuitton has released a series of tributes to visionary designer and collections designed by the menswear design team, alongside the recent guest creative director Colm Dillane, founder of KidSuper.
Besides being a huge influence in the music industry as a hit-making producer and Grammy-winner, Pharrell has long made waves in the fashion industry throughout his long-standing career. Not only did he change the future of streetwear through his ongoing relationship with Japanese designer Nigo, bringing A Bathing Ape into US popularity, but he also founded the streetwear label Billionaire Boys Club with Nigo in 2003. In recent years, Pharrell has collaborated with Chanel, Moynat, and G-Star, alongside founding his own brand Humanrace, which includes a skin care line.
Of course, the multi-hyphenate has also had a previous existing relationship with Louis Vuitton. In the announcement the brand chairman and CEO, Pietro Beccari states "I am glad to welcome Pharrell back home, after our collaborations in 2004 and 2008 for Louis Vuitton, as our new Men's Creative Director. His creative vision beyond fashion will undoubtedly lead Louis Vuitton towards a new and very exciting chapter."
When the news was just rumored it had already taken the internet by a storm, with one person Tweeting that the news signals that the brand wants "to build on the foundation that Virgil set at the line". "Critically, this would continue LVMH's streak of aligning itself with celebs, while Kering, its largest luxury industry rival, is on a much different track," Tweeted men's fashion columnist Jacob Gallagher. "For Pharrell, it would be the validation of a longgg design career that began with BBC and has taken him through the doors of Chanel, Diesel and LV (already)".
There are also those that have expressed reservations about the new appointment, stating that they'll judge the decision only after they see his first collection. It's clear that fans of both Louis Vuitton and streetwear, in general, have strong feelings about the future of the brand. But considering Pharrell's history, there's no doubt he will be a fitting successor with plans to make his own mark on the role.