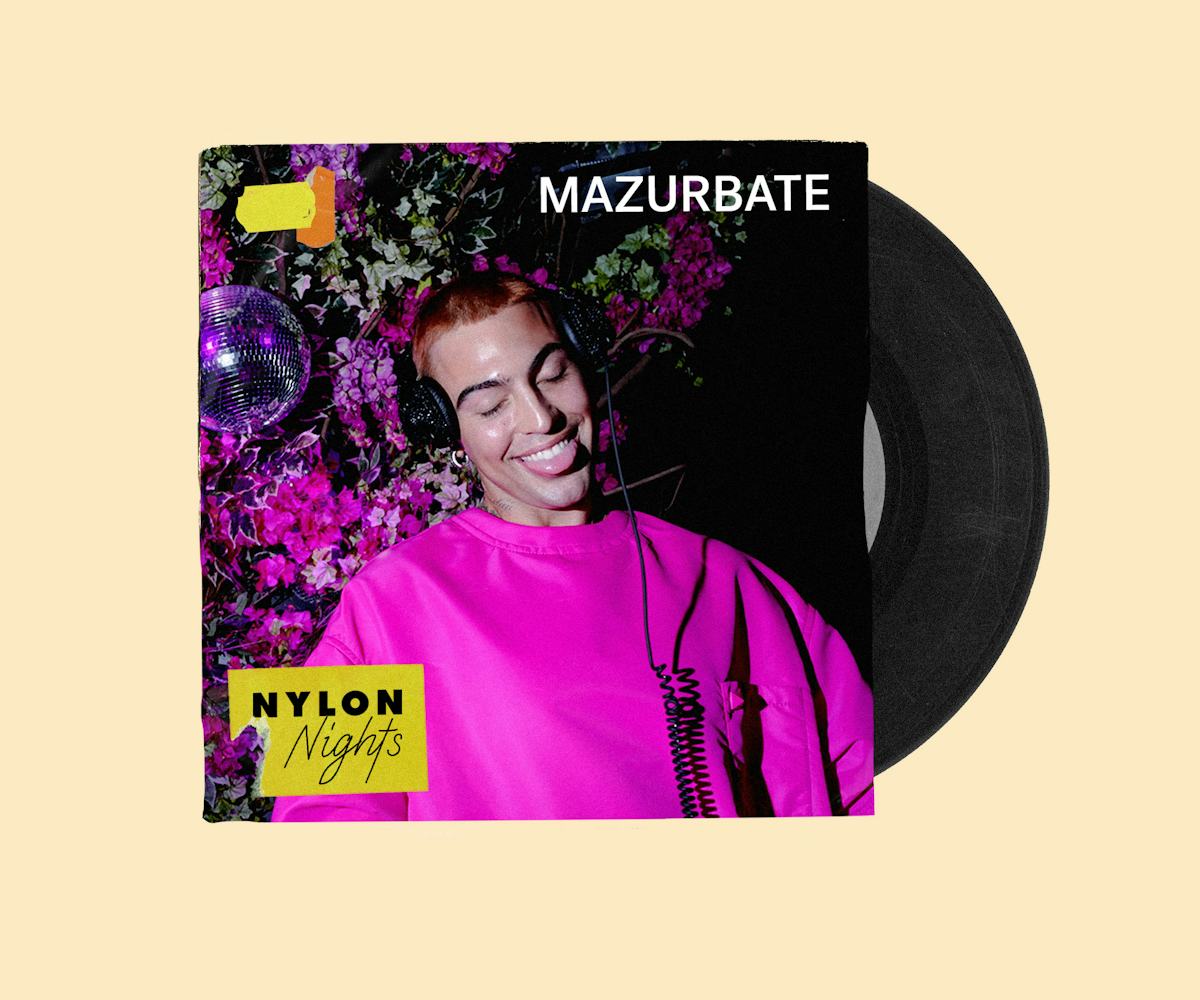 Nylon; Courtesy of Mazurbate
Mazurbate's Fashion Month Playlist Comes With A Confidence Boost
The stylist and DJ knows how to keep the fashion crowd dancing from New York to Paris.
Going out? Need a playlist? Then NYLON's NYLON Nights playlist is here for you. Each month we invite a guest DJ to curate an exclusive playlist that will keep you going from pre- to post-game. For March 2023, as the Fall 2023 season of fashion month comes to a close, New York-based stylist and DJ Mazurbate takes over.
There's a saying within industry circles that it's always fashion week somewhere, but the runways really ramp up twice per year in September and February, when designers in New York, London, Milan, and Paris show their ready-to-wear collections over a jam-packed four weeks. For those who are really in the trenches, fashion month can be as exhausting as it is exciting — but as is true for most things in life, a solid playlist can prove to be just as crucial as coffee to keep you from crashing in the time between the shows and the after parties (and in some cases, the after-after parties).
The Fall 2023 season of fashion month wraps up this week, with shows from some of the industry's biggest names, like Chanel, Miu Miu, and Louis Vuitton closing out the calendar. To celebrate, we called upon New York-based stylist and DJ Mazurbate, who you're just as likely to spot in the front row as behind the decks in the DJ booth. This season, he deejayed events for Acne Studios, Prabal Gurung, AREA, and more, as well as styled buzzed-about attendees on the show circuit, including Coi Leray, who was a Saint Laurent exclusive in Paris. In addition to his fashion month gigs, he recently styled the viral music video for "Boy's a liar Pt. 2" by PinkPantheress and Ice Spice, which has racked up a whopping 43 million views on YouTube since it dropped in February.
Below, check out Mazurbate's NYLON Nights playlist inspired by his whirlwind fashion month, complete with confidence-boosting jams from Kim Petras, Beyoncé, Charli XCX, and more.
"Son of a Preacherman" - Dusty Springfield
This sets the mood for you to get ready. Only bad bitches who have watched Pulp Fiction know the feeling.
"Players" - Coi Leray
Happy and sexy — which is what we need to feel when we go out, right?
"Could It Be Magic" - Donna Summer
This song brings you to all the feelings you need. It takes you high and low. Who doesn't love Donna Summer when you need to channel your inner Studio 54?
"Hot Boy" - Tama Gucci
I love this song because it makes me feel euphoric, but Tama's voice is sultry which is my favorite kind of combo.
"Perfect (Exceeder)" - Mason, Princess Superstar
We have arrived at the confidence portion of the playlist. This is the perfect song (pun intended) to feel it before you pump out.
"Heated" - Beyoncé
A favorite that actually grew on me in a weird way. I think this is in my Top 2 from the new album? Play this while manifesting Renaissance tour tickets.
"Good Ones" - Charli XCX
Charli did her thing with this one. A sexy pop song that talks about heartbreak but then makes you remember who you are — you better write those affirmations on that mirror!
"XXX" - Kim Petras
I mean, what is there not to love? Sexy, sexy, sexy — period.
"Princess Diana" - Ice Spice
A song that will make you feel like looking back at yourself in the mirror and just saying "damn!"
"Pure/Honey" - Beyoncé
We end with Beyoncé because those are the rules. I don't make them. This is the one that might stay on repeat until you call your Uber Black, because yes, we are spending the extra $20 to arrive in style. "Driver roll up the partition please," all the way to "bad bitches to the left."