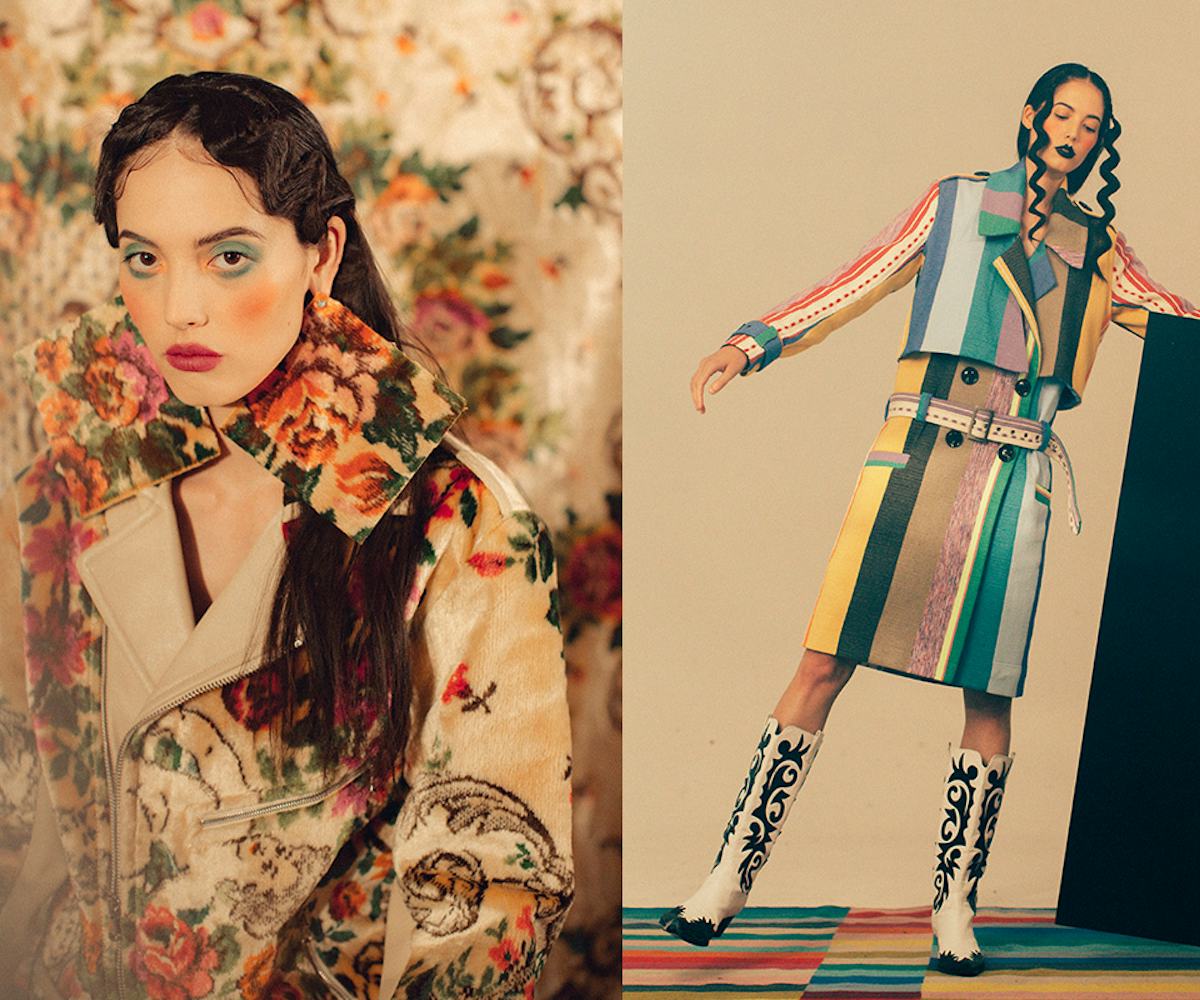 Photos by Noa Griffel
Inside The World Of Mia Vesper, The Upcycled Fashion Brand Coveted By Beyoncé
On a chilly October day in Mia Vesper's pop-up in Manhattan, the sunlit space is filled with colorful trench coats made from Mexican wedding blankets and sturdy, eclectic jackets constructed out of vintage tapestries. Standing among the pieces, wearing a large vintage butterfly belt thrown over her own pieces, is Mia Humber, the New York-based designer who has become one to watch when it comes to upcycling, thanks to her unusual, one-of-a-kind creations.
"I always really loved clothing," Humber says. "When I would dream up something that I couldn't find, I was like, 'I should make it.' And that was really how I developed the whole brand." After feeling inspired by her shoe repair guy in Bed Stuy, Brooklyn, who she had fix one pair of shoes and continued to revisit with more creative projects, she eventually advanced to designing jackets and other pieces of clothing with local tailors. "The first time I made something, I went to a tailor and had them make me a jacket, and I was so floored that this was really all there was to it," she recalls, with a laugh. "To think that I could go in and get anything I wanted made just off of sketches, it's pretty incredible. That feeling was like nothing else."
Vesper's tapestry jackets first made a big impression on the fashion world in 2017, when the designer staged a guerilla-style presentation outside of the Marc Jacobs show venue, with her friends wearing her designs. But her other pieces, such as mermaid-fabric leggings and tops, have since been worn by Sofia Richie and Halsey and ordered in bulk by Beyoncé.
"I [first] started working with Italian wedding blankets from the 1960s," she says. She turned them into unisex moto jackets with patches of leather and silk linings, and has since used the antique material for basketball shorts and longer trench coats. "I use a lot of deadstock materials, old shoemaker textiles, and upholstery fabrics and things like that," she adds.
Sourcing these fabrics has become a sort of sport for Humber. She found her first tapestry at a flea market before delving into online marketplaces, spending hours searching for the perfect options. "Now, I have scouts from different countries that email me and tell me what new items they have available," she says. "I now know by looking at a lot of fabrics where the origin is. I love Italian fabrics; right now, I also love [fabrics from] Soviet-era Germany and other Soviet-era countries." She can now also "find vintage fabrics that make 10 pieces rather than just one, which has really made it an easier task." Still, because of the nature of working with used fabrics, no two of her pieces are the same.
And while the tapestry coat remains her signature piece, she has started upcycling other items, such as jacquards into comfy track pants. Vesper estimates that about 30 percent of her collection is upcycled, while the rest is either ready-to-wear or couture, in which pieces are also one-of-a-kind and made with a similarly eco-conscious attitude by being produced in very small batches locally in New York City. "I make some what I would call 'ready-to-wear,' but it's a very loosely held term. Meaning, I might get 10 similar shorts or similar shirts or something like that." For example, Vesper sells pieces such as lime green stretchy bow dresses or iridescent maxi circle skirts that may just have the slightest differences to make each one feel handmade. "I'm willing to take some hits in order to make things that have never been made before," she says.
"I've always had a lot of moral qualms about what career path to take," notes Humber. "It is extremely clear that all of us should be thinking about that in 2019. But, I grew up in a family where we were always super conscious about that kind of thing." With a mom who was an antique dealer and a grandma who was a seamstress and costume designer for the Milwaukee ballet, a career in fashion wasn't so far off however. "It was always a question of, what kind of career should I have? Fashion is not an easy answer to that question. But I want to try to do as much awesome stuff as I can with reusable material."
Up next, Humber is planning her Art Basel Miami pop-up (along with other eco-friendly brands) at the Faena Hotel. She's also working on opening a new retail space in Williamsburg, Brooklyn, in a former theater space, since her pop-up space closed in October. She's also in the process of incorporating even more upcycling into her collections."I think it's going to take a lot of public and systemic restructuring of fashion in order for upcycling to gain the traction it needs," she asserts.
At the end of the day, it's the vintage fabrics — and they stories they tell — that inspire Humber. "In art class, if I was given too much license, I would just be paralyzed," she says, with a laugh. "So I love that the fabrics give me a lot of direction."
Wearing and styled by Mia Vesper @mia.vesper
Photography by Noa Griffel @noagriffel
Makeup by Jesse Genao @jessgenao
Hair by Yu Nakata @yunkt
Lighting Assistant Hagop Kalaidjan @hagop
Styling Assistant Andrea Dahl @wavybxxtch