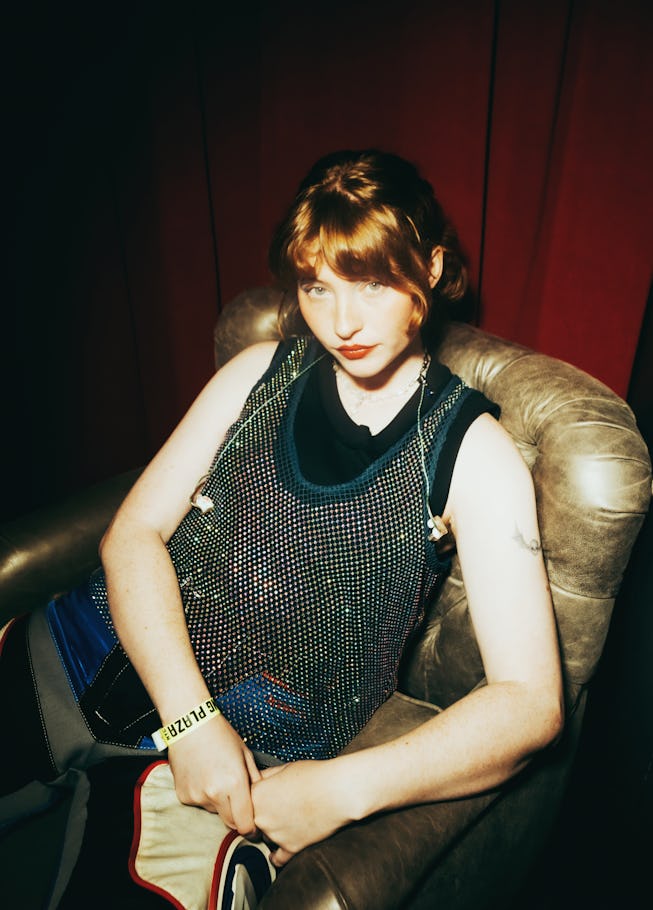 Courtesy of Deanie Chen
You Can Now Shop Allison Ponthier's Eclectic Tour Wardrobe With Nuuly
The indie folk singer talks ironic tees and thrifting Twilight merch.
For indie folk singer and songwriter Allison Ponthier, her style as a musician and how she dresses in her everyday life is one-to-one. "I feel like my music and style are very similar," she tells NYLON. "I write music that is serious, emotionally heavy, and introspective, but I also try to find humor in a lot of the tougher topics that I talk about. So when I dress myself, I try to inject a little bit of humor into the things I choose to wear." Starting on Thursday, fans of the 24-year-old will be able to shop a selection of pieces from her tour wardrobe via Nuuly Thrift, URBN's peer-to-peer resale platform and sister site to Nuuly Rent. To celebrate, she wore a tee that read "I love lesbians" with black bows in her pigtails.
Ponthier's personal style — and expression of that style on social media, where she's built a dedicated TikTok following — is experimental. From clown-like spidery eyeshadow to "justice for gingers" tees, Ponthier injects irony and fun into all of her outfits. However, this hasn't always been the case. "When I was younger, I used to dress myself very seriously because I wanted to be taken very seriously," she recalls. "When I became an adult, I was just wearing a black tank top and black jeans all the time. I think I lost a little bit of the fun-loving, unique nature of how I actually like to dress. I love anything that makes me laugh." Ponthier credits writing music with the driving force behind her return to self-expression.
Courtesy of Allison Ponthier
Courtesy of Nuuly
Courtesy of Nuuly
The 12 pieces that are available on Nuuly Thrift from Ponthier's closet all come from her tour with Hayley Kiyoko earlier this year. She followed the tour by headlining her hometown Dallas Pride Music Festival. Ponthier left Dallas for Brooklyn at age 20 to flee the Bible Belt and released her song "Cowboy" in 2021, exploring her own coming out story. Prices of the pieces range from $15-$100, with proceeds going to Dallas Hope Charities. "Given the experience that I had growing up in Dallas as a queer person, I think it's amazing that people have a resource like Dallas Hope," she says.
Ponthier's own closet has been almost exclusively thrifted since she was a child, saying thrifting has always been a huge part of her life. "Having unique clothing is important to me and I love when things have a story. Like a bowling shirt with someone else's name on it," she says. Ponthier's favorite vintage brands include Hysteric Glamour and Gunn Sax, and she's always on the hunt for "long prairie dresses." She also has an impressive collection of Twilight merch. Right now, however, she's currently looking for basics. "I am perpetually on the hunt for unique statement pieces, but now I'm looking for actual basics because you can't just wear sequins, rhinestones, and mesh everyday," she says.
Courtesy of Allison Ponthier
Courtesy of Nuuly
When it comes to the items from the tour that she's parting with, Ponthier found herself heartbroken about handing them over. That being said, she's also extremely excited about the idea of her fans getting to own things from the tour. "Every time someone would compliment me on tour, I'd be very happy that they could potentially own one of [the pieces] because I'm a collector myself of things that I enjoy," she says. Ponthier's favorite piece from the selection is the pink silk dress. "I remember putting it on while on tour and then feeling ike I've snapped into the character of the person that is going to be performing," she says. "I think that's why clothes can be so powerful, they help you to get into a different mindset."
Courtesy of Caitlin Kalafus
Courtesy of Nuuly
At the moment, Ponthier is a big fan of more costumey clothing becoming day-to-day essentials. "I think what's cool about fashion right now is that people are dressing for a theme in their everyday life," she says. "Like mermaidcore, or people dressing like vampires and rockstars. Just have your own day of dressing like someone else or even a creature." For those looking to dress like Ponthier for a day, her tour outfits are available now on Nuuly Thrift (Twilight merch not included).